Dan Calichman '90 reflects on playing professional soccer, coaching in MLS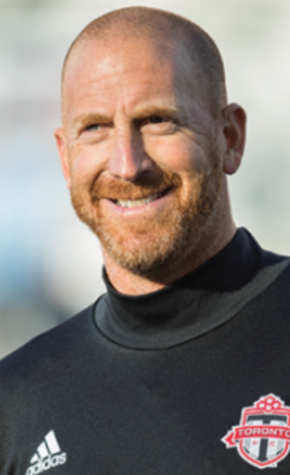 For most of his time at the College, Dan Calichman '90 was not planning on a career in professional soccer. "I went into my senior year at Williams not sure what I was going to do," he said. "I had always hoped that I would one day be a professional footballer, but there was just no way to know." 
Today, Calichman can reflect upon a long and successful career in the sport spanning several decades and three different countries. This February, Calichman was hired as the assistant coach for the LA Galaxy, the most successful club in Major League Soccer with a record five MLS Cups. His journey, however, started in Williamstown.
Early beginnings
At the College, Calichman was a three-time All-American and a captain for men's soccer. Despite being a defender, he managed to finish in the top 10 all-time assist charts for the College. However, Calichman's athletic talents were not just limited to soccer: He also starred as a captain for the men's lacrosse team.
Still, his passion for soccer outweighed all other sports. "I grew up playing a lot of sports," said Calichman. "[But] soccer was always the priority… It was always the one that I was best at."
In the spring of his senior year, Calichman was trying to decide on a career when he received a call from a family member that would change his life. "My brother, [who] was living in Japan at the time … had bumped into this gentleman who ended up being a former player for Manchester United but was coaching a Japanese professional team," Calichman said. "My brother didn't even know there was professional soccer in Japan, but, based on their friendship, he said, 'You know, I have a younger brother who's a pretty good player — would you ever be interested?'"
The gentleman was Bill Foulkes, an Englishman with over 500 professional appearances for Manchester United. At the time, he was coaching for a team called Mazda SC in the top division of Japanese professional soccer. 
Luckily for Calichman, Foulkes was interested. With little time to prepare, Calichman dropped his textbooks and made the journey across the world for a trial. "They flew me out my senior spring, about a week before spring break," he said. "So I had to tell all my professors that I wouldn't be able to take my exams, and I went out and had to try out."
Mazda offered Calichman a contract, officially making him a professional soccer player. "I owe everything to my brother's relationship with this coach named Bill Foulkes who took a chance on an American college kid," he said. "That really opened the door to everything I've done today." 
While Calichman had thought about other potential career paths, his heart was always with soccer. "Maybe in another life I would have been a wildlife biologist," he said. "But in this one, I've been fortunate enough to be in pro soccer."
Playing abroad
Going from a Div.III student-athlete to a professional soccer player in an unfamiliar country was a huge transition. Mazda SC played in the Japan Soccer League, at the time the highest level of professional soccer in Japan, where teams were affiliated with companies that employed the majority of their players and most players were on amateur contracts. Calichman was one of the only full-time professionals on his team not working for its parent corporation, Mazda Motor Company, adding an extra level of pressure.
"There was a little bit of a transition," Calichman said. "Just the mentality that your play, your responsibility, your job affects other people." One particular episode in training with a former Manchester United player named Scott McGarvey prompted a huge shift in Calichman's approach to the game. "I was a college kid, basically … he sat me down and he's like, 'Listen, you need to focus, you need to understand that this is not amateur anymore, right? My paycheck, my family depends on your play.'"
"It was kind of a huge statement for me, like I understood the importance of what I was doing now and the responsibility that comes with being a professional footballer," Calichman continued . "It changed everything, my perspective on things and the seriousness [with] which, when the whistle blew and we were playing these games, the seriousness [with] which I took them."
Although not everything was smooth sailing, Calichman enjoyed his experience in Japan. "I was 21, 22 years old and playing professional soccer and living in a foreign country," he said. "There's probably not much better than that." 
An added dimension of excitement came in 1992, when the Japan Soccer League transitioned into the J-League, the first fully professional soccer league in Japan. Calichman's Mazda SC became Sanfrecce Hiroshima, catapulting him and his teammates into a new era of media attention and excitement.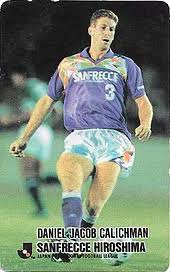 "It was just wonderful… [Soccer] just became bigger," Calichman said. "It became a very popular sport in Japan, and it was exciting to be around for the very beginning of it." 
The emergence of the J-League saw an influx of foreign players with extensive resumes. One of these players was Zico, a Brazilian midfielder widely regarded as one of the greatest players of all time and whom Calichman personally admires. 
"As a kid, I watched Zico…so I would say that playing against him was pretty special," Calichman said. 
However, Calichman didn't quite have the pedigree of many of the established foreign stars. "All these foreign players [were] coming into Japan, playing in the J-League, and then there was me, this young American kid," he said. "But yeah, I think they certainly accepted me … and they were wonderful teammates."
Returning home
After four seasons in Japan, Calichman returned to the US to pursue a soccer career in his home country. In 1996, the US Soccer Federation established Major League Soccer, the longest-lasting professional league in the US. "It was certainly a little similar to what happened to Japan when the J-League came out, and it was just massive [with] publicity everywhere," Calichman said. "There's always been pro soccer but it's been kind of at a low level, doesn't get publicity, certainly doesn't get television time." 
Playing in his second inaugural season, Calichman experienced the excitement around the MLS first-hand. "[At] our first home game at the Rose Bowl with the Galaxy, we had like 70,000 people show up," he said. "So, all of a sudden, we realized that this was a much bigger deal than we had thought." 
Calichman captained the Galaxy for three years, reaching the MLS Cup Final in his first season and receiving All-Star recognition in the process. "By far my greatest honor was wearing the armband … and leading the team out every game," Calichman said. "It's almost like you're [a] gladiator, like you're leading the group out for the battle that's ahead."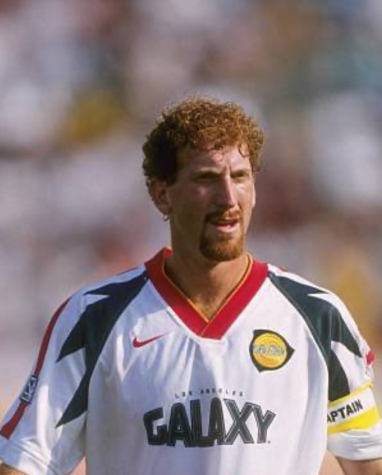 After impressing at the club level, Calichman was called up to the United States men's national team in 1997, a rare feat for any player, much less a former Div. III one. "It's something that's special," he said. "You put on a shirt that says 'USA' in red, white, and blue… I take great pride in that." 
The pressure of representing his country was not always easy for Calichman. "I was always very nervous because mentally, maybe, I didn't feel like I belonged for whatever crazy reason … which is why I never really played all that well," he said, laughing. "But it was still nice to put that uniform on and certainly to represent my family, represent Williams, represent all those along the way that got me to that point."
Calichman left the LA Galaxy after three seasons, spending time with the New England Revolution and the San Jose Earthquakes before finishing his playing career at the Charleston Battery. While a coaching career was not on Calichman's radar earlier in his career, by the time of retirement, he became convinced it was his logical next step. 
"As you get older, you end up doing a lot of coaching, working with young players [who are] your teammates," Calichman said. "It's kind of a natural progression that for a lot of players, especially senior center backs … who do a lot of the communicating, organizing, talking on a field, that they would … move into coaching."
Hanging up the cleats
Calichman started his coaching career as the men's soccer head coach for the joint sports program of Claremont McKenna College, Harvey Mudd College, and Scripps College in Southern California, where he would stay for over ten years. "It was natural for me to go to Division 3 [soccer]," said Calichman. "That's where I came out of. That's where I knew the students. Claremont-Mudd-Scripps is a school that's similar to Williams… It was kind of a perfect fit."
Although Calichman enjoyed his time as the head coach, he did not expect to stay there for long. "I thought I'd be there for a few years and then hopefully get back into the game with the Galaxy, … but it just never happened," he said. However, a door into the professional coaching game opened for him with the help of an old friend. 
"A good friend of mine who I'd played with on the Galaxy, a player named Greg Vanney, got the head coaching job in Toronto [with Toronto FC] and asked if I would be an assistant for him," said Calichman. "For the last six, seven years before this move to LA, we've been coaching up in Toronto."
Calichman and Vanney guided Toronto FC to the most successful period in the club's history, appearing in three MLS Cup Finals and winning the 2017 MLS Cup against the Seattle Sounders, the team that had defeated them the year before. Led by Sebastian Giovinco, an Italian forward who Calichman described as the best player he's ever coached, Toronto broke the regular season points record and became the first Canadian team to win an MLS Cup. The club also saw international success, reaching the CONCACAF Champions League Final in 2018.
"It was magical to win an MLS Cup, and that team was a wonderful, wonderful team," Calichman said. "We had put together a really great squad … and they showed it."
The victory was especially sweet for Calichman given how close he had come to winning the trophy in the past. "Back in '96 as a player, the Galaxy played in the MLS Cup and we lost to DC United," he said. "And because I had picked up yellow cards, I was not able to play in that game. So to be now, so many years later, coaching in an MLS Cup and then winning it, it was like going full circle to some extent."
Last December, Vanney resigned from his head-coaching role with Toronto. Soon after, Calichman followed him to the LA Galaxy — the club where they had once played together. "The assistant really tries to … [make] the head coach's life that much easier," said Calichman. "[The head coach] carries the weight of the decisions. The head coach at the professional level probably doesn't get a lot of sleep. The assistant coaches, we get sleep."
Though far removed from his time at Williams, Calichman still holds gratitude for the memories and friendships he made there. "I met some of the greatest people that I'll ever meet in my life at Williams, and their impact on me has been profound," he said. "Mike Russo, the former soccer coach, Renzie Lamb, the former lacrosse coach, these are people that have had huge impacts [on] my life."
With the 2021 MLS season in sight, Calichman is now looking forward to a great journey with his new club. "I've got a pretty good job," he said.