One in Two Thousand: Emma Paquette '21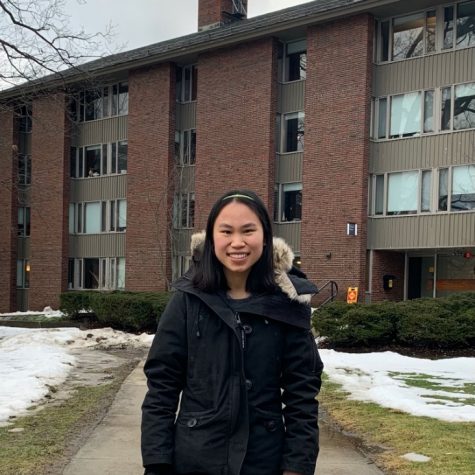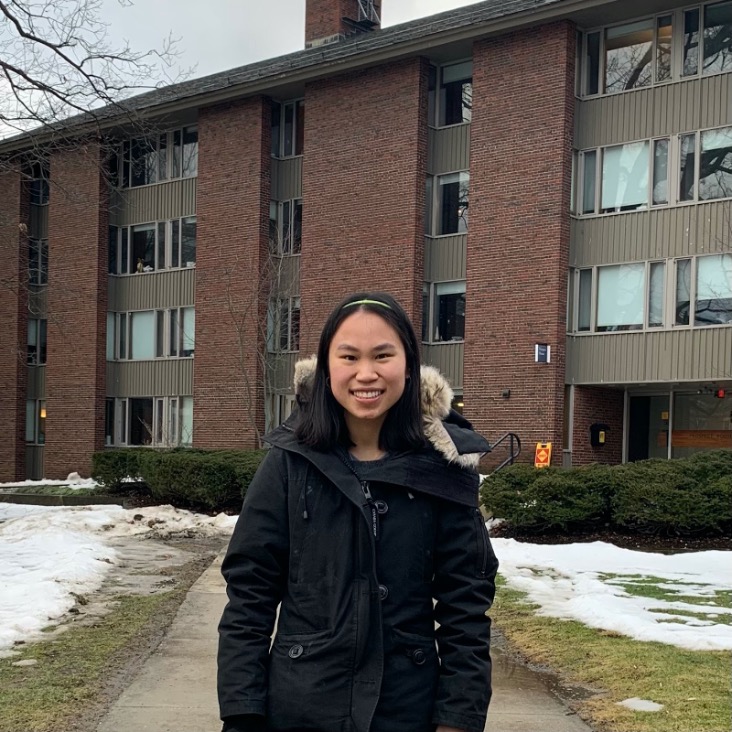 Each week, we randomly select a unix from a list of all current students at the College for our One in Two Thousand feature. As long as the owner of a selected unix is willing to be interviewed and is not a member of the Record board, that person becomes the subject of our interview. This week the computer (using a script in R) chose Emma Paquette '21, who talked about insidious skiing injuries, alpaca farms, and studying abroad in Rome last spring. This interview has been edited for length and clarity.
I've heard that you have a lot of funny skiing stories. 
There are a lot of funny ones. I guess the main iconic skiing story that everyone knows about me is that sophomore year during Winter Study, I fell while going down a mogul [an ungroomed bump] for the first time and tore my ACL. I don't know if you heard that one before, but it was definitely pretty funny because I didn't think that I was injured for about three weeks. And I also never told my mom how it actually happened, so she has no idea. And I think it was very funny because I was on crutches for about six weeks and did not believe I was injured for the first three.
So what does your mom think happened?
She thinks that I fell on a green [the easiest category of ski slope], I think. We haven't really talked about what happened, but I don't think she knows that I went down the sled. [Laughs.] 
What are your hopes and plans for your senior spring semester?
Yeah, I've actually been asking a lot of people this question, sort of like bucket list items. Definitely very nostalgic to think that I'm graduating this spring, but I'm really happy with the pod and the people I'm living with. There are definitely some things I want to do. I've always said that I want to go to the alpaca farm and the goat farm. I've never been, but I definitely really want to do that before I graduate. And also, I've never done a sunrise hike.
I didn't even know there were alpaca farms and goat farms here.
I don't know if the goat farm is actually true, but someone once said that there might be one. But I definitely want to go to the alpaca farm. 
I have done a sunrise hike. It's really fun. You should do it.
Yeah, I definitely want to. I've done a non-WOC [Williams Outing Club] related sunrise hike. But I think it'd be fun to do the traditional Pine Cobble. 
What do you study?
I am majoring in econ and art history. Definitely a random combo, but also pretty popular from what I've heard.
What has been your favorite class at Williams? 
I think my favorite class was sophomore spring. I took this tutorial: "Velázquez, Goya, and Picasso" with [Professor of Spanish and Comparative Literature] Soledad Fox. It was absolutely amazing. I loved it. It was really cool, and it was also my first tutorial at Williams. At first, I only took the class because I really needed a writing intensive. But it ended up being my favorite class that I've taken here.
Did that class solidify your interest in art history, or were you already set on that major?
I think I was already pretty set on it. But it definitely made me a lot more interested in sort of like the writing aspect of art history and delving more into sort of the academic side. I feel like, before that, I was more like, "I really enjoy being lectured at." Especially in [ARTH] 101 and 102, the intro classes. But I think taking that class definitely made the writing aspect much more solidified. 
Did you study abroad?
I did study abroad. [Laughs wistfully.]
Was it in the spring?
Yeah. 
Oh, no. 
I was abroad in Rome. And it was really, really amazing for the one month that I was there. I had a really great time. Definitely being sent home was really disappointing. But I'm really grateful for the experience and the people that I met there. I liked that I wasn't on the same program with other people from Williams, but there were other people from Williams who were also in Rome. So it was nice to know people who were there.
Was it an art history program?
Yeah, I was doing the IES [Institute for the International Education of Students] in Rome program. But I was taking all art history classes while I was there. Which was really cool, to learn about Rome and Roman history and things like that.
That's all the questions that I had. Is there anything else that's on your mind?
I'm really grateful to be here [for] my last semester at Williams. I was talking to my friends today about the weather. I've been trying to get into Nordic skiing. I can tell you I fall over all the time. They always have to wait for me. But it's been really fun to do, and I'm really disappointed that the snow is all melting. 
Good luck with Nordic skiing. I hope there's no more injuries. 
[Laughs.] Thank you — we're trying.