'Children of deferred dreams': Tanasia Lea '13 on being an athlete of color within and beyond the College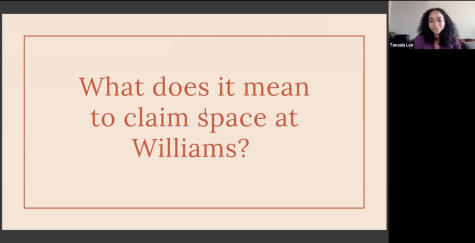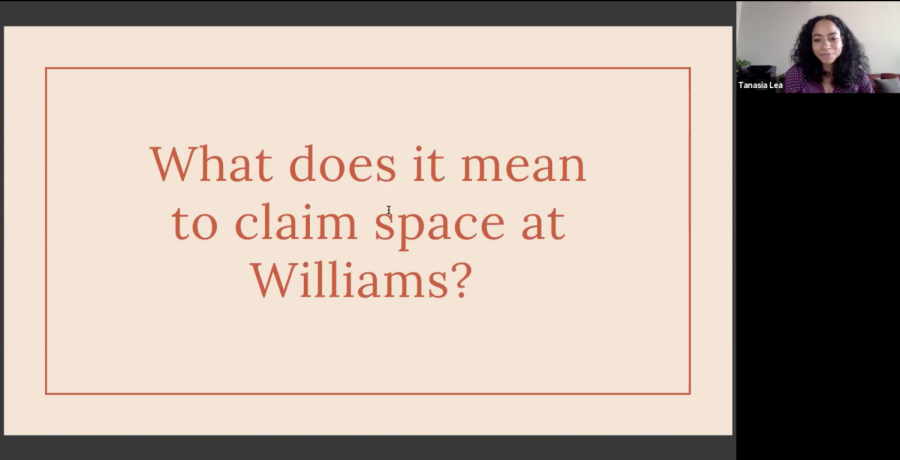 In a Claiming Williams session last Thursday, the Gaius C. Bolin Chapter (GCBC) of the Student Athletic Advisory Committee invited Tanasia Lea '13 to speak on her experiences as an athlete of color. Nearly 150 students, faculty, and community members attended her lecture over Zoom. 
While at the College, Lea was a 3-time NCAA National Champion and 12-time All-American track athlete. After graduating with a degree in psychology, she went on to become a two-time national champion and the current triple jump national record holder in Puerto Rico. Lea now trains as an Olympic Development track and field athlete while working as a consultant. She also serves on the executive board of the College's track and field program.
During her lecture, Lea spoke on her experiences as a student-athlete of color at the College and as a professional athlete at the Olympic level. She opened the event with a description of her earliest recollection of "claiming space," or the forced adaptation to unwelcoming environments. As a child, her claiming space took different forms in different contexts. It ranged from navigating a community where "ghetto" was associated with a lack of intelligence to defending herself to family members who teased her for being "too white." 
Lea's first time claiming space at the College took place when she visited as a prospective student during the Windows on Williams program. On the trip, she met several other athletes of color who she quickly became close with. They formed a pact: if they all got in, they would all accept admission. Even before coming to the College, the young athletes understood that they were not entering a space that was "theirs"; rather, an invitation was extended to them. Acceptance of the invitation necessitated "a sacrifice of a sense of belonging in the pursuit of professional promise," Lea said. 
"We were the children of deferred dreams," Lea continued. "Growing up, [my mother] would also tell us: 'Literally, I don't care what you want to be when you grow up. You can be a bum on the corner of the street, but you are going to school.'" 
To Lea, there was an expectation that she focus on achieving financial security for herself and her family, and the College offered a way of achieving that. The pact with the other prospective athletes offered a metaphorical "safe space" to feel valued and appreciated, she said.
At the College, Lea found safety in athletics. The track team was more diverse than the College, and the nature of the sport leveled the playing field. There's a privilege in track, Lea said. "[It] doesn't necessarily depend on … who you know to get on a club team [or] what equipment or facilities you can afford."
However, Lea's experiences on and off the track were "oxymoronic." Outside of athletics, she struggled to find her place and lacked a desire to belong. "She underestimated the extent to which not belonging would seep into her sense of self-worth and agency," Lea said of herself. "She could not foresee the blatant outright reminders by way of the College Financial Aid Office reminding her that she should just be grateful for what she was already given." 
Black Student Union or other BIPOC affinity group meetings were also "oddly triggering" for her, Lea said. "I could sense the communal pain," she said. "I was tired of hearing the same thing, tired of hearing the same thing over and over again."
After graduating, Lea had a similar experience of exclusion and sacrifice at Bridgewater Associates, an investment management company known for its culture of radical transparency in which employees routinely judge each other's performances. The culture at Bridgewater was, as Lea described it, "white supremacy culture on steroids."
Claiming space, therefore, became a means of survival at Bridgewater for Lea. "There's a bit of irony to claiming space that was not meant to include you," said Lea. "Often we find ourselves bending, twisting, breaking to fit into an incongruent shape… [and] there's a deep-seeded disconnect between our brains and our hearts." After 13 months of bending, twisting, and breaking, Lea realized she had no space to claim at Bridgewater, and she left. Her experience at Bridgewater was a turning point; moving forward, she no longer tried to infiltrate and claim spaces in non-inclusive environments.
Upon leaving Bridgewater, Lea had her sights set firmly on Olympic qualification and started training to be a professional track athlete. After three years and several different coaches, she began working with Coach Steve Gordon, who completely reshaped her mindset around running and competition. "[White supremacy] seeped into nearly every part of my identity," said Lea. "Coach G could sense the physical tension, the suffocation, the rigidity… [His] methodology was unintentionally anti-white supremacy."
Central to Gordon's coaching was the reframing of her mindset from perfection to progress. According to Lea, track and field often perpetuates a mentality that in order to do well and improve, athletes must channel a darker place in their lives to activate high performance and competitive adrenaline. Gordon's approach was different.
"Coach G is about light," Lea said. "That's the only thing that is going to sustain this long, lonely, expensive, tough, hard, painful journey of being a track and field athlete.… It's so easy for me to pull from a dark place. But it's not sustainable. It's not healthy."
Lea's presentation culminated in a final critique of the concept of "claiming space." According to Lea, claiming space means bending to fit in and a deep seeded disconnect between the brain, body, and heart. Instead of claiming space, "I charge you to occupy space," Lea said. "Allow your body to fully inhabit and extend into the spaces around you. Find a place for your body in the space that surrounds you."
According to GCBC co-president Gabby Martin '21, the vulnerability and relatability of Lea's presentation was a significant factor in their decision to invite her. "It was really important to have an alum to speak to these experiences, just like the restorative justice part of it," Martin said. "As soon as she started talking, I was immediately drawn in, because we can relate as students at Williams and we can also just connect on a different level."
The end of Lea's lecture brought an appeal for institutional change at the College. In the question and answer session that followed the lecture, attendees voiced concerns about the College's current lack of diversity on the track team and in sports at large. 
"There needs to be a serious value excavation," Lea said. "It's challenging when you have all different types of people, but even within hegemony there is difference in culture and values." 
She went on to express frustration with what she called the performativity of this year's Black History Month and the delayed appearance of diversity initiatives. "I fear that a lot of it is performative," she said. "So when you ask me what it looks like, it's an antecedent, it's before any of those things. I had a fear coming in today that the people in the room won't be the people that needed to hear it today. Yes, us actioning together makes us more powerful, but the people who need to hear this are unwilling to listen."
In an email to the Record, Lea explained that change ultimately needs to occur at an institutional level. "[The College needs to] be explicit about the complicated relationship between the College and white supremacy," she wrote. "Decenter whiteness and listen and center BIPOC voices. Be solution-oriented."
GCBC community outreach representative Nehemiah Wilson '21 said he shares Lea's critique of inclusivity at the College. "Williams does a halfway decent job of creating those well-intentioned spaces, but it sort of stops there," he said. "And so there's less of a focus on the education of how you can stop white supremacy from infiltrating those spaces made."
According to Wilson and Martin, one of the changes sparked by Lea's session has been an open dialogue between the GCBC and the diversity and inclusion group in the athletics department. While Lea's critique of the performativity of the College's recent actions resonated with Martin, Martin said that she believes the new monthly meetings might lead to real, positive changes. "I think having open dialogue, and just being vulnerable, as Tanasia was with us, is extremely important if we want to move forward," Martin said. "So I don't think it's as performative."
"But again, I think that's something I'll truly never know," Martin acknowledged. "And I think that as somebody that receives that, you have to just kind of hope for the best and hope that they're genuinely asking us showing an interest because they want to actually do better. I hope that they will do better, and it's on us to hold them accountable. And it's on themselves to hold themselves accountable."
While Lea's experience at the College was challenging, she still cares deeply about the school. "I did not seek condemnation," she wrote to the Record. "I sought to share my experience in an effort to make the College better."
Marit Hoyem contributed reporting.