'Lighthouse keeper of the Purple Valley' Jimmy Menard retires after 36 years of groundskeeping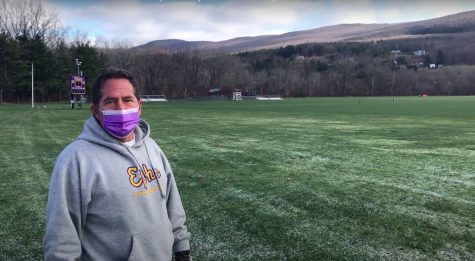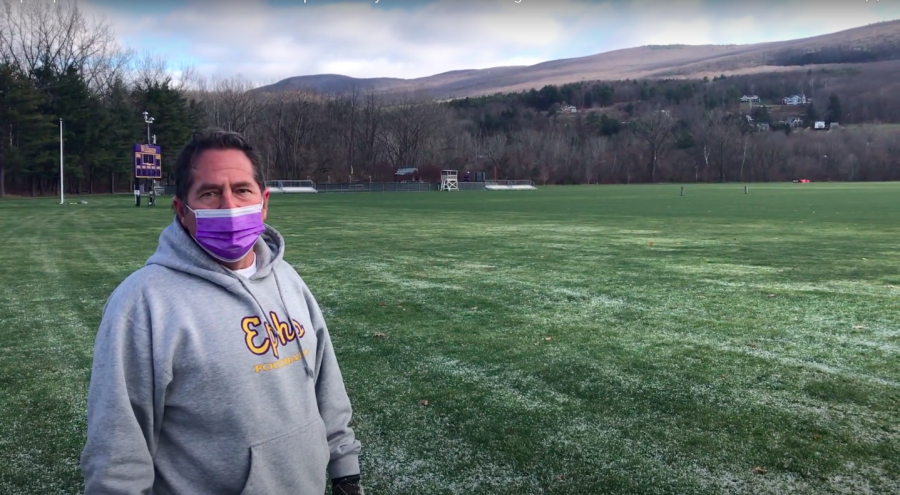 On the cold, snowy morning of Jan. 22, dozens of cars lined up outside the Towne Field House. Their owners, mostly staff members in the athletics department, drove by with masks up and windows rolled down for one purpose: to send off a co-worker, friend, and integral part of the College community for nearly four decades — former groundskeeper Jimmy Menard. 
Menard, who worked for the College for 36 years, had planned to retire on his 59th birthday in March of 2021. Previously in charge of maintaining the practice and game fields for the athletics department, Menard changed his plans when the pandemic hit.
"A lot of us take our health for granted," he said. "And seeing that I'm healthy and able to do things, I want to do it now and not be later or elderly… then I didn't take advantage of it. That's one of my biggest pushes that made me decide."
In the end, he sold his Williamstown residence earlier than expected, leaving the place where he grew up and spent his career. 
Head field hockey coach Alix Barrale '93 was one of those who drove by to bid farewell. For her, Menard is an embodiment of the College spirit. 
"Menard is to Williams as Norm was to the TV show Cheers," she wrote in an email to the Record. "Jimmy is the guy everyone knows and everyone is excited to spend time with… Jimmy has a way of making everyone feel at ease and valued."
Along with Associate Director of Operations and Athletics Jill Campbell, Barrale and other coaching and staff members worked together to make a video in honor of Jimmy's service. 
The video, a compilation of regards and congratulations from around the department, was a testament to Menard's "widespread impact across the athletic department and all those that came through it," Campbell said. 
For Menard, the 35-minute video was an emotional experience. 
"It was totally unexpected," he said. "I've watched it several times, just to go back and hear individual coaches and what they said. It truly makes you feel that you're worthy, that you were appreciated. You felt like part of a team — that's what it did for me."
That sense of appreciation and belonging extends beyond the athletics program at the College for Menard, who grew up in Williamstown. Menard said he was guided by the tight-knit community of the small town in his youth. Those formative years in the Purple Valley would go on to shape his life. 
"I've been this person that I am my whole life, because I've been so fortunate in that people have done well for me, shown me through my adolescent years up until adulthood," he said. "It had always been a very tight-knit town… it was just a really, really nice, safe haven that I guess you would take for granted. So you don't realize how nice it really was."
As a young adult, Menard left Williamstown to serve with the U.S. Marines. Menard's experience traveling around the world with the military became an equally important part of his life, Menard said, one that opened his eyes and mind. 
"I have traveled to 11 different countries in the world when I was in the military," he said. "… And I think that's given me a great outlook. I've never really been judgmental. I try to accept everyone for who they are, and just make the best of any situation that I'm in." 
When Menard eventually returned to Williamstown in 1985, he brought all that he had learned in his youth and abroad with him. The values — maintaining a tight-knit community, knowing and helping people, and keeping an open heart and an open mind — stayed with him throughout his 36-year career as a groundskeeper at the College. 
In Williamstown, where the weather is unpredictable and winters are harsh, Menard's job has not been an easy one. 
"You can never predict what's going to happen for spring sports when [the field] could be rained out one day, the next day it could snow," Menard said. "In earlier years, we've actually plowed off lower Cole Field so that [men's soccer] could have a game." 
Head coach of men's soccer Erin Sullivan '96 also attested to the difficulty and necessity of the groundskeeping. 
"For those of us that live and work here in Williamstown, the terrain, the weather, and, yes, even the passersby, can be unpredictable, but Jimmy and his team (and all of our other ground and trades crews, custodians, secretaries, support staff, and more) do it with a skilled hand and a patient, open mind," he wrote to the Record. "They are learners, builders, purveyors of beauty in this community, as we all aspire to be, and an embodiment of the freer spirits of the liberal arts."
Given the work he put into maintaining the fields, Menard took the success of the athletics programs at the College throughout the years with great pride. 
"Every coach wants to win, any athlete wants to win," he said. "So you do a good job for them. And a lot of us really took pride in their work to our athletic [programs] that were so successful, and that made you feel good as an employee doing a good job bringing them along that way."
An avid athlete himself, he felt personally invested into the work that he did. "I'm a personal part of it," he said. "And the success that Williams has produced through the years made it even more enjoyable and proud to be part of it."
For many, it was precisely the "personal part" of Menard's dedication that made his work at the College special, and that made a difference on and off the field. "Jimmy brought a human side to the Grounds and Facilities teams that is a trademark of so many of the amazing men and women that are the caretakers of our beautiful College," Sullivan told the Record via email. 
"I saw Jimmy on most of my days in the Purple Valley," he added. "And to me, Jimmy Menard was a lighthouse keeper. If I didn't know better, I'd wonder if it was one of our very own from facilities that scales Mount Greylock each night to light the beacon that guides our ships home and greets them again each dawn."
But now, after nearly four decades at the College, Menard is ready to move on. While the pandemic had caused uncertainty on campus and at large, it had also given Menard a new appreciation for enjoying the present. "It also gave me the initiative to decide to end my career now, because I don't know what the future brings," he said. "I just want to try new things while I have my health."
Some of these new endeavors include visiting family and reuniting with childhood friends, as well as those who served with him in the Marine Corps. While he may be leaving Williamstown, he said that the connections that he has made with coworkers, staff members, and coaches at the College would not be lost. 
"After all those years, I'm not going to miss the work." he said. "I'm going to miss the people that I was involved with. They're all special people, and their character and personality and friendships are what really truly helped make my job so rewarding."