'Bigger than a hockey game': Hanna Beattie '17 on playing in pandemic-impacted NWHL season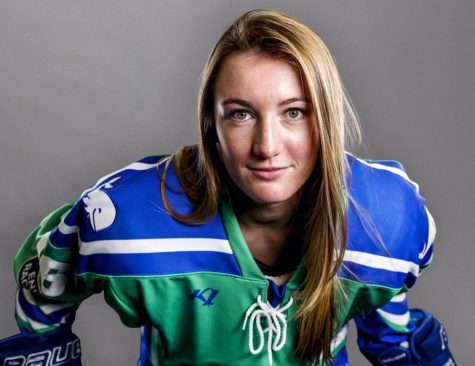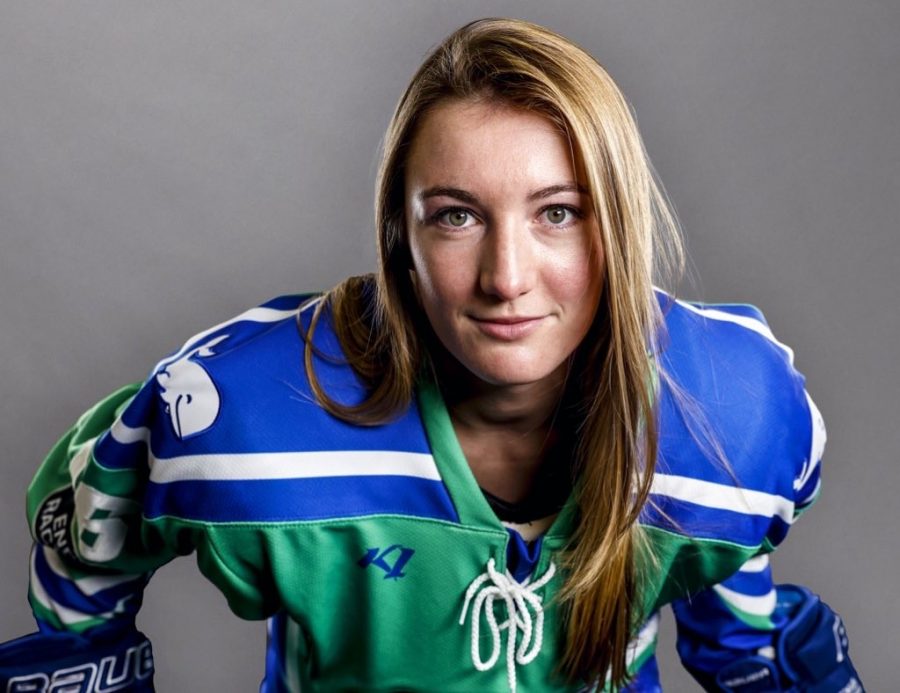 On Feb. 3, the National Women's Hockey League (NWHL) COVID-19 bubble burst. The initial two-week season in Lake Placid, N.Y. was canceled following the withdrawal of two teams and rising COVID-19 cases among players a day before the league's scheduled playoffs, which would have been first of the league's to be nationally televised through NBC Sports. 
Hanna Beattie '17, a former member of the College's women's hockey team who now plays defense for the Connecticut Whale, was among those affected. She and her teammates had to give up their season, including their chance at the championship trophy.
The Connecticut Whale, one of the four original teams in the NWHL, forfeited its fifth and final round-robin game before playoffs against the Minnesota Whitecaps on Feb. 1. It subsequently withdrew from playoffs after seeing an increase in positive cases on the team and throughout the league.
"We made that decision collectively," Beattie said. "We were on a Zoom for two hours figuring out the smart move. Our coaches, staff, and players were all on board that we needed to prioritize our health and safety. [It was] a very, very difficult situation to be in and decision to make, because we were guaranteed a spot on the NBC Sports game."
Founded in 2015, the Connecticut Whale is the only original NWHL team that has yet to win the Isobel Cup, the league's championship trophy. 
"My hopes were definitely to win the Isobel Cup title," Beattie said. "Connecticut has yet to win it. So being on the team for four years, that's definitely on my mind."
Going pro
Even though Beattie joined the Connecticut Whale in 2017, she is no stranger to the ice. She played defense during her time as an Eph, was named NESCAC Rookie of the Year in her first year, and made First Team All-NESCAC selections in her first two seasons.
In her senior year, the assistant coach for the team was Sarah Ugalde, who also happened to be the assistant coach for the Connecticut Whale after Beattie graduated in 2017. It was through Ugalde that Beattie transitioned from playing for the Ephs to playing professionally.
Beattie's opportunity came when she and some old teammates went to visit Ugalde and watched a Connecticut Whale game in Stamford, CT. "[After the game, Ugalde] had mentioned that several of their defensemen got hurt recently, and [asked] if I wanted to come out to practice," Beattie said. "And I said, 'Yeah, you know, if anything, I'd love to be a practice player,' and came out to a practice and got a contract the next day and played a game that weekend. So, very right place at the right time."
Beattie said she planned to continue playing competitively in some capacity after college, so the decision was not a difficult one.
"I was really excited," she said. "I was not training to be on the team, so I was a little out of shape come my little tryout, but the decision was pretty easy. I would have paid to play in a men's league in the area. And this opportunity arose, so I absolutely took it up."
Balancing the rink and the office
While Beattie spends the weekends playing games and some weekdays practicing, she is also working full time at Octagon, a sports and entertainment marketing company.
"It'd be a lot of racing around… It's very busy, long days," Beattie said. For her, a normal day means finishing up work at 5:30 p.m., rushing to group up with teammates right after, and practicing well into the night. "We would drive up to Danbury, have dinner in the car, get on the ice, come back. It'd be like 11p.m. And I'd have to get up super early the next day for either coaching or lifting."
Beattie is not the only player on the team who works full time when not on the ice.
"There are a bunch of hockey coaches, there are teachers, we have nurses, we have people working in finance," she said. "We have athletic trainers, physical therapists, people that work for insurance companies — really all over the map."
Monetary support for women's professional leagues has lagged behind that of men's leagues, meaning that many women players still work a day job. Beattie said that, up until recently, the NWHL did not guarantee its players' salaries — instead, players had to play in a game to get paid. However, she noted that increased exposure to the NWHL has led to more investors and sponsors.
"Now every player has a guaranteed salary," Beattie said. "The salaries have increased. [It's] still not at full-time job amounts, but that's definitely the goal. We have workers' [compensation] so if anyone gets hurt in the game, we don't have to worry about our own insurance. It's still a long way to go, but definitely any progress is good progress."
Additionally, for the second year, the NWHL is providing a 50/50 revenue share with players, in which players get 50 percent of sponsorship amounts after expenses in addition to their salaries.
Despite coming from different careers and backgrounds, the players are able to come together through hockey, according to Beattie.
"We all love playing hockey," she said. "We've all played in college. We've played our whole life, and just bringing our unique experiences to that, it's a lot of fun," she said.
With the rapid growth of the NWHL, currently with six teams from its original four, Beattie also envisions women's hockey becoming more popular from the increased exposure.
"Girls programs are up a tremendous amount from when I was growing up, and having the league that I play in around, young girls can see it," she said. "Hopefully more get involved that don't necessarily play hockey yet.".
Playing in the NWHL bubble
Despite working full time while playing professional hockey, Beattie and other players could commit to the NWHL bubble, in part because they were working from home.
The bubble was set to hold from Jan. 23 to Feb. 5. During this time, all six teams would play in five games followed by a round-robin to determine playoff seeding for the nationally televised semi-finals and finals. 
To make sure the bubble remained a bubble, the NWHL enforced strict rules and public health regulations: Players were required to be tested 72 hours before traveling to Lake Placid and tested again the night before or the day of arrival. Upon arrival, players were confined in individual hotel rooms.
Similar regulations applied during practices. Individual teams were divided into two locker rooms and were required to wear masks. Between periods, chairs were also set up several feet apart in hallways to maintain adequate distance. The only time players were allowed to be unmasked was on the ice.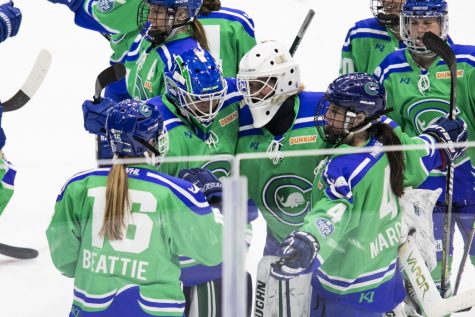 Although teammates distanced from one another with restricted travel between hotel rooms and the rink, the Connecticut Whale players bonded and socialized through remote formats.
"We would host team movie nights," Beattie said. "[We would] all pick a movie, have a Zoom running, but just watch our individual movies, and have a group chat on the side to comment our thoughts on the movie throughout."
The team also interacted through socially distant activities.
"We had one team building exercise that our coaches put together," Beattie said. "[We had a list of activities like] do a TikTok or act out a movie scene, do a celebration, run around the hotel and have the lap be timed, make a sculpture in the snow… [The coach] then put a slideshow together of all the ridiculous videos and we got to watch those as a team."
Despite the strict regulations enforced by the NWHL, one of its teams, the Metropolitan Riveters, was forced to withdraw from playoffs on Jan. 28 after reports of positive tests among the organization. In response to the withdrawal, the league revised its schedule so that the top three of the remaining teams would play a round-robin to determine playoff seeding instead of having each team play two round-robin games.
However, several possible COVID cases soon emerged within the Connecticut Whale. While the team awaited final results from PCR tests, they chose to forfeit their next game on Feb. 1. 
"We had a game that Monday and decided to forfeit for the safety of our own team, our staff, and our opponents, not knowing what our [COVID test] results were," Beattie said. "So we forfeited that game, which in turn, [forced us] to withdraw from the tournament."
The difficult decision ultimately proved to have been the right choice, Beattie said, as some of the results from the PCR tests came back positive.
"It was definitely emotional," she said. "It was very hard on us to walk away from it all."
However, Beattie added that the decision brought the teammates closer together because they knew they were doing the right thing. "It was bigger than a hockey game," Beattie said. "At the end of the day, we have to go home to roommates, parents, kids, grandparents. It was more important for us to make sure the virus did get contained and we weren't spreading it beyond anyone in the bubble."
Even though the season was cut short for the second time in a row, Beattie remains determined to stay in shape, keep playing, and eventually win the Isobel Cup.
"I think our team was really talented, and we had a great shot at it," Beattie said. "But I wasn't planning on retiring after this year, so I hopefully have a few more years left in me and can hopefully go for it again, with a little more normalcy in the world."