WSU circulates petition urging professors to respect Health Days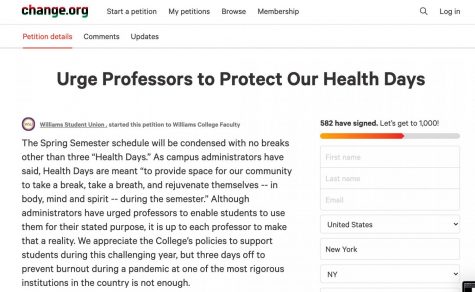 The Williams Student Union (WSU) on Jan. 26 started a petition on Change.org encouraging professors to keep the three Health Days in the spring semester free from classwork and assessments. The petition has amassed nearly 600 signatures at the time of publication, and it has received support from students and faculty members alike.
Last October, the faculty voted to start the spring semester late and replace the typical two-week spring break with three Health Days to reduce the risk of COVID-19 transmission on campus, as students often leave and return to campus during spring break. 
The Health Days were designed "in order to provide space for our community to take a break, take a breath, and rejuvenate themselves … during the semester," Dean of the College Marlene Sandstrom wrote in an email to the College on Jan. 19. 
"Dean Sandstrom and other administrators can recommend that professors limit assignments and due dates, but they cannot require professors to abide by these recommendations," WSU Representative Argenis Herrera '22 wrote in an email to the Record. "The WSU drafted this petition to demonstrate to faculty that students support Health Days and are very invested in keeping them off-limits."
The Health Days are slated for April 21, April 22, and May 7. Academic classes will not meet on Health Days, but offices, programs, and facilities — including the libraries, IWS, and Health Center — will still be operational and accessible to students.
At a January meeting between faculty and students on supporting health days, Herrera and WSU Representative Samir Ahmed '24 asked Sandstrom and several other administrators to implement bans on "new assignments in the 24-hour period preceding a designated Health Day" and "due dates in the 24-hour period following a designated Health Day."
Although the WSU appreciated that Dean Sandstrom's email recommended moratoriums on work assigned 24 hours before and 24 hours after each Health Day, in addition to the other guidelines, "We also understand that recommendations and regulations do not mean the same thing," Herrera wrote. 
After Sandstrom's email, the WSU determined that a petition would be the best way to protect Health Days from homework. "We came to the conclusion that its focus should be on upholding Dean Sandstrom's recommendations by demonstrating student enthusiasm and awareness for the issue," Herrera wrote. He and WSU Representative Gwyn Chilcoat '24 decided on the language and strategy to circulate the petition, but "the petition is the product of the entire WSU," according to Herrera. 
The petition asks professors to "assign no work 24 hours before the Health Day, make no due dates within 24 hours after the Health Day, share your pledge commitment with students by including Health Days in your syllabi," and to "balance assignments holistically across the Spring Semester." It does not limit its respondents to students at the College; the petition encourages alums, staff, and other community members to contribute their signatures as well.
Many students have signed it, and several have shared it on social media. The petition reached the WSU's initial goal of 500 signatures within four days of its publication.
Melissa Leon Pons '23 posted the petition link in her Instagram profile to make it easily accessible, and she believes that the sentiment regarding the petition is positive among students. "I don't know any students not in support of the petition," Leon Pons wrote in an email to the Record, "but I do surround myself with a group that is active on campus and decently in touch with mental health and similar aspects of well-being."
For Leon Pons, uninhibited Health Days are particularly important because of the challenging fall semester, during which many students struggled with mental health. "I saw students become pretty miserable on campus, and some even leave campus mid-semester," she said. "I know people who are not coming back to campus this semester either."
"I've been advocating for the petition pretty heavily because I saw the emotional toll last semester had on some of us — and this time, we won't even be going home early," Leon Pons said. "Studying at such a rigorous level in the middle of a pandemic isn't all that sustainable."
Professors have also been receptive to the petition. Chair of Arabic Studies and Professor of History Magnús Bernhardsson said he believes that faculty members should and will take the petition's requests into account for their spring 2021 syllabi, and he has not heard any pushback from faculty members thus far.
"A few weeks ago, I wrote, as chair of Arabic Studies, to all the faculty in that department and highlighted this issue and encouraged them to take this into consideration when they plan their syllabi," Bernhardsson said. "Each faculty member has full control of their class and that should remain so. But I hope that people do take that into account. And I am pretty sure people will."
Professor of Arabic Studies and Comparative Literature Brahim El Guabli also said he appreciates the initiatives of the petition and plans to restructure his course around the Health Days. 
"I personally plan to let my students use these days in accordance with the requests underlined in the petition," he said. "When our students tell us that they need time to be rejuvenated, we have not just to listen to them, but to support them fully."
For El Guabli, Health Days will be a necessary period of restoration for the mental health of students, staff, and faculty alike. "I believe that both students and faculty need this time to recharge, relax, and resume the work to achieve their goals," he said. 
According to Sandstrom, the "College administration doesn't take a stance on whether community members should sign particular petitions." Still, she has stated her continued support for the reservation of Health Days for students' personal uses. "I reiterated the importance of being intentional about factoring Health Days into course syllabi when I spoke with faculty at our last faculty meeting," she told the Record on Feb. 4.
Despite the support and respect for Health Days from many professors and administrators, it's still possible that not all faculty members will adhere to the requests from Sandstrom's email and the WSU petition. After all, neither is binding.
"There will likely be some professors who have deadlines the day after the Health Day or something similar to that. I worry about that a lot," Leon Pons wrote.
WSU also recognized that it is students and faculty who will have ownership over how the Health Days will go. "It is ultimately up to students how to use these days," the petition states, "but professors have the power to enable students to make that decision for themselves."