Songs, movies, and more that made quarantine go quicker

With our unusually long winter break and upcoming in-room quarantine, the Record compiled art recommendations from students at the College via Instagram. For those students studying remotely this semester or taking time off, we hope that these recommendations help you stay connected to the College community, no matter where you are. From cartoons to crafts and everything in between, we hope you enjoy!
Here's a collaborative Spotify playlist of everyone's music suggestions — if you have any songs you'd like to add, please do! 
Editor's note: Submissions have been edited for length and clarity.
Music
"Good Days by SZA has become my theme song for 2021. The lyrics, 'choose to watch while the world break up in front of me,' really describe how passive I felt in 2020. So much happened and I felt so out of control of the things going on around me, but ultimately I am fortunate to still be here. This song is a testament to the fact that good days are still yet to come despite feelings of insecurity." — Alejandro Fuentes '23
"For me Melodrama by Lorde is more than just music; it feels like living, breathing art (kinda like the album cover!), and I think it's the most masterful encompassment of how simple yet complex human emotions are. 
Next, Folklore by Taylor Swift is nothing short of perfect. This album exemplifies how truly masterful she is as a songwriter. The way she can write about so many facets of life and somehow hit the nail on the head with relatability every time is beyond me. This is the prime example of a no-skip album that helped me get through quarantine. 
And then although Fine Line [by Harry Styles] is another beautiful and amazing album musically, the era [he created] is what I love as well. Styles is inarguably an icon, and with his sophomore album he is creating a visual [album] as well. The music videos range from exciting to breathtaking to comedic to kinda psychological. He inspires kindness and authenticity around him through his platform and his music and that was something I, as well as so many others needed desperately last year. 
Finally, over quarantine I really got into Sleeping At Last, especially his Enneagram and Space albums. At a time when uncertainty and chaos became normal, finding his music felt kinda like the eye in a storm. It is calming, fascinating, analytical, poetic, intellectual, harmonious, and stilling. Whenever I need a break from the noise of the world I listen to his songs either to remind me how little I am in the universe and how thankful I should be, or to hear me, understand me, and ground me." — Ethan Richmond '24
"I love Maude Latour's music. Her lyrics are genuine and story-like and her sound is very similar to Lorde's (who is one of my all time favorite artists). I'm also excited about her because she's a college student who's super active on social media and wants all of us to enjoy her music as much as she enjoys making it!" — Olivia White '22
Other submitted recommendations include: 
The Baby by

Samia

suggested by Ruth Bristol '23;

Samia, Phoebe Bridgers, Soccer Mommy,

and

Bristol Maroney

suggested by Gigi Gamez '22; 

Imagine by

Tommy Emmanuel

suggested by Hugo Hua '22; 

The Wombats

and old 2000s music suggested by Mafoudia Keita '24; 

Hey, Ma by

Bon Iver

suggested by Niko Malhotra '24; 

Survivin' by

Bastille

suggested by Ginya Marr '21;

подруга, Graveyard, Sia,

and

Lady Gaga

suggested by Scarlet Rusch '23; 

Morocco by

Moon Taxi

suggested by Hannah Stillman '23; 

Women in Music Pt. III by

HAIM

suggested by Rebecca Tauber '21; 

Amoroso by

Joao Gilberto

suggested by Sam Thorpe '22; 

No Blueberries and So Beautiful

by

DPR Live

suggested by VanNashlee Ya '22; 

Mitski, Lana Del Rey,

and

Grunge music

suggested by Kaela Zarrillo '23.
Movies/TV
"The Mandolorian! Sounds dorky but is actually super good! I think the show is just a really great balance of gritty action with high stakes every episode and feel good character dynamics and plot points. Additionally, I think it's catered towards Star Wars fans, but regardless of your level of background knowledge, it's still just a great show that can act as a stand alone. Lots of 'wow that was actually really badass' moments. The cast is diverse and the show leaves behind a lot of the damaging stereotypes that you might see in other series. And baby Yoda isn't actually tacky at all, he's actually genuinely very cute and adds a lot." — Ruth Bristol '23 and Izaki Metropoulos '22
"Your Name Engraved Herein (刻在你心底的名字) is a Taiwanese LGBT film that really brought out the tears. I don't want to say too much, but it is truly a beautiful and yet tragic film with an amazing soundtrack worth watching." — Alejandro Fuentes '23
"Little America is a series of true stories about American immigrants. The Nigerian episode, 'Cowboy' was touching because the character was Igbo like my father was. The episodes 'The Rock' and 'The Son' were my other favorites. Timothée Chalamet was the best cast for the new Little Women, but nothing can beat short haired Jo in the original. The Queen's Gambit is excellent. I have to keep watching The Lobster to drill its themes in my head." — Scarlet Rusch '23"
A couple of my friends recommended I watch Fleabag and as soon as I started it I totally understood the hype. It's the perfect show to binge because episodes are short but every one is relatable in a chaotic sort of way, so they really draw you in. It deals with difficult issues in a humorous way and you feel every emotion that the main character does. In the past I never loved TV shows because they seemed like such a commitment but this one was more like an extended movie almost and was much less daunting." — Kaela Zarrillo '23
Other submitted recommendations include: 
Sense8

suggested by AJ Chabot '21; 

Almost Famous, New Girl, Palm Springs

,

and

Superstore

suggested by Gigi Gamez '22; 

Ted Lasso

suggested by Elizabeth Hughes '22; 

Pride and Prejudice

and

The Big Bang Theory

suggested by Ha N. Le '23

Yellowstone

suggested by Niko Malhotra '24; 

Avatar: The Last Airbender

and

The Legend of Korra

suggested by Ethan Richmond '24;  

Parasite, Erased, and Death Note

suggested by VanNashlee Ya '22; 
Other hobbies
"Cooking! I'm vegetarian and my family isn't so I've been making lots of meals myself!" — Gigi Gamez '22
"Starting a language journal in 2021 has already been extremely rewarding. It's really satisfying to keep track of my language learning progress in a cute notebook through stylistic and colorful note-taking. I'm even more excited to be able to look back at it years to come and see the fruit of my efforts now." — Alejandro Fuentes '23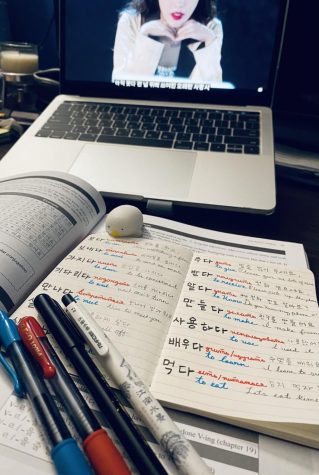 "Knitting may look intimidating, but it is very easy, quick, and fun to learn. Once you get the hang of it, you can knit while watching TV, in a zoom meeting, or driving a car (jk don't do that)." — VanNashlee Ya '22
Other recommended hobbies include:
Williams Unmasked app

suggested by Ha N. Le '23

Learning guitar

suggested by Ethan Richmond '24; 

Writing letters, journaling,

and reading

The Body Keeps the Score

and

The Paris Review

suggested by Scarlet Rusch '23; 

Reading

The Office of Historical Corrections

and

This Is How It Always Is

suggested by Rebecca Tauber '21; 

Cooking

and

baking

suggested by Kaela Zarrillo '23; 
If you ever want to review an album, movie, TV show, book, or anything else for the Record, please email tsn1.