College awards tenure to eight faculty members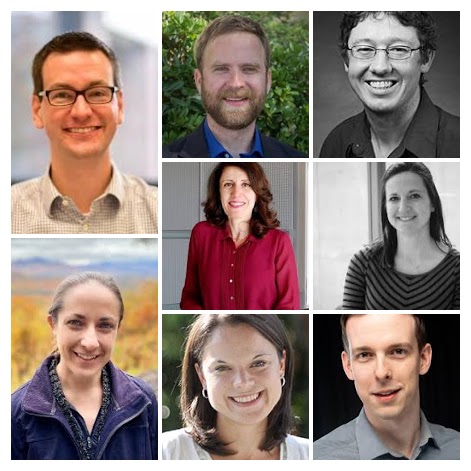 During its winter 2021 meeting on Jan. 22, the Board of Trustees approved the promotion of eight faculty members to the position of associate professor with tenure: Jeremy Cone, psychology; Christine DeLucia, history; Matthew Gibson, economics; Lama Nassif, Arabic studies; Christina Simko, sociology; Owen Thompson, economics; Emily Vasiliauskas, English; and Zachary Wadsworth, music. Tenure will go into effect on July 1.
Typically, achieving tenure is a seven-year process. After three years of teaching at the College, faculty on the tenure track are reviewed by the Committee on Appointments and Promotions (CAP) for reappointment. If reappointed, candidates are granted a second term of up to four years, which includes a two or three semester leave from the classroom, and then stand for promotion from assistant to associate professor with tenure in their sixth year. According to the Faculty Handbook, the CAP's tenure evaluation process considers student opinion, peer reviews and class visits, and quality of the candidate's scholarly research. 
Last spring, the College made slight changes to the tenure process due to the disruptions brought about by the COVID-19 pandemic. Although students filled out the Student Course Survey forms at the end of the spring semester, the CAP and academic chairs were not privy to the results. Student interviews, typically used to assess the teaching of untenured faculty members, were canceled, as were class observations conducted by senior professors, as the pandemic forced faculty members to adapt to remote learning. 
The College also provided untenured faculty the opportunity to defer their tenure process by one year. This additional year would allow candidates to make up for time lost during the pandemic that may have been spent furthering their academic research that the CAP considers when assessing tenure contenders.
Although grateful for the option of adding additional time, Cone, one of the eight professors granted tenure this winter, decided not to defer his tenure clock last spring. "I felt a little bit of survivor's guilt in some ways because I felt like the pandemic hit right when I was nearing the end of this whole process," Cone said. "I was able to do most of what I wanted to do just before all of this started to explode, and so I feel very fortunate for that, but also I really feel for my junior colleagues who are continuing to struggle through this and have an uncertain future."
Regardless of the additional difficulties presented by the pandemic, Cone said he believes that the tenure process at the College remains thorough and supportive. According to Cone, senior faculty and members of the College's administration provide constructive feedback every year so by the time a faculty member is formally evaluated for tenure, they have a good understanding about where they stand.
Jeremy Cone, psychology
A social psychologist with a doctorate from Cornell, Cone has published work in Proceedings of the National Academy of Science, Psychological Science, and the Journal of Personality and Social Psychology. He first arrived at the College as a year-long visiting assistant professor in 2012. "I basically fell in love with [the College] instantly," he said. "I was like, 'This is exactly the sort of place that somebody like me, who is excited about research but also excited about teaching, is supposed to be.'" 
Officially hired as an assistant professor in 2015, Cone said that his favorite aspect about teaching at the College is the students. "The effort-to-reward ratio of teaching here is just off the charts," he said. "I get to be creative, I get to invest a lot into the way I approach my class and the activities that I develop, … and it's rewarded by the students because they appreciate that effort, and they know what really great teaching looks like, and they seek it out from their professors. I've never been in a place quite like [the College] in that way."
Christine DeLucia, history
With a doctorate from Yale, DeLucia said she has also enjoyed working with a wide range of students, from first-years to art history graduate students, because of the diverse experiences and goals brought to the classroom. Another highlight for her has been incorporating and taking advantage of the College's academic resources.
"Many of my classes involve hands-on work with original materials in the library, particularly Special Collections, and at [the Williams College Museum of Art], where the very process of 'doing history' comes alive," DeLucia, who began teaching at the College in 2019, said. 
In 2019, DeLucia won the New England American Studies Association's Lois P. Rudnick Book Prize and the Berkshire Conference of Women Historians Book Prize, among others, for her first book Memory Lands: King Philip's War and the Place of Violence in the Northeast. DeLucia is now researching and writing a second book. "This new project revisits the eighteenth century and the ways that Indigenous, African-American, and Euro-colonial communities experienced an era that was revolutionary and liberatory for some, while also being replete with violences, dispossessions, and repressions," she said. 
Matthew Gibson, economics
Gibson's passion for the environment stems from growing up hiking in the Santa Cruz mountains. Gibson then became interested in economics when he lived in Moscow, where he witnessed firsthand bank runs and the ways economics fit into real life "People lined up around enormous city blocks, attempting to withdraw their money," he said. "The banks imposed penalties on withdrawals. Economists were the only observers offering an internally consistent explanation for what was happening on the street."
With a doctorate from the University of California, San Diego, Gibson arrived at the College in 2015 and has taught courses on econometrics and environmental economics. His research has been published in the Review of Economics and Statistics and the Journal of the Association of Environmental and Resource Economists, among others. Currently, Gibson is studying how climate change will affect the survival of American cities and the threat of rising sea levels on particular sections within those cities, such as the Embarcadero in San Francisco.
Lama Nassif, Arabic studies
Since arriving at the College in 2016, Nassif has been looking forward to expanding the Arabic studies program and encouraging the learning of second languages and linguistics at the College. She also hopes to broaden the reach of her work. "I would like to move my research beyond the realm of an academic audience or professionals," Nassif said. "I want to be able to engage in research that could also be of interest to the public, because language teaching and linguistics have a lot of relevance to our day-to-day life."
An applied linguist with a doctorate from the University of Texas at Austin, Nassif focuses her research on two categories: sociolinguistic development in second language acquisition and "noticing," or the cognitive process by which specific features of input in a second language capture the learner's attention.
Her main ongoing project is a book called Teaching Grammar in the L2 Classroom: A Focus on Form Practice. Nassif said that she hopes the project will not only contribute to current discussions surrounding how to teach Arabic as a second language but also serve as a foundation for future ideas for teaching Arabic through a more informed approach.
Christina Simko, sociology
Simko, who began teaching at the College in 2015, is also working on a new book. Her project compares three terrorism memorials and their companion museums — the Oklahoma City Memorial and Museum, the 9/11 Memorial and Museum, and the Equal Justice Initiative's National Memorial for Peace and Justice and Legacy Museum — and uses these sites as a window to discuss contemporary trauma culture in the United States, she said.
With a doctorate from the University of Virginia, Simko published her first book, The Politics of Consolation: Memory and the Meaning of September 11, in 2015 and won an honorable mention for the American Sociological Association's Mary Douglas Prize for Best Book in the Sociology of Culture. Her research has also been published in journals such as Sociological Theory, Society, and Poetics.
To Simko, receiving tenure means that she can continue to expand her research interdisciplinarily. "It empowers me to take intellectual risks — to venture onto new terrain, to teach courses, and pursue research projects in sub-disciplines that are entirely new to me," Simko said. 
Owen Thompson, economics
A faculty research fellow at the National Bureau of Economic Research, Thompson has published his work in numerous journals, including the Journal of Policy Analysis and Management, the Journal of Human Resources, and the Journal of Political Economy. Before coming to the College in 2018, he taught at the University of Wisconsin-Milwaukee and received his doctorate in economics  from the University of Massachusetts, Amherst.
Thompson said that his experience teaching has been so enjoyable that choosing just one favorite aspect would be difficult. "Sometimes I joke that I feel like I'm watching a movie about being a college professor; it's just such a classic professorial lifestyle," Thompson said. "Leisurely strolling through the quad on a fall day, talking big ideas with bright students — it's just great."
Emily Vasiliauskas, English
Vasiliauskas also said that choosing a favorite teaching moment was hard, adding that one highlight for her would be her Edmund Spenser reading group, though it is on hiatus. "Once a week, I get together with a group of interested students and colleagues to read and discuss a canto of The Faerie Queene," she said. "The setting is more relaxed than a seminar is, and so we are able to talk about this strange and wonderful poem in a more open-ended spirit."
With a doctorate from Princeton, Vasiliauskas has published work in Studies in Philology, Politics and Aesthetics in European Baroque and Classicist Tragedy, and The Cambridge Quarterly. She is working on a manuscript titled The Skull in the Mirror: Aesthetics in the Age of Shakespeare, which discusses how art existing for its own sake played a major role in the European Renaissance. 
Vasiliauskas added that she is excited to teach a new English course on theater and voyeurism, which will be the subject of her next book.
Zachary Wadsworth, music
Wadsworth said that he, too, has started to think about new courses to teach. "I've been threatening to create a new class on video game music, but I haven't played quite enough video games to pull it off," he said. "This doesn't mean that my post-tenure project will be to play more video games, but I think it could be a really great course."
With a doctoral degree in music composition from Cornell, Wadsworth is a composer whose work has won Outstanding Choral Recording for Canada's National Choral Awards in 2018 and has been nominated for a JUNO Award for Album of the Year: Vocal or Choral in 2020. He continues to perform as a tenor and pianist while teaching at the College.
"I find it so important to remain active as a musician," Wadsworth said. "Writing music is, fundamentally, about creativity and problem-solving. Each new composition poses new challenges and opportunities for creativity, which means that this work constantly shows me the kinds of skills and approaches I need to be teaching in my music classes."
For Wadsworth, as for other recently tenured faculty, the students are what makes teaching at the College especially rewarding. "It's an unbelievable and rare privilege to have students who care so much about, and are so active in shaping, their own education," Wadsworth said. "I know it sounds cheesy, but it's totally true — I wouldn't trade the classroom environment at Williams, even via Zoom, for anything."
Correction: This article was updated at 2 p.m. on Feb. 10, 2021 to accurately define Professor Nassif's professorial title. She is a professor of Arabic studies, not comparative literature. We deeply regret the error.