COVID-19 case temporarily closes Children's Center, causing uncertainty for faculty, staff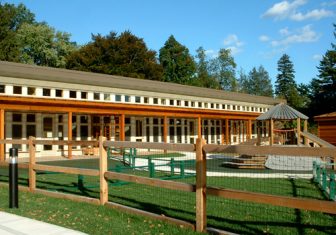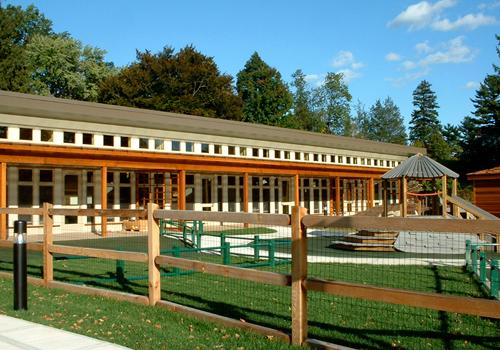 The Children's Center, a College-run childcare facility for faculty and staff, was closed from Jan. 10 until Jan. 19 after a staff member at the Center tested positive for COVID-19. While the Center has since reopened with no further positive cases reported, the closure was a stark reminder of the childcare challenges that College employees with young children have faced during the pandemic.
The positive case brings the total number of faculty and staff positives at the College to 13. Williamstown at large has recorded nine new positive cases in 2021, six of which are from household contacts, according to Williamstown Health Inspector Jeff Kennedy. "There are a few isolated cases, but most cases are from shared households," he said in a local health board meeting on Jan. 11. "In general numbers, Williamstown has really been doing well so far."
According to a Jan. 10 email sent to affected families by Director of the Children's Center Carrie Gagne, the Center was notified on Jan. 9 that a teacher in the Pine Room, one of the Center's nine classrooms, had tested positive. 
Currently, the nine classrooms — three rooms each for infants, toddlers, and preschoolers — serve 70 enrolled students in total. "Each classroom has 3 teachers," Gagne wrote to the Record. "Our Pine Room is a preschool class with 12 children enrolled, ages 3-4 years." Class sizes have been reduced since the pandemic began to meet space requirements and reduce child-to-teacher ratios, according to Gagne.
In order to avoid unnecessary mingling between students, the teachers and students have not interacted with anyone outside of their designated room. However, this measure alone is not enough to stop potential transmission due to the interactions of families at home. "The Pine Room has an exceptionally large number of siblings and family members moving through seven other classrooms," Gagne wrote in the email to families. "That fact fueled our decision to reluctantly close the entire school."
In conjunction with Williamstown leaders, the College decided to close the entire building "in abundance of caution," according to Vice President for Finance and Administration and Treasurer Frederick Puddester. "Our concern was this: There is no place else on campus where 80 families in our community get together every day," Puddester said. 
Even though mingling among students from different rooms is restricted, there are two ways that one positive case could put children in other rooms at risk, according to Gagne. The first is through siblings who might be separated while they are at the Center but interact with each other at home. Therefore, a positive case found in one room would not be confined to the students in that room, as their siblings in other rooms could indirectly expose other children to the virus as well. 
In addition, children from different rooms could mingle through "caring pods," which are small groups formed by families on days when their children cannot attend the Center. "We don't provide five days of care to every single family because of the state restrictions on the size of the rooms," Puddester said. On days when their children cannot go to the Center, families often gather in small groups and provide their own childcare services. 
These caring pods are another way that children from outside the Pine Room could be indirectly exposed. "[If] someone in the caring pod is in that room," Puddester said. "That means another room is compromised."
Kennedy said that he was in "constant contact" with Gagne while the Center was closed. "The College recognizes that this will make life harder for people who send children to the Center, but it's what they had to do to be cautious," he said in a local health board meeting on Jan. 11. 
As the semester looms, faculty juggle additional childcare responsibilities
Assistant Professor of Chemistry Ben Thuronyi said that taking care of their 3-year-old, Milo, and 5-month-old, Oliver, has been "doable" despite the temporary closure of the Children's Center, where Milo is in the Pine Room. "[But] a lot of why it was doable is that we called in the grandparents about midweek, asking them to stay with us for about 10 days," Thuronyi said. "This is letting us make up a lot of the lost work hours and to destress a bit and be in a better place for our kids." 
Thuronyi called their family "lucky" to have retired and semi-local grandparents who could alleviate some responsibilities when the Center closed. "But getting local help from a sitter or nanny feels far, far too risky for us, and podding is also really fraught," they said. "We don't see a lot of other options." 
Assistant Professor of Statistics Xizhen Cai has also benefited from the help of her parents, who have taken care of her 3-year-old son Benny during the day while she works on preparing for the coming semester. Her parents have been unable to return to China in recent months due to limited air travel options and will be here until at least March, she said. 
As a result, "I haven't looked much into alternative ways to seek childcare yet, but I heard from some friends and colleagues that it could be difficult and expensive," Cai said. "So I guess I better start to think about options now."
After taking parental leave during the fall semester, Thuronyi will return to teaching this spring. Even though the Children's Center is expected to be open throughout the semester, its hours are significantly reduced from the 8:00 a.m. to 5:15 p.m. schedule it used to operate five days a week. "Now the care that we have is 8:30 a.m. to 3:15 p.m. and only guaranteed to us three days a week," Thuronyi said.
Thuronyi expressed some concern over the issues faced by junior faculty in particular. "One thing I'm hoping for … is that there can be some serious reckonings with the impact that the pandemic has had on our teaching and research once it's over and everyone has more bandwidth and flexibility," they said. "Momentum in research is a huge thing."
To Thuronyi, the one-year extension on tenure provided by the College is the bare minimum of accommodation that faculty need. "We're going to need much more support than that, unless the College wants to totally change the tenure standards or have a big swath of their current junior faculty who would have been highly successful otherwise wipe out instead," they said. 
The Center reopened on Jan. 19, ten days after the positive test result was first revealed. The Center required that every enrolled child and all members of their households, as well as all the teachers, present a negative test result before being allowed to return.
So far, all is well, according to Gagne. "With the tremendous support and cooperation of our families, our reopening has gone very smoothly with nearly every child happily returning!" she wrote to the Record. If another positive test result was to be reported at the Center, "We will work much in the same way of gaining guidance from local health officials and College leadership," Gagne said. The Center has not reported another COVID-19 case since the closure.