Student musicians and a cappella groups record and release albums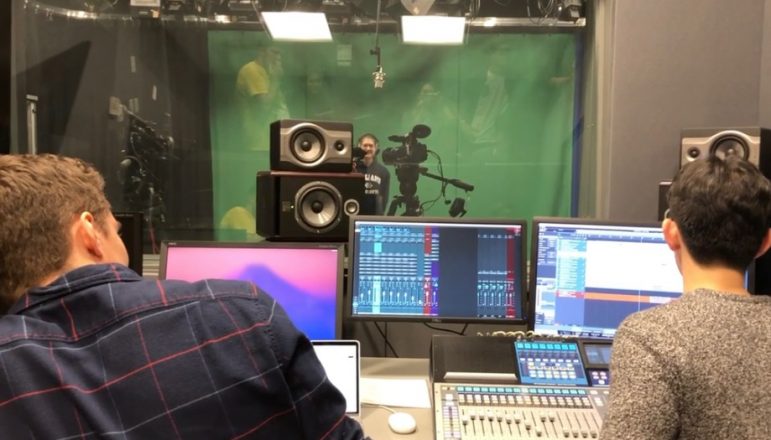 With Grammy nominations and Spotify Wrapped sharing, there is so much new music to explore. But students at the College need look no further than to their own classmates. From a cappella groups to individuals, from Sawyer recording studios to house basements, here are four recently released albums recorded and edited by students at the College.
The Octet: What Could We Say
On March 6, the a cappella group The Octet released the album What Could We Say. The group has been releasing albums throughout its 80 years, releasing their first full digital album, Heating Up in 2015. After recording songs consistently every semester since then, the group realized their sound had changed drastically and decided to release another album to represent that. 
"The arrangements are more complex, the songs are more percussion heavy, and the range of genres in the Octet repertoire has only gotten bigger," said former Octet music director Kenneth An '20. "We wanted to reflect our progress in this new album as well as celebrate the group and its people."
Thus, the group collected songs they have recorded throughout the past five years and released their second digital album. As a group that covers all kinds of songs ranging from what An called middle school pop songs to traditional Scottish songs, mash-ups and even pure improv, they "had to consider a lot of things when choosing songs for the album," An said. 
"We thought about how to best encapsulate the spirit and essence of the group to those that are outside of the group, what songs were dear to our hearts and what songs were just purely fun to sing. We thought about how songs made us bond with one another and how they defined what we felt for each other as well as the alumni that have been in the group throughout the years," An said.
The songs were recorded in Sawyer Library's recording studio with the help of Events, Classroom and Studio Support Specialist Patrick Gray. For better quality control for both sound and editing, each singer recorded their parts individually. From there, An took the lead on editing, mixing, and mastering everyone's parts together on Logic X Pro. He noted that each song took "an awful lot of time to perfect." After deciding on an album cover and title (which "resulted in a civil war over our GroupMe chat"), the album was released on streaming services. 
Ephlats: All the Rest
Like the Octet, the a cappella group the Ephlats released their second digital album, All the Rest on Sept. 12. Throughout their 64 years, the Ephlats have produced three albums on vinyl, several on audio tape and five on CD. 
Also like the Octet, many of the songs on the album were sung in prior years, but instead of using old recordings like the Octet, the group did all their recording at once. Since most of the songs were performed in prior years, many of the Ephlats alums came back to record their parts. "It was a great way for them to capture their contributions to and memories with the group," said Zoe Kaegi '23, who, as a first-year, had to learn new songs for the album.
All of the album's recording was done over Winter Study and the on-campus portion of the spring semester. An taught what he had learned about mixing and mastering to Kaegi and Anna Passannante '20. Passannante organized the recording, editing and release process, which was similarly done one singer at a time with Gray's help in the Sawyer studios. 
Due to COVID-19 and the campus closure, the group had to cut the length from 10 songs to nine and do all the editing, mixing and mastering at home, without access to the high quality recording software accessible on Sawyer computers. Passannante, Kaegi and An collaborated on the editing, each working in different time zones. "I'm pretty sure the three of us were texting each other every day for the six-or-so months we spent editing, mixing and mastering!" Kaegi said. The variety of songs on the album represents the range of styles the group sings, including pop, indie, rock and country.
Hugo Hua: Mostly Cloudy
For Ephlats member Hugo Hua '22, the group album was not his only music project. [Editor's Note: Hua serves as a Web Developer on the Record and was not involved in the writing or editing of this piece]. He released his own album, Mostly Cloudy, on Oct. 11. Unlike the Ephlats album, which is all covers, Mostly Cloudy features Hua's original music. During his first-year Winter Study, Hua took a songwriting course taught by Bernice Lewis, and subsequently released Hiding Place, a seven-track album that summer. The following summer, following campus closure, he set down to write and record again, resulting in this 12-track album. 
"I had a couple of microphones and some equipment at home because my dad used to always record me and my sister playing piano," Hua said. "The rest was going online, mostly on YouTube, and figuring out the best way to edit vocals and edit guitar to get them sounding the best they can."
When writing a song, Hua starts with the music first, then writes lyrics based on what fits with the mood of the music. "I usually like to think about what kind of a melody I want, what kind of chord progression, structure, or instrumentation I can put together. Lyrics are usually a little harder for me."
Hua did not have one particular theme guiding the album. He wrote about whatever was on his mind the day he was writing. "A lot of the song ideas for this album I came up with while thinking about something or someone that meant a lot to me, and then the words just came after."
The original goal of the album was to write a song to sing with each member of the Ephlats, but because of the campus closure, he was unable to record a song with everyone. The process for writing for someone else varies. Sometimes he picks a singer to feature after the song is done, based on whose voice would sound best on it, and other times he writes specifically for other singers. Nine of the 12 songs feature other singers, many of whom are in the Ephlats, such as Kaegi and Passanante. Other tracks feature campus musicians who are not in the Ephlats, including Alex Quizon '21. "I originally just wanted to sing that song on my own, but then I was talking to him and I have always wanted to work with him on something, so I decided to have him sing a verse in a chorus of the song."
Alex Quizon: 7.8 Billion
Quizon also released his own EP, 7.8 Billion, on Aug. 24. 7.8 Billion, referring to the current population on Earth, is a musical expression of his thoughts on climate change and environmental justice. This is his first release after a single, "Waiting for You," in 2018. 
Like Hua, Quizon took the songwriting Winter Study class. "One particularly memorable technique was the use of 'lyrical furniture,' as I often used to sacrifice beautiful lyrical melodies (e.g. alliteration) for not-as-beautiful musical melodies," he said. Quizon also took Professor of Music Ileana Perez Velazquez's "MUS 210: Music Technology" class where he learned about and incorporated sound effects such as reverb and EQ into homework assignments and eventually his EP.
Quizon had always wanted to produce an album, and the free time due to quarantine allowed him the opportunity to do so. "I had no excuse; after all, I would spend much of my time during quarantine messing around on my piano and guitar anyways," Quizon said. "So I took the time to sit down, journal some of my thoughts, and eventually turn them into songs for my EP."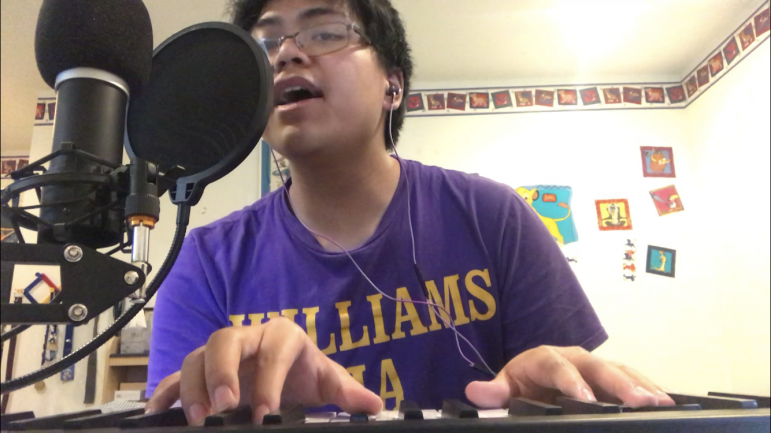 Quizon was inspired by artists like Marvin Gaye and Childish Gambino, who use music to communicate their thoughts on contemporary issues, to write about an issue that "hit home." "There are so many places around the globe—including the Philippines, my parents' homeland—that continue to be threatened by climate change," he said.
The EP does not follow a specific genre, but rather borrows from many. "There is a synth 'jazz/soul' song about colors disappearing from our world, an acoustic blues song about healing, a pop ballad about eternal love in the face of our decaying Earth, etc," he explained. "It was really fun trying out these different concepts and turning them into music."
Like the Ephlats, Quizon did not have access to the College's recording and editing software, so like Hua, he had to do it all from his home, using funds from the College to purchase a microphone and MIDI keyboard to construct a mini 'studio' in his room. 
While this process was challenging, he noted that the hardest part was not the editing, but rather following through with each song. "It's easy to come up with an idea and some starting lyrics," Quizon said "but it's difficult to write a whole story."
Hua shared a similar sentiment. "One of the hardest parts for me in songwriting is listening to what I wrote and trying to decide whether I like it, and if I want to continue down this or if I should sort of start again from scratch…  It's sort of a balance of not trying to get too attached to things that you create, so that you're not too scared of starting over, but also trusting that you kind of know what you're doing."
Moving forward, the groups and individuals all have different plans to continue making music, both for fun and for future streaming release. In the hyper-saturation of music today, sometimes it is best to look at what's being made directly around you, including the projects being released by our peers at the College.