As future chief of the Grand Caillou/Dulac Band of Biloxi-Chitimacha-Choctaw, located in Louisiana, Devon Parfait '22 regularly contemplates problems facing his tribal community such as coastal land loss, low educational attainment and low economic opportunity.
"Tribal communities down south are dealing with so much right now," he said.
As a student at the College, Parfait is studying one of the largest problems challenging his tribal community in Louisiana — disproportionate effects of coastal land loss. In his own research, he is working to quantify these disproportionate effects. He found that Louisiana loses about 0.3 percent of land per year, but his specific community loses 0.7 percent of their land per year, more than double the general statistic.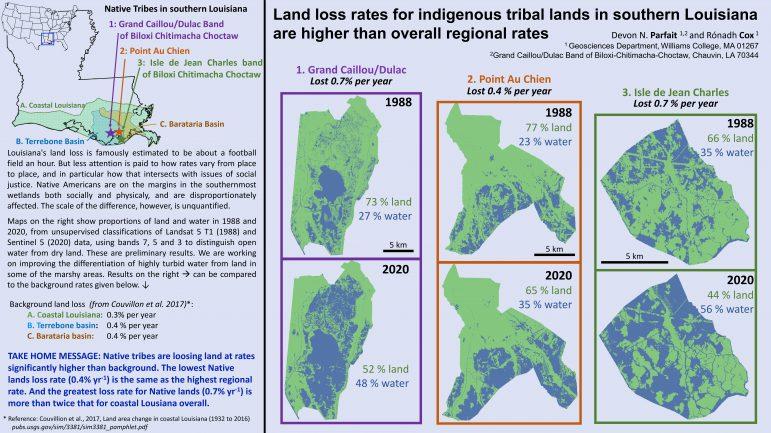 Parfait will face serious challenges when he steps into the role as chief but he said that the chief selection process was relatively relaxed. He would often talk and spend time with the current chief, with whom he shares family ties.
"The night that I was chosen we just had really good conversations. Me, as this young kid, and this adult, we would have conversations about the tribe and the world and her experience. I was just such a curious kid," Parfait said. "In that moment, she thought, 'Man, maybe this guy can do something. Maybe this guy can fulfill this role.'"
Because of his role as future chief, being a student at the College has a special meaning for Parfait.
"It's just amazing that I can go to school and learn and develop my brain and also do something that helps the tribes," Parfait said. "I am just really grateful that Williams was able to give me an opportunity to do this research and give me some kind of platform to advocate for it."
The opportunity to study at the College was a long and complicated journey that started on the bayou in southern Louisiana.
"We lived right on the bayou," he said. "My grandpa had a shrimp boat. One of my favorite memories is when we would catch other things besides shrimp. Sometimes we would catch puffer fish. It was my favorite thing to give the fish a kiss and blow in it and it would blow up and we just threw it back in the water."
In 2005, during Parfait's second-grade year, his family was forced to evacuate to Texas when Hurricane Rita hit his community. "When the storm came, our house was completely flooded. There was mold all over everything," Parfait said. "The shrimp boat that my grandpa had was broken in half in the bayou. My family lost everything in that storm."
Because of the storm, Parfait and his family moved north to an area near Lake Pontchartrain, La., where they stayed for a few years before moving again to Marrero, a suburb of New Orleans. After that, Parfait's family continued to move around, which meant he had to switch schools multiple times.
"I moved around a lot," he said. "I feel I was very unfortunate, in a way, but also very fortunate because I got to live with so many different kinds of people. I feel like it was great for my overall worldview."
While Parfait has been able to engage academically at the College, that was not the case when he was growing up.
"I learned more from YouTube than I did from my high school," Parfait said. "I remember going into math class and I would just put my head on the desk and go to sleep. My teacher would try to wake me up but by the end of the semester, she would just slide the worksheet under my arm."
After high school, Parfait took a semester off. "That was probably the best thing I could have done," he said. "I had no idea what I wanted to do or where I wanted to go and I just really needed some time to be with myself, be in the world, work, and just live life a little."
After the semester off, Parfait enrolled in Delgado Community College in New Orleans, where he studied for three semesters. Parfait's introduction to Williams came when he travelled to Seattle to attend a conference on behalf of his tribe. He met Rónadh Cox, professor of geology and mineralogy at Williams, along with other Williams students.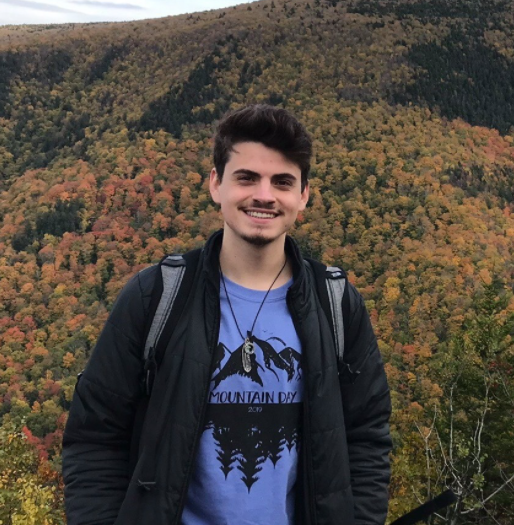 "I ended up really enjoying the geosciences conference and loving all of these Williams students who had great personalities and seemed so smart," Parfait said. "I was like, 'Man, I want to be one of these Williams students. They seem really cool.'"
Cox took Parfait under her wing and helped him strengthen his application to Williams. Parfait began studying for the ACT, improving his grades, and gathering recommendation letters from his professors — all to have his application rejected by the College.
Rather than dwell on the rejection, Parfait applied for the Williams-Mystic Program at Cox's suggestion. He was accepted. "It was the most transformative experience of my life," Parfait said of his experience at Williams-Mystic. "It really took me from being this non-academic person and trained me to be academic and engage with the world in interdisciplinary ways."
After finishing Williams Mystic, Parfait was determined to get into the College, so he and Cox came up with a plan. That spring, Parfait was able to enroll in classes and get on the meal plan at the College through a program normally for local high school students. While Cox was on leave that semester, Parfait stayed at her house with her husband. Parfait said that one of his chores included "taking care of her guinea pigs."
Parfait's second application to Williams was accepted, and ever since his matriculation, his interest in geosciences and its application to coastal land loss in Louisiana has grown. "I was just really grateful that Williams was able to give me that opportunity to do this research and give me some kind of platform to advocate for it," Parfait said.
To Cox, Parfait's acceptance came as no surprise. "He's a very impressive, very interesting young man," Cox said of Parfait. "He's got a fire."
Parfait has potential plans to attend graduate school but doesn't want to commit to anything just yet.
"For me, I think about what education I can give myself to perform the best at this role of chief because I see the current chief and all of the weight on her shoulders and the problems she deals with now," Parfait said. "I'm doing so much science in my undergrad degree, understanding the science of coastal land loss and the problems in Louisiana, and then going to law school could enable me to tussle with the government and have that same language and be able to move things forward on my own."
Parfait is currently working on building a commission to bridge the gap between Native American communities and the U.S. government. He said he wants there to be "some sort of accountability and communication between the tribes and state government agencies on housing, education, and the coastal masterplan."
In the future, Parfait and Cox plan to continue their research into coastal land loss and how it affects five specific regions in southern Louisiana.
"We have it constrained to quantify the land loss rates over a 20 or 30 year period for each of these five regions and compare them to the land loss rates for the region as a whole," Cox said. "The very specific end goal is to produce a rigorous, well documented study demonstrating the disparities between Native American Louisianans and other southern Louisianans in terms of their exposure to land loss."
Parfait has committed himself to advocating for his Native American tribe. "A lot of people don't even know that Native Americans are in Louisiana, much less that they're experiencing all of these problems with coastal land loss and climate change and environmental justice and so on," he said. "So, advocacy is the biggest thing that I do, just telling the world that 'hey, we're here and there are problems here.'"