On-campus holdouts confront a newly emptied campus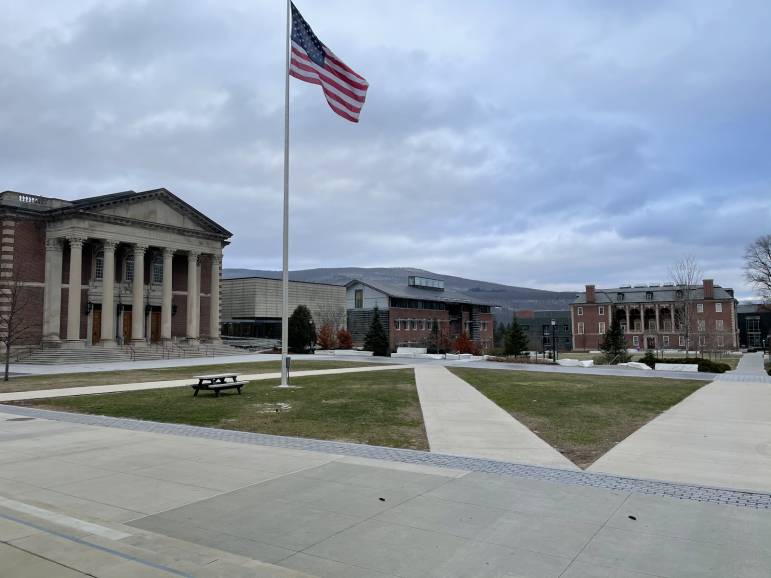 On the weekend before Thanksgiving, the College was a flurry of packing and panic, as a large majority of the College's on-campus population prepared to head home for the remainder of the semester. But for the 157 students who were approved to stay in Williamstown, the weekend simply marked a new chapter of their time on campus.
It's now been two weeks since the College switched to entirely remote learning, and those who remained at the College say they're beginning to adjust to the newly deserted campus.
"I'm starting to get used to the new vibe, because it's been a lot more quiet with less people," said Mico Aldmar Mendoza '24, who chose to stay in Williamstown rather than undertake the complicated journey home to the Philippines.
"When people are around, you get more of a sense of community. But now there's less of that sense," Lydia von Schwanenfluegel '23 said. 
Yunjin Park '23, who lives in the same pod as von Schwanenfluegel, added that she's felt an increased sense of productivity due to the quieter campus life. "For me personally, I actually thought it was kind of good timing that everyone left," Park said. "Because there's less community, but I also feel a lot more focused on academics because people aren't around as much."
Housing and Residential Programs Assistant Ana Azevedo wrote in an email to the Record that there are 157 students currently on campus, a number which will drop to 65 once the semester ends and winter break begins on Dec. 22.
According to von Schwanenfluegel and Park, despite the low number of remaining students, the application to stay on campus did not appear to be selective. "There was just a form we had to fill out, and they didn't even ask for really any reason," von Schwanenfluegel said.
"It was actually really surprising," Park added, "because [in] the appeals process last semester … a lot of people got rejected, and there were callbacks where people had to provide more reasons. But this time it was literally just filling out a Google Form and they were like, 'Okay, you can stay.'"
The remaining 157 students are currently scattered across the campus' many dorms, though some students in first-year dorms were consolidated to Sage Hall. At the end of the fall semester, those remaining on campus will be reassigned to designated dorms. Senior Associate Dean of Campus Life Doug Schiazza did not respond to repeated requests for comment on the College's plan for housing on-campus students.
Park and von Schwanenfluegel said that, of the semester's dozens of Currier Hall residents, they were the only two who chose to stay on campus, meaning they now have the entire dorm to themselves. Mendoza similarly said that, of the dozens of first-years in Sage 1-2, only five including himself are still on campus.
To adjust to the lower number of students, Dining Services has significantly reduced its hours, as well as temporarily closing Driscoll Dining Hall and eliminating breakfast entirely. 
"At Paresky, the meal hours are similar to how the weekend hours were this fall, except dinner is only from 4:30 to 6:30," Elle Montoya-Kelner '21 said. Additionally, she said, students can only enter Paresky through the Park Street side entrance, and must use their ID cards to get in the building.
"[The limited hours], combined with the fact that we can't cook our own food, has been kind of hard," Park said. "We've sent emails to the administration about getting the kitchens opened, and they say, 'Sorry, that's against COVID guidelines' without any appeals process to that." 
Mendoza, however, was more satisfied with Dining Services. "Strangely, I think the food has been so much better now," he said. 
Assistant Director of Dining Services and Director of Catering Jeanette Kopczynski explained campus dining logistics in further detail in an email to the Record: "Paresky will remain open through shutdown on December 22nd. Driscoll will open on Wednesday, January 6th following shutdown and Paresky will close for some repairs."
"The fall menus ended on November 22nd," Kopczynski continued, describing changes to available food options. "Winter menus were planned around student feedback and will offer more halal, lactose free, vegetarian and gluten free options."
Kopczynski also explained that COVID regulations have not changed since Thanksgiving, stating that face coverings and social distancing would continue to be necessary throughout the winter months. Additionally, she said that all full-time Dining staff are still working.
Like Dining Services, many other areas of campus life have been curtailed. The libraries, which were previously open until midnight on weekdays, now have limited hours of 8 a.m. to 5 p.m. at Sawyer and 10 a.m. to 4:30 p.m. at Schow. "I only see maybe one person [at the library] each time I go," Montoya-Kelner said. "There's only one librarian in the library at a time, as well. I do think it's kind of nice to have the whole building to yourself, even if it is a little lonely."
Montoya-Kelner added that the tents which once resided outside of Driscoll and Paresky Center are also gone. "There's no socially distanced seating outside for on-campus students to use," she said.
Despite the reduced College services, however, Mendoza said that the campus community remains vibrant. "There are a couple of interest groups on GroupMe, like a group chat for people who want to play spikeball or ping pong, or who want to do some artsy stuff," he said. "Also, the College is providing a few activities. I joined a sunrise hike this Friday, which was fun."
Mendoza, von Schwanenfluegel and Park all said that, despite the strange circumstances, they've been able to strengthen old friendships and forge new ones. "One of the great things about this is, with the people I've already established friendships with already gone, I'm encouraged to form new connections with other people," Mendoza said. 
Montoya-Kelner, Park and von Schwanenfluegel all plan to return home on Dec. 22, before winter break, while Mendoza plans to stay on campus until the beginning of next semester. As gloomy as the coming weeks may be, students continue to keep themselves occupied, both with their studies and with more traditionally comforting pastimes. 
"We've just been watching a lot of TV together, that's been fun," Park said of herself and von Schwanenfluegel. "So I guess, finish the shows we've started [before we leave for break], that's the goal."