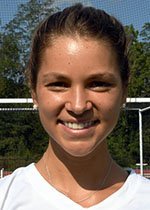 Team: Field hockey
Hometown: Duxbury, Mass.
Residence: Rectory
Major: Psychology
Snack bar order:Nachos with soy cheese, tomatoes, chicken and peppers
What is your background in sports?
I started off playing hockey – my dad played hockey here, so he had me in skates at a young age. Then in elementary school, we had to play every sport starting in third grade, so that was when I was introduced to field hockey. And then you got to choose what you want to do in middle school, so I chose field hockey and from then, I just got really into it. I first went to camp [at Williams] my first year of high school, and I knew I wanted to play there immediately.
So you came here in large part because of head coach Alix Barrale '93?
Yeah, she was so awesome in talking to me about Williams and the team. I knew it was competitive both in the sports and academically, since both my parents played two sports here. But she [got] me excited about the field hockey team and what it would be like to be coached by her.
What's your relationship with Barrale like?
Good! I've known her for a long time and her uncle was actually one of my dad's professors. So we've known her for a little bit, but I didn't really know her until I actually came here. She's a very fun, easygoing coach – so it makes things a lot easier, especially working with her as captain.
What's the dynamic like with your co-captains, Emma Santucci '19 and Caroline Taverna '19?
Good! I feel like each of us has our own personality that works for the different dynamics on our team. Emma's very easygoing and chill, but she's also great talking with people. Caroline is also calm, but good at motivating people. She's very funny – she's in Combo Za. She gets the energy up in that way. And I'm kind of the voice on the field because I play center-mid. During halftime, I try to get everyone refocused on what we need to do. It's a good balance, personality-wise.
How have you improved or grown as a player these past four years?
Obviously I get nerves before each game, but I think I've grown in the sense that year after year, that [feeling] kind of goes down and I am more excited to play. My play isn't too much in my head anymore. It used to be sometimes I would psych myself out or worry too much about making a mistake, but not anymore. I think that just comes with four years of experience playing with the same teams. You get a sense of how opponents play, so you are more ready. I guess my confidence has definitely gone up.
Is there a particular team you don't like playing?
There's many. Bowdoin, Middlebury, Amherst and Tufts. They are just really good.
The team has lost in the NESCAC semifinals two years in a row. What do you think is the key to getting past that hurdle?
I think what kills us is our overtime. We lost last year in overtime to Trinity because we got a little tired at the end. So I think we really need to focus on being first to the ball and getting and sustaining that energy all the way to the end. Hopefully, that will carry us further than last year.
What are some of your personal goals?
I want to focus on hearing the team's needs and translating that to [Barrale] and our assistant coach [Kate Kurzanski]. So basically, just doing my best as a captain so that everyone has a great season and has fun.
What are your proudest achievements in the sport?
My grandmother comes to every one of my games – my grandfather can't make the long trips. Sophomore year though, since we live near Boston, he was able to come to the Tufts game. And I scored twice that game, so that was a really happy moment for me because my grandfather doesn't get to see me play, and I was able to score twice for him.
What's the story behind the goofy team pictures?
I don't know how it all started, but it's always been a thing from what I've been told. This year, we tried to think of an idea [so] that people didn't have to go out and buy something. So when Libby Dolan ['19] thought of the idea of 'Battle Buns' like Miley Cyrus, we decided to go with it – it's easy, it's not as noticeable and it's fun. Yeah, my hair's really thin, so it didn't really work out with me [laughs].
Do you have any other team traditions?
We do have a dance party before every game, and we usually have a song that becomes the song of the season. We don't choose the song – the song chooses us. Right now, a song hasn't chosen us yet, so we're carrying with the song from last year which is Alex Newell and DJ Cassidy's 'Kill the Lights.' So we will play that to get pumped up. We have these really fun party speakers with lights that go off, which really gets our energy up before we meet with the coaches.
Which professor would you like to play against in your sport?
I'd probably like to play against my advisor [Professor] Nate Kornell in the psychology department.
Who is your recent pro-athlete crush?
I had a big crush on Sydney Crosby for a while. Or Tyler Seguin – he's no longer a [Boston] Bruin though, sad.