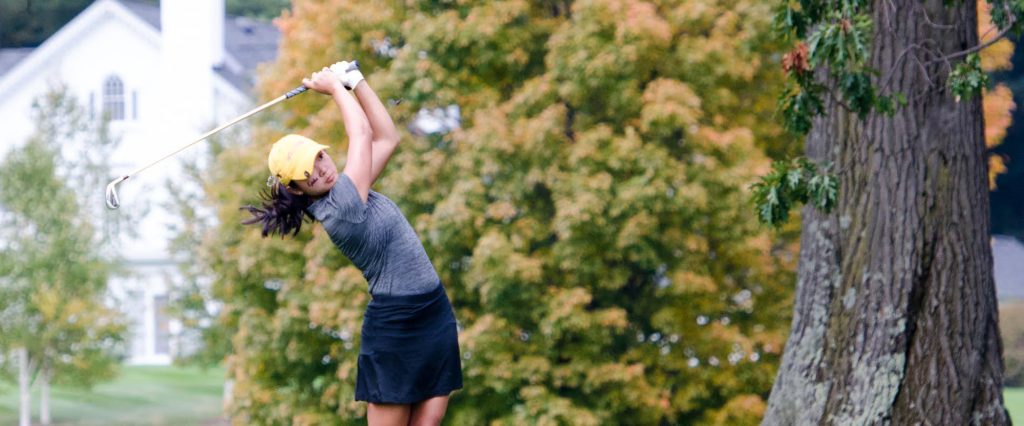 This weekend, women's golf placed second at the Williams Invitational, a biannual tournament at the Taconic Golf Course, falling a mere three strokes behind NYU in first.
After the first day of the tournament, the Ephs led the field with a 315, NYU in second with 319 and Middlebury in third with 322.
The Ephs were led by Joanna Kim '22 who shot her collegiate best, 4-over 75. Her score put her second individually for the tournament.
"I think the conditions…were fairly difficult and the course played hard but I was proud about how the team pulled through and gave it their all until the last hole," Kim recalled afterward. "With my own game today, I was happy with my approach shots and was able to capitalize on them. I'm hoping to improve my shots off the tee and take some more time around the greens."
Next up for the Ephs was Cordelia Chan '19 with a birdie-less 78. Stella Woo '21 was next with an 80, followed by Olivia White '22 with an 82 and Holly Davenport '21 with an 85.
Isabella Wang '19 led the way in individuals with an 83; Mehr Sewant '21 was close behind with an 85, and Cindy Wang '20 completed the team's scoring with an 89.
The Ephs continued to play on Sunday. Unfortunately for the Ephs, Sunday did not bode well and the team could not hold onto their four-stroke lead over NYU.
NYU made a raging charge for the title and stroked a 303, seven strokes clear of Williams at 310 and surpassed them by three strokes. NYU took first (622), Williams was second (625) and Amherst was third (633).
Kim maintained her good standing and followed up her 75 with a solid 77. Her two-day total of 152 put her third for the tournament individually, her lowest score and best finish in her collegiate career to date.
Kim was followed by Chan. Chan's 77, combined with her 78 from the day before, put her in eighth individually. Davenport made an impressive 14-spot jump up the leaderboard with a ten-stroke improvement from Saturday and her 75 the second day put her in 16th. White rounded off the scoring with an 81 and 84 and they placed 22nd and 23rd,respectively.
The individuals also had a good showing. They were led by Sewant, who tied her best collegiate round with a 74. She catapulted up the leaderboard to T14. Isabella Wang matched her score of 83 yesterday to place T26. Cindy Wang completed nine holes but ultimately had to withdraw because of medical reasons.
"We played better today as a team, and didn't have many mistakes," head coach Tomas Adalsteinsson said. "Each tournament is super exciting and very few shots separate the teams at the top. Today, NYU played great and edged us by three total. It's easy to go back and find those three shots, but we will look at what we can work on this week to bring our best game to the NESCAC Championship."
Following the home meet, the women will make their way to Middlebury to compete in the NESCAC Championship this weekend.