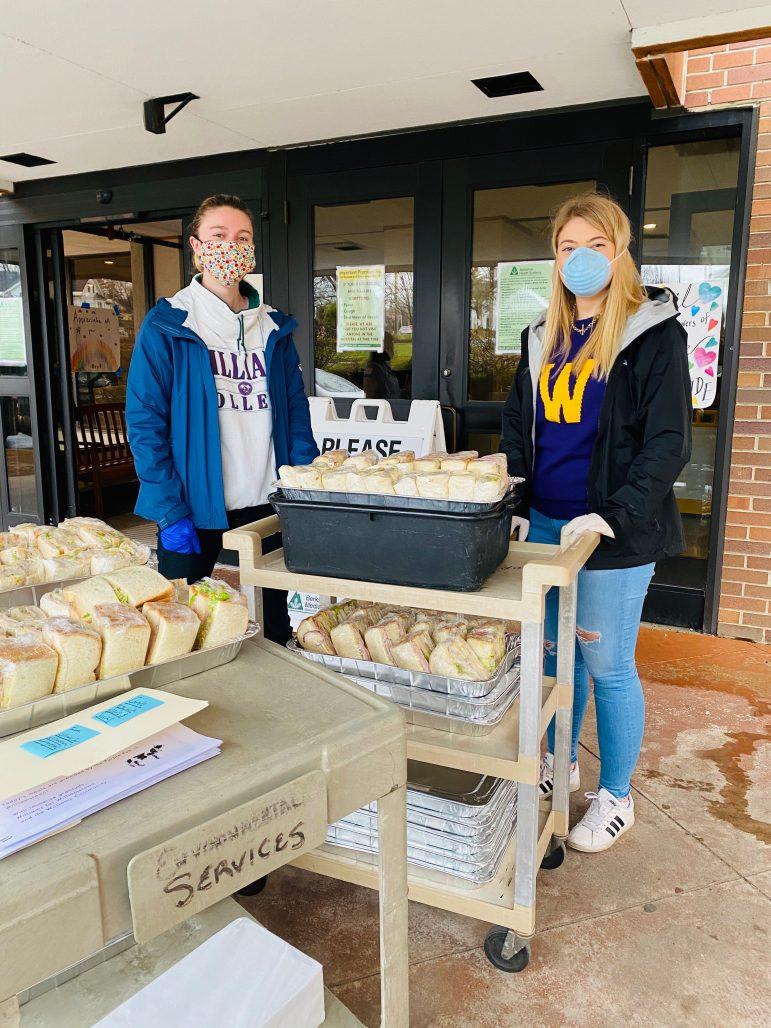 Over the summer, as the COVID-19 pandemic continued to rage, some students at the College found inspiration during this time of uncertainty and used their ambition and ingenuity to give back to Berkshire County.
Williams Mask Initiative
Members of the Williams Mask Initiative (WMI) looked for ways to help their communities by utilizing their crafting skills, all while staying at home. Realizing the demand for masks, the members, along with a dozen volunteers, sewed masks which were then distributed to health centers in Berkshire County and are now available to College students and staff.
President and Co-Founder of WMI Julia Pham '22 said she not only felt the urge to help those at risk for COVID, but also wanted to give back to the Williamstown community.
"I created the Williams Mask Initiative in April to kind of unite the Williams community members that know how to sew, and we look specifically to caring for these high risk populations in the Berkshire County area," Pham said.
Pham, a student interested in public health, first reached out to two of her pre-med tennis teammates, Rachel Cross '21 and Chloe Henderson '20. Cross, who serves as WMI co-founder and social outreach coordinator, said she joined the initiative to help healthcare workers especially, as she plans on having a career in the medical field.
"And I think this was a really cool way to do it, especially feeling kind of helpless, especially with the initial phases of the pandemic," Cross said. "Not really being able to do much besides stay at home, this was a cool way to help a future community that I want to be a part of."
According to Henderson, WMI has made and donated a total of 2,525 masks at the time of the interview. She said the main recipients of masks include Bennington Health and Rehab Center, Sweet Brook Rehab and Nursing Center, Crescent Manor Care Centers, North Adams Commons, Berkshire Healthcare Systems and the Williamstown Food Pantry. Michelle Laker '21 stated that WMI has raised more than $4,000 on GoFundMe, in addition to numerous cash donations.
Henderson, who graduated last spring, took on the role of financial director. She explained how WMI has transitioned from the summer to the fall with everyone becoming increasingly busy with the college workload. "This summer we were trying to make as many masks as possible and distribute them," Henderson said. "In the fall, we've been distributing them to students through our Emergency Mask Supply."
Laker, who is also a pre-med student, told the Record more about WMI's Emergency Mask Supply. The group has put up posters around campus which, once scanned, take users to an online form where they can request a mask. In collaboration with Peer Health, Laker estimates that WMI has provided the College community with approximately 100 masks so far this fall.
For Marketing Director Jacob Fink '23, joining the initiative was especially personal because of his attachment to the Williamstown area. As a Williamstown native, Fink said he has "this connection to Berkshire County and helping the place where I'm from, I really found that extremely meaningful." In addition to his bond with the town, Fink mentioned that he joined WMI "at a time when I did feel pretty helpless in some other ways. It's just like a really, really cool thing to do."
Williams for Williamstown
Williams for Williamstown (W4W) founder Eliza Bower '20 began thinking about the effect of the pandemic after students' abrupt departures from the College last spring, especially on the Berkshires. She wanted to help while connecting the Williams community from afar at a time when the pandemic had been proving difficult for Williamstown businesses because of the decrease in tourism and the closure of campus in the spring.
"I kind of realized [the pandemic] must have huge implications for the small restaurants and businesses in the region," Bower said. "I figured if I purchased pre-packaged meals from restaurants and gave them to the hospitals… that we could support both entities."
W4W purchases weekly meals from local restaurants and delivers them to front-line workers and local communities impacted by COVID-19 at the Berkshire Medical Center, the Southwestern Vermont Medical Center and subsidized housing community Mohawk Forest. It has raised $45,643.44 to date from Williams students, alumni, staff, faculty and the greater Berkshire community to serve over 1,500 meals, according to its website.
Quan Ng '23, the current co-CEO with Ella Dunn '21, added that while the organization's focus has broadened over the summer, it has continued to fulfill its original mission statement. "We started this organization catering mostly to frontline workers because we wanted to show our appreciation for what they do and how they're helping stop COVID," Ng said. "Since then, we've expanded to an area that really needs help with food insecurity."
One of the main challenges the team has faced going into the fall is transitioning to a newer team and recruiting new members, according to Ng. While many from the executive team in the spring have graduated, Ng said that W4W has garnered significant interest among first-years and sophomores this fall.
W4W has been planning its next steps as well. "In terms of the future, we look forward to being able to engage the student body more next semester now that we've gotten a better sense of how it's like in Williams with all the modifications towards our education and how we socialize," Ng said. The team aims to start planning more events and begin fundraising again, even incorporating in-person elements if restrictions allow.
W4W expects to continue operating even after the pandemic. "We've received tons of positive feedback from the communities and organizations we support in terms of the impact we're able to have," Bower said.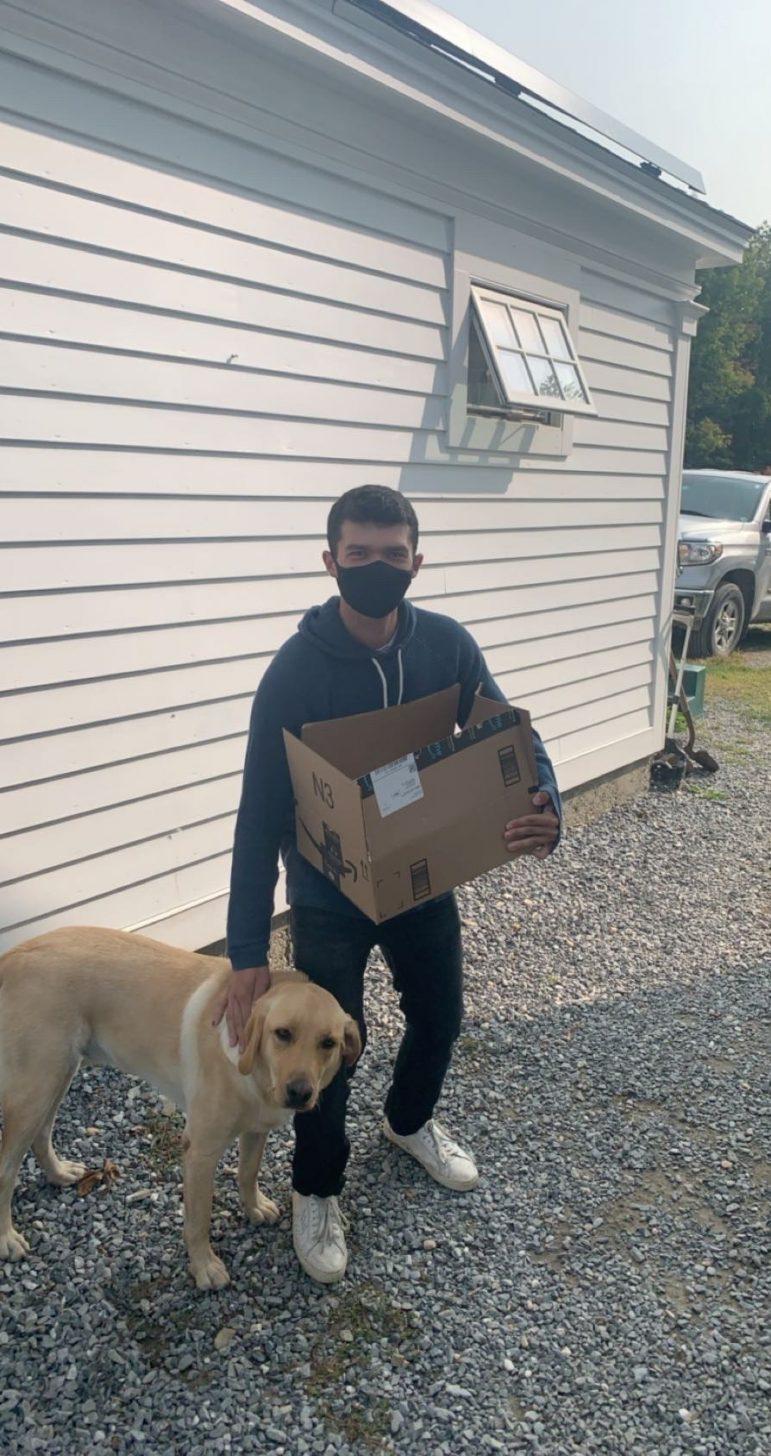 Ephs Delivers
Ephs Delivers, a student-run food delivery business founded by Brennan Lee '22 and Wyatt Khosrowshahi '22, seeks to support local restaurants by making it easier for students to access them.
"The [restaurants] are not pessimistic but … they tell us about how hard it's been," Khosrowshahi said. "In the summer … not having students from March 'till May and then not having the [Williamstown] Theatre Festival was basically six dead months."
Lee and Khosrowshahi started Ephs Delivers over the summer, and their two-person team runs food deliveries from restaurants across the Berkshires to students and locals alike. Both are taking a gap year before their senior year and have been staying in Williamstown.
The idea for the initiative was sparked during a casual conversation between Lee and Khosrowshahi and some of their friends at the beginning of the fall semester. "Several of our friends were going back and enrolling, whereas we knew we were taking time off," Lee said. "When they were about to go into their five-to-seven-day quarantine, we kind of jokingly were like, 'Oh we'll bring food and leave it for you.'"
This offhand comment soon developed into a concrete idea that took off. "Wyatt and I realized, … well, maybe we can turn that into a business," Lee said.
Their non-enrollment status gives them the flexibility to travel around the Berkshires and connect students to restaurants that College pandemic restrictions prohibit them from accessing. "We were able to deliver to off-campus students right from the get-go, and from September 14, we were able to deliver to on-campus students," Lee said.
Ephs Delivers takes orders through a Google form on their Instagram and Facebook pages where customers can request pickup from a wide array of vendors, including personal delivery from grocery stores. The service isn't just limited to students, but also serves locals.
Khosrowshahi said that there has been a lack of robust food-delivery services in the region, and Ephs Delivers emerged to address this service gap.
"Our biggest impact is that we can provide a delivery service for local businesses without them having to hire an extra person or use a current member of their staff to assume that role," Lee and Khosrowshahi wrote in a follow-up email to the Record. "Looking at how COVID has developed over the past few months, we strongly believe that delivery will become a bigger part of the local food industry as students and residents adhere to social distancing practices, and we are here to help that adjustment."
The pair is already looking ahead to the post-pandemic future of Ephs Delivers. "We do see Ephs Delivers continuing post-COVID, as there has always been a demand for delivery. Who wouldn't want Snar delivered to their dorm room during the winter?" Lee and Khosrowshahi told the Record via email. "We hope to bring in other students to help run the business in the future but want to stay involved with Ephs Delivers after graduating. Our dream is that we can come back for a five- or 10-year reunion and see the system still in place."