Student art on Paresky windows memorializes Trayvon Martin
Posters were installed on Monday after administrators had requested removal of a banner on Thursday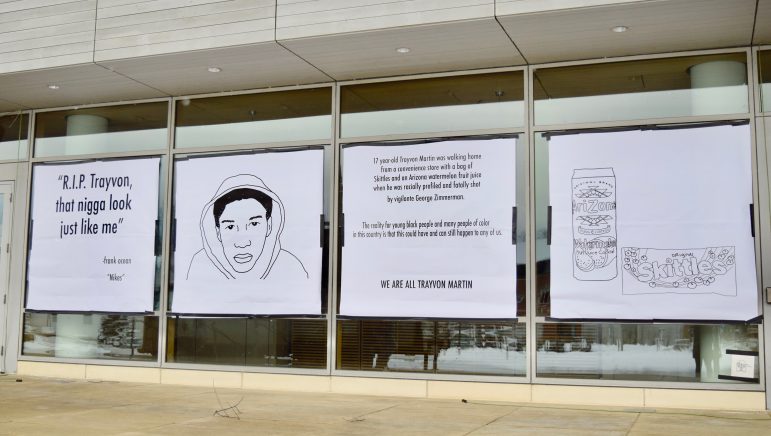 Two installments of public art referencing Trayvon Martin were hung on Paresky last week shortly after the seven-year anniversary of Martin's shooting death.
The pieces quote Frank Ocean's "Nikes," lyrics for which include the five-letter N-word. A banner mounted on Paresky balcony with the lyrics, "R.I.P. Trayvon, that nigga look just like me," was taken down Thursday afternoon at the request of College administrators after it had been hung that morning. On Monday morning, four new posters were affixed to the front windows of Paresky, where they remain. Kyle Scadlock '19 confirmed that he hung both pieces but said he would like the work to speak for itself at this time.
Both poster series included the same slot machine symbol as another collection of posters that have been hung around campus asking, "How do you tell the truth to a crowd of white people?"
The first poster featured the same "Nikes" lyrics as the initial banner with an attribution of the lyrics to Ocean. Next was a drawing of Martin in a hoodie, which he wore when he was killed. The third poster read, "17-year-old Trayvon Martin was walking home from a convenience store with a bag of Skittles and an Arizona watermelon fruit juice when he was racially profiled and fatally shot by vigilante George Zimmerman. / The reality for young Black people and many people of color in this country is that this could have and can still happen to any of us. / WE ARE ALL TRAYVON MARTIN." The final placard included sketches of an Arizona juice can and Skittles bag.
Martin, a Black teenager, was shot and killed by neighborhood watch coordinator Zimmerman in Sanford, Fla., on Feb. 26, 2012. Zimmerman had called to report Martin, who was unarmed and carrying a pack of Skittles and an Arizona juice beverage, to the Sanford Police Department (SPD), describing Martin as "suspicious." In a trial that garnered widespread attention, Zimmerman was ultimately acquitted of second-degree murder and manslaughter. Martin's death and Zimmerman's subsequent acquittal have since become associated with systemic racism and a discriminatory criminal justice system.
Following the banner's removal on Thursday, several pages taped to Paresky windows read, "President [Maud] Mandel and senior staff have asked that the banner posted on the outside of Paresky this morning be temporarily removed. / It is being stored in the Office of Institutional Diversity and Equity. / The sign's creator can visit OIDE on the first floor of Hopkins or call 413-597-4376."
The Office of Institutional Diversity and Equity did not provide comment to the Record.
"Won't be silenced" was then written in red across this message. The tribute was later briefly returned to Paresky the following morning before disappearing. There were attempts to censor the banner, with papers covering letters in the N-word, although these censors were removed. It is unclear who censored the banner and who removed it.
The removal of student artwork and protest materials from Hollander Hall last month provoked extensive student response, which culminated in a "March for the Damned" on Feb. 21 ("'March for the Damned' honors on-leave professors Love, Green," Feb. 27, 2019).
On Feb. 13, Keith McPartland, associate professor of philosophy and chair of the Schapiro-Hollander users committee, deconstructed and relocated portions of a memorial honoring Assistant Professor of Women's, Gender and Sexuality Studies Kai Green '07 and Assistant Professor of English Kimberly Love in Hollander Hall.
In an email to the student body addressing the incident, Mandel wrote, "I am deeply distressed by any interference with students freely expressing themselves in a way that is not disruptive." The installation was later relocated and rebuilt, although it was eventually removed at the request of Mandel, who cited fire safety concerns and the Americans with Disabilities Act.
The College has not provided any indication that the posters currently on Paresky would be taken down.