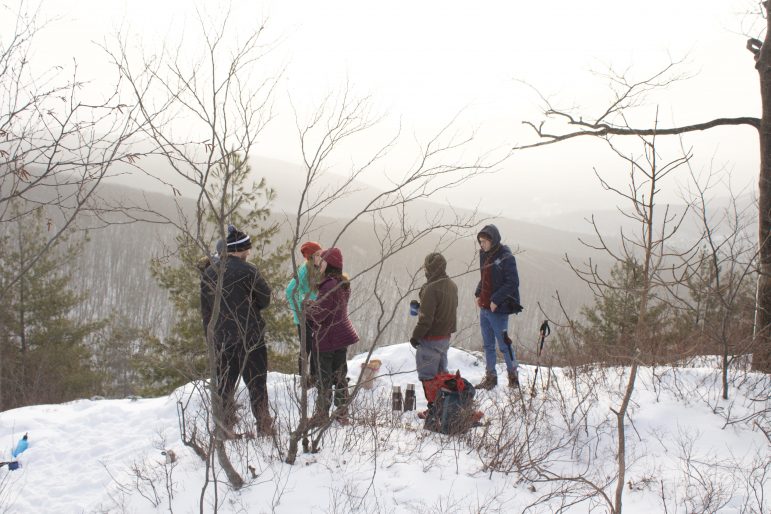 The sun had risen, the water in my bottle had frozen into a block of ice and Stephen Kletscher '22 was playing Miley Cyrus' "The Climb" from his phone at the summit of Pine Cobble Mountain.
I was on a Williams Outing Club (WOC) sunrise hike. Although I had been on the three-mile sunrise hike twice before, I had only ever gone in the autumn, when the ground wasn't covered in ice and I could still feel my nose by the time I reached the top of the mountain.
The sunrise hike group convenes on the steps of Paresky every Friday at 6 a.m. Unsurprisingly, given the early hour and the 12-degree weather, only six students showed up. Led by WOC Director Scott Lewis, who handles all of the sunrise hikes, the six of us marched downstairs to the WOC equipment room, where we borrowed the necessary gear for the hike.
As we started walking, I asked David Shakirov '22, who was accompanying his entrymate Kletscher, why he had decided to go on the hike.
"You know, it's all about discipline, and it's all about spending time with friends," he said. "I have my Steve over here – suitemate. We decided to get our butts up at 5 a.m. to go on this gig, and you know what? We're happy to do it."
Shakirov mentioned that he was hoping to see a bear.
"What are you going to do if you see a bear?" I asked.
"Stop, drop and roll," he said.
For Serapia Kim '19, the hike was an item on a senior-year bucket list. "I was actually going to go on this hike with my friend, but he, hilariously, slept through his alarm, so here I am," said Kim, who was on her first sunrise hike.
It was far from the first for Seamus Connor '22, however. He has gone on every single one this year, even when it was so cold that no other student showed up.
"It's pretty beautiful," he said. "It changes every time, so it won't really get boring, I don't think. It just makes me feel much more ready for Friday."
Rosa Kirk-Davidoff '21 went on every sunrise hike last year, although she did not attend the one last Friday. She decided to do so as a senior in high school, after going on a sunrise hike during a fall visit to the College. On that hike, she overheard people talking about how someone had gone on every hike the previous year, and she resolved that she would, too.
"There were a lot of weeks when I was like, 'I swear, I'm not doing it. I can't. The weather is terrible – it's so cold outside,'" she said. "My friends would tell me, 'Rosa, you can't break your streak. You've got to continue.' And I would be dreading it. I would be like, 'Please, let there be a terrible windstorm, so Scott will cancel the sunrise hike.' But then I would do it anyway – I'd get up, get myself out of bed and slog up the snowy, cold trail – and I'd see the sunrise, and it would be so gorgeous and so perfect, and I'd be like, 'Wow. This was worth it.'"
Unfortunately for our hiking group, the sun had risen well before we reached the summit. "I can see the sun, so that's a little disappointing," said Owen Foster '22, who had also missed the sunrise on the other two sunrise hikes he had attended. He acknowledged, however, that the view was "gorgeous."
Snow started falling, the peak of Mount Greylock was faintly visible behind a series of mountains and we were drinking hot chocolate and eating Munchkins. Despite my lack of sleep, I felt full of energy.
I asked Foster if he was planning to go on the hike next week. "God, no," he said. "My body wants to go underneath one of these snow patches, make a burrow and not wake up. Sorry, that's not very positive, but my mouth is kind of cold" – Foster had forgotten to bring a water bottle and had been drinking snow – "so it's hard for me to form words… It's a great experience, that you should do twice a year, a good deal of months apart."
Other hikers expressed more enthusiasm at the summit than Foster had. "It feels amazing," Shakirov said, his mouth full of Munchkins. "Adrenaline rush. Heart is racing."
"It's absolutely beautiful up here," Kletscher said. "Snow falling, a little bit of fog,"
"A little bit of sun, a little bit of snow," Shakirov said.
"Some Munchkins, some hot chocolate," I added.
"Munchkins, hot chocolate," Shakirov said. "Some Scott! Scott, sun, snow – all I need."
Lewis, who has been running the weekly sunrise hikes since 1995, described Pine Cobble as the "perfect sunrise hike."
"The sun rises there, and then you look over at the west – because it's a narrow ridge – and there's the campus, just waking up," he said. "This would be the sunrise hike of my dreams, when I dream of sunrise hikes. I've had the good fortune to be witnessing sunrises all over the world, but this one is very special."