MASC holds workshop exploring "bromances"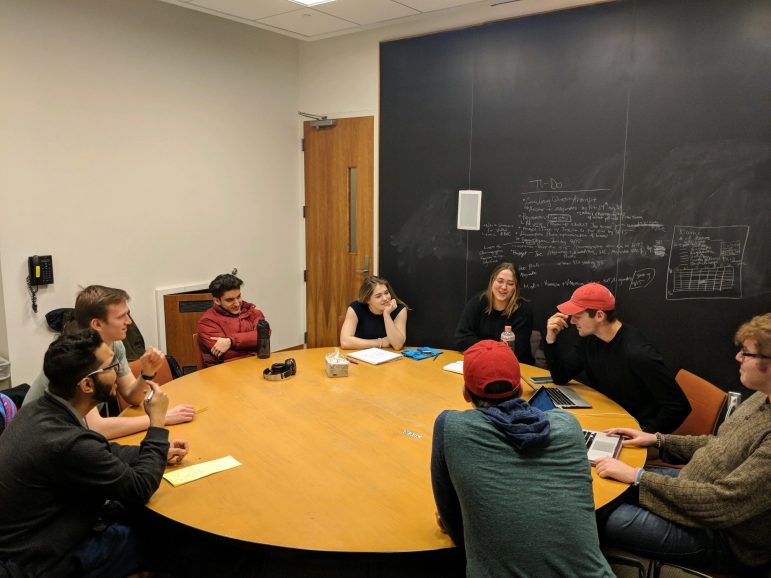 Masculinity, Accountability, Sexual Assault and Consent (MASC) is holding weekly workshops, in which students discuss topics ranging from heteronormativity to "big dick energy."
Ahead of this Sunday's Super Storytime on masculinity, MASC held a workshop last Wednesday focusing on the topic of "bromances," a popular term used colloquially to describe close friendships between men. The meeting started with stories and videos before delving into a deeper discussion of the topic. All those who had relevant anecdotes shared them, followed by viewings of clips of Obama and Biden and scenes from Superbad and Scrubs.
After dicussing "bromances" and the term's association with a heternormative perception of male friendships, the group came to the conclusion that, as MASC Co-President Michael Nettesheim '20 put it, "the word is pretty intimately tied to homophobia, and it's better to encourage people to say, 'Yeah, this is just our friendship, we're just that close, deal with it.'"
What was equally important, however, was that no one at the table came into the meeting with the intention of indicting the term. "I realized that we, over the course of the hour, puzzled through so much," said MASC board member Harmon Pardoe '19. "[We were] coming in with a completely blank mind and learning a lot."
Nettesheim also emphasized the open mindsets with which the participants approached the workshop. "We're constructing discussions around topics that we don't really know how we feel about," he said. "I didn't have a well-formulated opinion on whether bromances were good or bad or really what they were."
After the meeting, a few MASC members gave their perspectives on the organization, including Co-President Asher Lasday '21, who said that he was happy that he joined the organization. "It's interesting to feel like this is possibly helpful in making Williams a better, safer place," he said. "Also, just for my personal edification, it's interesting to know how masculinity has affected me in ways that I subconsciously realized but hadn't put my finger on."
Meanwhile, Pardoe offered some insight into MASC's backstory. "When I came here, MASC was Men for Consent, which was very problematic in a lot of the ways that it operated," he said. "We rebranded about two years ago to MASC to make it clear what we actually want it to do because what Men for Consent was is not at all what MASC does now."
The participants also discussed the upcoming Super Storytime on masculinity, hosted jointly by MASC and Storytime. Pardoe expressed excitement for the opportunity to give a voice on these topics to a wider range of speakers. "[This is] one way to open up MASC discussions to more than just the way we perceive masculinity," he said. "I don't think any of us are going to get up there and do a story. We want people who aren't necessarily coming to meetings, or who don't feel comfortable sharing their stories, being given that platform [at Storytime]."
Lasday echoed that sentiment. "As much as we're interested in a wider community hearing stuff related to MASC, really the biggest thing is to give the people doing the stories a way to think critically about how masculinity has played a role in their life," he said.
Finally, Nettesheim invited people to come participate in future discussions similar to this one. "We always want people to know that this is an open space; we want to get as many voices and opinions and perspectives in here as possible," he said. "We're also limited by our own perspective. People are always welcome to come and be involved or critique openly."