NPR's Natalie Winston '10 hones liberal-arts storytelling approach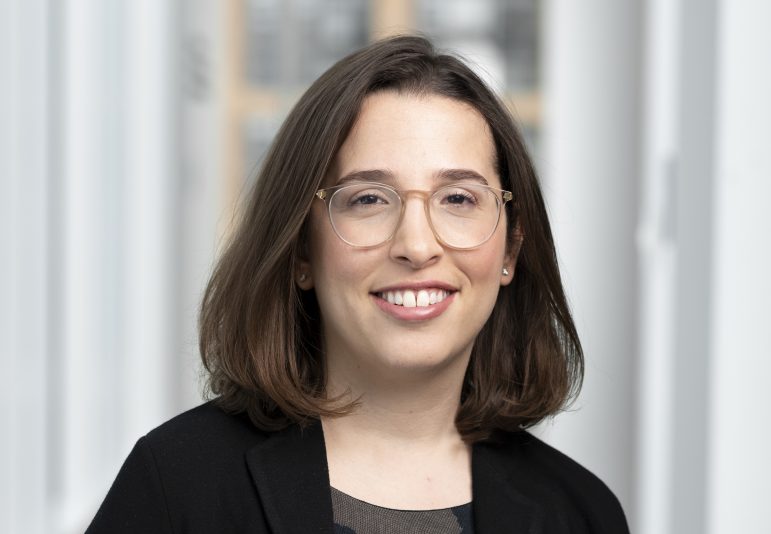 While it has been nearly a decade since Natalie Winston '10 last found herself in a classroom setting, the executive producer of NPR's Weekend All Things Considered (WATC) says she has not abandoned her "liberal arts" approach to learning.
"I think of my job as a very liberal arts job," Winston said. "I have to be a generalist. I have to be curious about the world. I have to be able to dive into a topic that I don't know a lot about and be interested in stuff that I have never heard of… It's more about expanding your mind and being curious than becoming an expert in one particular topic area."
Now at the helm of NPR's flagship news program for its Saturday and Sunday broadcasts, Winston leads her team's coverage of the weekend's biggest national and international stories. Before stepping into her current role in January, Winston had served as WATC's acting supervising editor alongside Ammad Omar. Last year, the pair led the show through its reporting on Puerto Rico's hurricane preparation and recovery in June, Sen. John McCain's death in August and a mass shooting at a Pittsburgh synagogue in October.
"Natalie and Ammad brought us through a difficult year with grace, good humor and a sense of adventure, and with Natalie's leadership we are going to continue to build on what we've started," WATC host Michel Martin said in NPR's announcement of Winston's promotion.
First arriving at NPR in 2008 as a summer intern on the election team, Winston returned in November 2011 following a brief stint at PBS' NewsHour. In the seven years since, she has worked on five NPR shows.
Talk of the Nation, Winston's first show, broadcast conversations between a host and live callers. Her experience with an audience that provided direct feedback, Winston said, shaped the way in which she seeks to tell a story.
"Someone always has to be the stand in for the listener," she said. "One thing we always try to think about in pitch meetings [when] someone pitches something to the group is: Why are we talking to this person? And at this time?"
WATC holds pitch meetings every Wednesday, Thursday and Friday in advance of the Saturday and Sunday programs. Winston said that while the team attempts to predict which stories will be relevant by the weekend, it must remain flexible and responsive to the news cycle. In January, for example, Winston had produced an entire show on furloughed workers' experience of the government shutdown. When the shutdown ended the day before the scheduled Saturday broadcast, the team had to rethink its program.
"Sometimes we're totally right about that, and then sometimes on Friday a million different things happen, and news breaks, and the entire show we thought we were producing for Saturday is different," she said.
Winston was drawn to the public service function of radio and television journalism early on; her high school in Silver Spring, Md., had a television studio, and Winston produced its morning news show, InfoFlow. Once at Williams College, she began volunteering at Willinet, the local cable news station. She did not hesitate to identify the College, where she majored in English, as the place where she developed her journalistic approach.
"I took two tutorials that were very influential for me because they forced you to critique someone else's work," she said. "And as an editor, that is the bread and butter of what we do.
"Every day, I go into an interview with a producer and my host, and we come out of the interview and we talk about: What worked? What didn't? What do we want to keep? … What do you think are the most interesting parts? That, to me, is a tutorial."
Although her father, Thomas Friedman, won three Pulitzer Prizes reporting for The New York Times, Winston has forged her own path in public broadcasting. The 2008 NPR internship, her first experience with political news, launched her into the world of professional journalism.
"I think that every person deserves access to good, strong, free and unbiased news sources, and that's what I think NPR does," she said. "NPR actually let me fly back from Williams on Election Day to work for free basically in the studio on election night. And that experience of seeing how a show gets put together and being part of the large broadcast really solidified my interest in this."
In June 2017, Winston, Gabriela Saldivia and David Greene reported on the persecution of gay men in Chechnya.
The trio traveled to Moscow to host Morning Edition there for two days, planning to report on Vladimir Putin's government and U.S.-Russia relations. Near the end of their time in Russia, they visited an LGBTQ+ community center after inquiring into crackdowns on homosexuality in Chechnya. Waved into "an abandoned-looking building," they were met by two men who had fled Chechnya.
Having been unable to prepare for the conversation – the LGBTQ+ group had initially told them that it would be too dangerous for people who had fled Chechnya to speak with them – they spoke to the men for two hours, listening to stories of kidnappings and beatings at the hands of police. Their seven-minute piece for Morning Edition earned an Edward R. Murrow Award from the Radio Television Digital News Association.
"Most of my job is putting on a show every weekend, but when you get the opportunity to tell a really unique story, I do think that feels really great," Winston said. "I was super proud of that because it was a story that not a lot of Western journalists had had an opportunity to tell, and to actually hear the guys talk through what had happened to them, it's completely different than just reading a newspaper article, [which is] so much less personal.
"I think what we did was really unique and very emotional and important, and that's what you dream of doing as a journalist."
Editor's note: This story was updated on March 6 at 8:49 p.m. to correct the location of Winston's high school, Montgomery Blair.