After four Cello Shots, College goes wild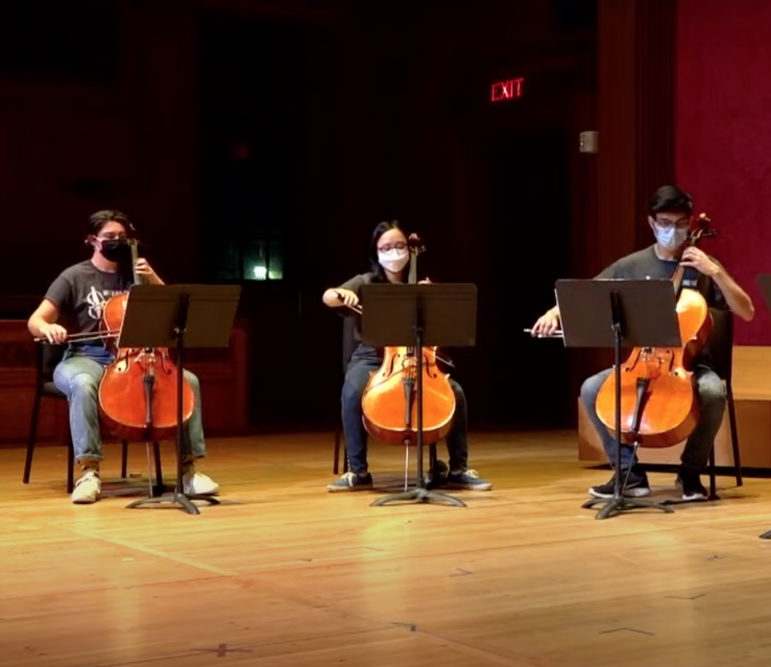 Ten cellos. Ten talented musicians. A livestream broadcasting to hundreds of viewers.
What else is there to do but play Billie Eilish?
Cello Shots, the College's first and (one can safely assume) only 10-person pop music cello ensemble, held its fall concert on Friday to a livestreamed audience on YouTube. Performing in a completely empty Chapin Hall, the ensemble played four pop songs using nothing but their cellos, their hands and — for one brief moment — a single cowbell.
The group kicked off the performance with Dua Lipa's "Don't Start Now," transforming the English singer's nu-disco hit into a more pensive cello concerto. The song was arranged by Caroline Tally '21.5, the founder of Cello Shots, who is currently taking time off.
Next came Joji's "SLOW DANCING IN THE DARK," arranged by Nat Davidson '22, the group's business manager. In arranging the song, Davidson said she had to juggle the song's many components, including Joji's voice, a synth bassline and — most difficult of all — a series of hard-to-replicate electronic sound effects.
"It's got these really funky synth things going on in it. At the end of the chorus, they have all these gliss effects, where they go like 'whraaaa,'" Davidson said. "We had an interesting time in rehearsal sliding up our strings, and it really clicked in the concert. It was a very funny sound effect but I enjoyed it a lot."
Billie Eilish's "No Time to Die," also arranged by Tally, came third, perfectly recreating the original song's Bond theme atmosphere. Rachel Broweleit '24 took the song's lead, which Davidson said the group decided after Broweleit imitated Eilish's voice in a rehearsal.
"She [Broweleit] was able to replicate Billie Eilish, like the vibes of her voice, so precisely and so well," Davidson gushed. "That was just an amazing moment to be like, 'Oh, this girl just looked at the music and she, like, is Billie Eilish.'"
Rounding out the performance came the night's highlight: Beyoncé's "Halo," arranged by Esther Kim '23, who is also Cello Shots' music director. Kim said that this semester was her first time arranging for Cello Shots, which presented a new challenge.
"I was just listening to ["Halo"] over and over and over again," Kim said. "I usually arrange by ear, so I try to figure out the melody line first, and then whatever I hear in the music, I try to write it in."
Davidson said that her technique for "Slow Dancing in the Dark" looked a little different. "My arrangement process is not by ear. I wouldn't do too well with that," she said. "I usually trawl the internet for other people's arrangements and copy-and-paste different parts, and eventually it mutates a lot."
"But Esther's totally right," Davidson added. "It's a lot of listening to that song over and over and over again, and seeing the best way to take funky electronic elements, or a person's certain vocal technique, and reproduce that on a cello."
The idea for Cello Shots first came about nearly two years ago, during Winter Study in 2019. "Caroline [Tally] messaged a few cellists that she knew," Davidson said, "and was like, 'Hey, do you want to play at the I/O family concert? I've got this sick cello arrangement of the Totoro theme song, I think we'd be super cute, let me know.'"
From there, the group began performing alongside a cappella groups at concerts, which led to the ensemble's ironic moniker as a 'cello a cappella' group. "The joke I told when we introduced ourselves at our second concert [was that] we were Williams' first instrumental a cappella group," Davidson said. "Didn't even realize that was funny and then the audience laughed, and I was like, 'Oh, I guess that's our tagline now.'"
Armed with a name and a motto, Cello Shots began recruiting members the next fall, eventually growing to a complement of 10 performers. This semester, the COVID-19 pandemic has presented the group with both challenges and opportunities.
"It's a little bit weird rehearsing in the way that we have to, where we're super spread out, because as musicians we're used to being close together and able to hear each other," Davidson said of the College's social distancing rules. "[But] it would be impossible for us to rehearse over Zoom, so I've been super thankful we can rehearse in the first place."
"The livestream recording of the concert was definitely a new experience," Kim added. "We usually perform in person." When each song in the performance was over, everyone watching at home could applaud — but no one in Cello Shots could hear it.
"It was so weird not having an audience," Davidson said. "We ended our piece, and in that moment all of us were like, oh wait, there's not gonna be applause!… Everybody else was hearing their own applause except for us."
With the College switching to remote learning in only two days, not to return until at least February, Cello Shots will have to adjust to a fractured existence for the winter months. Luckily, they've made plans.
"After we all go home, we might tentatively start a YouTube channel, maybe, where we all record ourselves separately," Kim said. "But plans are still developing for that."
Kim and Davidson predicted a bright future for the group once they do return to campus. "I could see us growing even further than ten people, maybe in the future," Davidson said. "I'm excited to see what that might shake out to be."