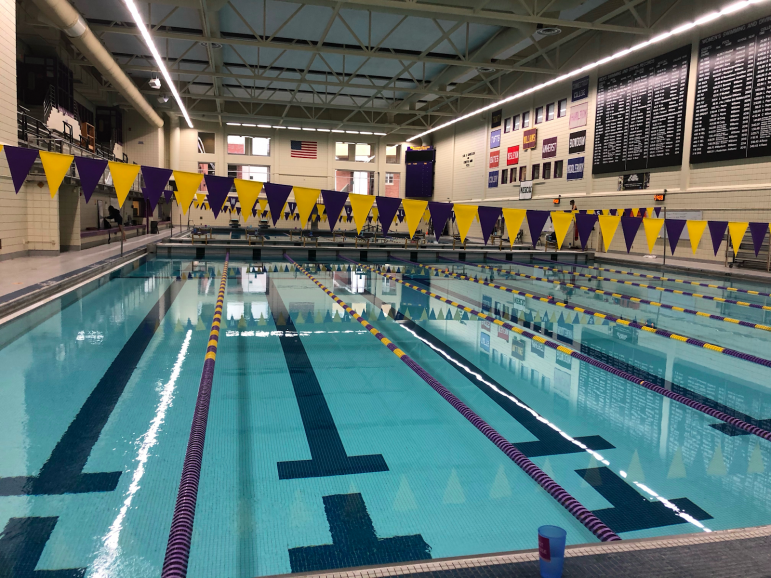 When I received the email on Nov. 4 that the College was going to reopen up the swimming pool, I really needed a break. During the height of election anxiety and academic stress, the email appeared as a light at the end of my workload tunnel. I hastily signed up for a slot the following Thursday, Nov. 12, and waited for the fateful day to come.
Like many people here, I had not swum in the Samuelson-Muir pool since early during first year. I had taken the swim test with other members of my entry as I was shepherded around during First Days. While some of my friends had taken the swim Physical Education class in other semesters, the only other time I had even been in the building was to watch my friends' swim meets.
Because of this, I had no real sense of where I was going or what I was going to do. Fortunately, a reminder sent by Associate Director for Student Athlete Services Carolyn Miles after I registered for a lane contained all the information I could have wanted. There was a video that demonstrated exactly where I was supposed to go and outlined all of the COVID-19 protocols at each point. After thoroughly reviewing the materials Miles gave me in advance, I steeled myself for the cold and walked to the Field House.
The entrance is close to the testing site: you walk past Pappa Charlie's Deli and the small area at the back of WCMA. You keep going to a set of doors marked with an entrance sign at the back of the pool building, and you walk through.
From here, you go into one of the locker rooms, change and then proceed out to the pool area. They have small bags to put your mask in, and you walk over to your lane distanced from other swimmers. Only every other lane is open, which provides proper distancing.
As far as COVID-19 goes, everyone there was masked except for when they were in the pools, and I felt safe and that I was a proper distance from everyone else. I will admit it felt strange to take off my mask and take that first plunge into the water, but it gave me a sense of calm that I had not felt for a long time.
Knowing myself, I booked lane one in the shallow end, as I knew that swimming is a full body exercise and I would likely be tired out quickly. I was correct: I did not swim actively for the full hour I was scheduled to, but those moments when I was swimming were exhilarating.
After so long above ground, I felt that all of my worries could fade away while I was in the water. Despite the half a bag of chocolate chips I had eaten half an hour before and my fear of a cramp, I did not need any assistance from the lifeguard. I felt completely safe though and that if I had needed help I would have been saved quickly.
As I laid on my back in the water, I started to notice so many little things about the pool and learned to appreciate so many of the details around me. There were kickboards nestled within the rafters of the massive room, and beneath the seats overlooking the pool each senior had written their name. It was nostalgic to see the names of friends of mine who had graduated in past years, but it also brought a sense of perspective.
When I was finished, I grabbed my mask and dried off, then proceeded to the locker rooms again. The entire process was smooth and easy, and I felt safe both from COVID-19 and drowning the whole time.
What I realized was how much I needed something like that period of open swim to take my mind off things –– I didn't have to worry about school or anything else, I could swim and focus on my breathing and moving my body. While it was a solo experience, it was also nice to see other swimmers there enjoying the water and making use of this opportunity.
I found myself thinking while I was swimming about the naming of the place. I wondered why they didn't call it a reflecting pool, considering all of the introspection occurring there. I would recommend the experience to everyone before the pool closes and hope that you can all find your equivalent to it wherever you are.
[adrotate banner="3″]