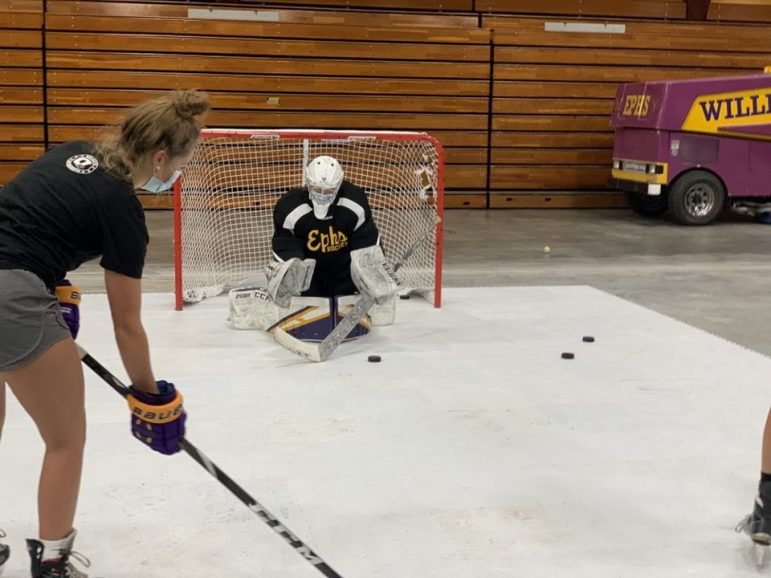 A year ago today, the Chandler Athletic Center was bustling with activities: swimmers taking dives, basketball players dribbling down the court and competitions happening every weekend. This year, with NESCAC canceling its winter season and the College only selectively opening parts of facilities for student use, winter athletes must find alternative ways to integrate sports into their lives.
Henry Johnstone '24 has been keeping himself busy while remotely enrolled. He currently trains in Steamboat Spring, Colo., with a Nordic combined club –– a discipline that combines ski jumping and cross country skiing. "I was sad to hear that winter sports were cancelled," Johnstone wrote in an email to the Record, "but I'm still hoping for at least a few competitions out west before I head back east to be on-campus for the spring semester."
For Johnstone, the ultimate goal for the season is to qualify for and compete at the Nordic Junior World Championships, which will take place in Lahti, Finland at the end of January. But the qualification process is not without uncertainty.
"Lots of changes have already been made to the Nordic combined competition schedule," Johnstone said, "and it's certainly possible that Junior Worlds might be cancelled. The qualification process is also up in the air, as one of our qualifying events has been cancelled."
But these changes have not dampened Johnstone's passion and love for the sport. He is already preparing for the next qualifier event in Park City, Utah, where he is hoping to compete in the International Continental Cup in three weeks. As he balances training and remote learning in Colo., Johnstone keeps a positive mindset to the challenges of this season. "With so much up in the air, it's important to keep focusing on what can be controlled." He wrote.
"It's great to be skiing on snow, getting the jumps prepared and working hard with my teammates," he continued. "Training for an event that may or may not happen would be a lot more difficult if it weren't so much fun!"
For the Nordic skiing team on campus, practice has been largely focused on balancing safety with effective training. "For cross country skiing, we've been pretty lucky with COVID, I think because a lot of our training would happen outside anyway," team member Kennedy Lange '24 said. "And being on campus, there are a lot of good opportunities to get out and roller ski or run right from campus, which is nice. And we've started using the vans a bit if we want to get a little farther from campus."
The eclectic collection of activities that comprise the team's training offers exciting variety and many different ways of safely practicing with the whole team. "That's actually probably why I love this sport because — obviously, we ski on snow in the winter, but when we don't have snow, then we do a lot of running and roller skiing," Lange said. "So we have skis on wheels, which are really fun. And we do a good bit of strength training and biking."
Though disappointed about the cancellation of the winter season, Lange said she is still committed to practicing at home. "It's a little hard to stay super motivated to keep training and if there's no kind of goal or end goal," Lange said. "… We'll get a training plan from our coach… for me, I'll probably train with people I know, near my house… I feel like when I don't have training, the day feels kind of long. I don't really know what to do with myself."
Women's hockey has also been making the most out of these unusual circumstances. While they only have seven players on campus, the team is still conducting practices on a regular basis.
"[We're] just trying to make the best out of every practice," said Amanda Lackmann '24, one of the four first-year team members currently on-campus. "Some [stuff] is not going to be the same, but we try to make it fun."
As COVID-19 regulations prevent the use of the normal rink due to ventilation issues, the team takes advantage of the college's synthetic ice rink, where they have enough space to simulate a regular on-ice practice by skating and shooting pucks. "It may not be the most ideal situation, but we are able to still get in really good practices and get in a good sweat," Lackmann said.
With only a small portion of the team on campus, the majority of women's hockey decided not to return for the fall semester. Spread out across the country, off-campus members are doing things ranging from remote learning to internships in Alaska. "Obviously, I wish the whole team was here, but it's been really nice for the freshmen to be able to make more new connections with a couple of the upperclassmen that are here," said Lackmann.
Though Lackmann considered taking time off, she says her coaches and teammates' efforts to create a fun environment have made it worth it. "As a freshman, I think that was kind of a difficult decision, because I [hadn't] been here," Lackmann said. "But I'm very glad that I came."
Wrestling has an even smaller group on campus this semester, with only two athletes returning to Williamstown. Due to small numbers, the team has to use human-sized dummies to practice throws, also emphasizing less contact-heavy workout circuits over drills like sparring. "Wrestling is probably one of the sports that transitions most poorly to no contact," said Clayton Mizgerd '21.
Along with Scotty Richter '24, the only other on-campus wrestler, Mizgerd practices three times a week in addition to lift sessions. While such sparse numbers may seem lonely, smaller group sessions are not new for Mizgerd, as the team would often break off into two-to-four person groups to practice in normal years. "Generally you don't need that many people," he said. "Wrestling does lend itself pretty well to small groups."
Most of the wrestling team is taking a leave of absence to preserve their NCAA eligibility, with a few others studying remotely. From drilling at their high schools to doing individual workouts, all are finding a way to stay active. A few off-campus team members even flew to Omaha, Neb., to wrestle in the u23 National Tournament, where they faced off against some of the top wrestlers in the country. While they were wrestling unattached from the College, Mizgerd described it as a "great way to get some experience."
William Smith '23.5 managed to place in the top eight in his weight class in both the u23 and u20 national tournaments, making him a double All-American. Even with members scattered across the country, the team still manages to keep in touch through weekly Zoom catch-up meetings.
Among the most heavily impacted by the facilities closing are facility-dependent club winter sports. Maya Huffman '22, head of club figure skating, said she does not expect the club to gain access to any ice time this year.
"The figure skating club is highly dependent on the hockey season, so I do not expect there to be any skating this season," she wrote. "The Lansing Chapman rink is only up when varsity hockey is in season; the day that both teams are out of their last tournaments of the season, the rink starts to be taken down to be used as tennis courts for the spring season. "
While there are alternative rinks in the vicinity of campus, it's highly unlikely that club members could access them, or that these rinks would open to the public. "There is another ice rink in North Adams where some members of the club will skate when the Lansing Chapman rink has been taken down, but this rink also does not look like it is going to be built," Huffman said. She also noted also that though the rink is within the designated off-campus boundary, it is unlikely that the College will allow students to visit the rink.
Despite less ice time, Huffman said she understands the College's decision. "It is a little sad that figure skating is probably not going to happen at all on campus this year, but I think it's part of the tradeoff of having an on-campus experience," she said. "See, a lot of rinks around the country are open because figure skaters naturally tend to stay away from each other when on the ice. It's just a bit different in Berkshire County with not so many people interested in figure skating or hockey to sustain many rinks year round."
In usual years, club figure skating had regulated ice access after hockey teams had finished their practices. The club also hosted occasional watch parties of international figure skating events. While the former seems improbable this winter, the latter is still a viable option if club members express interest, according to Huffman.
In comparison to sports like figure skating that are facility-dependent, track and field athletes have found their time to shine. For many of them, training during the winter season won't look much different besides the lack of competition — and for some, even that won't change much.
Luke Tichi '24, a member of the track team, said that his home state of Colorado does not have an official indoor track season at the high school level, so his winter training regimen typically consists of building up his base mileage. "I imagine training will look quite normal for me," Tichi said. "Because I'm used to running without competition during this time, training will be oddly familiar."

Having run cross country during the fall season, transitioning from on-campus to off-campus training will be an adjustment in terms of environment. "After growing accustomed to regular runs with the team here, running on my own again will be rough," Tichi wrote. "Training can get pretty boring at times — especially when going solo — so that's my greatest worry."
To liven up his training, he plans on reconnecting with high school teammates while still staying connected with the people he's met at the College. "A couple of other first-years on the team will come out to Colorado for a month in January," he wrote. "I'm definitely looking forward to having them to train with during this awkward season.
Despite weaving in and out of seasons that he never could've imagined, Tichi said he continues to stay upbeat and positive. "Going forward, I'm proud to see Williams (and the NESCAC) continuing to look beyond athletics and outside pressure in making their decisions regarding our seasons," he wrote. "Just as we did this fall, I imagine that we will once again find a way to make the most of the cards this year dealt us."