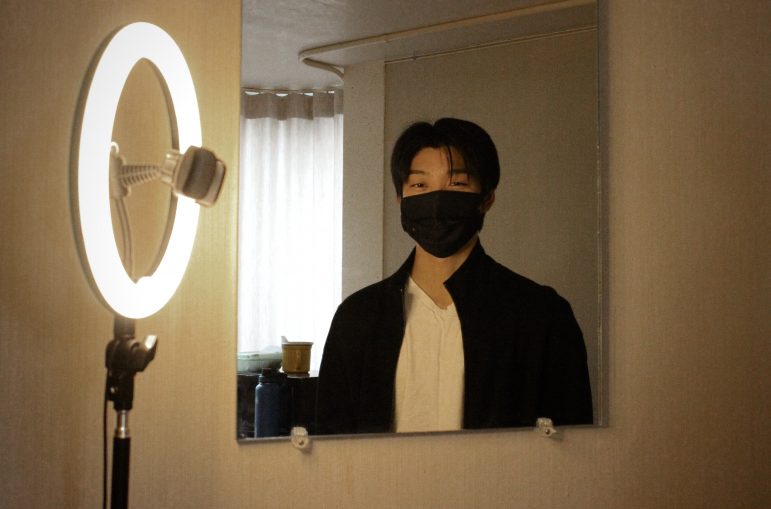 Millions of people around the world have seen TikTok content creator Antony Chen '24. More specifically, they have seen Chen striking a pose in a maid costume in his Mission Park dorm room, only for an apparently unsuspecting peer to suddenly walk in.
Chen posted the viral video in question, which has garnered over 24 million views, to mark his millionth follower on TikTok. By filling a niche for anime-related content on the platform, Chen has built a sizable audience of nearly 2 million followers as of press time.
Chen's rise to prominence had a humble start — as a by-product of quarantine boredom. In dealing with his newfound fame, he has had to balance work with fun, public space with personal space, and academics with anime.
"In April, I was like, 'I'll just start posting on TikTok for fun,'" Chen said. "And then at that time too, I was really getting back into anime because there was nothing else to do. So I guess it was kind of a coincidence that I picked those two things up at the same time."
He quickly realized he could fulfill a desire for anime-themed TikTok content.
"Over the past few months I've been at Williams, I've just kept posting daily," he said. "I've just somehow grown to have this really huge following."
One benefit of the platform has been its do-it-yourself mentality, which meshes well with the constraints imposed by dorm life during a pandemic.
"I just have this miniature tripod and then I use my desk lamp [for lighting]," Chen said. "There's really nothing to it. I don't have any special setups, and if any videos I film require any editing, I use iMovie."
His guiding philosophy? "Film what you think is funny, and hopefully others will think the same." This is how the "maid" TikTok came to be.
"I just thought it [would be] really funny if I just bought a maid outfit for Halloween and posted some videos in it. And then I hit 1 million [followers] at that point, too. You know, I had to do something special," Chen said. He even managed to enlist the help of a podmate: Nick Hollings '24.
"I had seen a few of his videos and thought it would be fun to be a part of one, so I volunteered to lend a hand," Hollings said. "I was definitely thrown off when the next message he sent told me to wait while he put a maid costume on."
"Big shoutout to him," Chen said of Hollings. "I just asked him, 'Yeah, can you just open this door for me for a video?' So he just walked in on me. That was exactly the moment I wanted to capture."
"Thinking about millions of people having seen my face is strange," Hollings continued. "I even had a few friends from back home message me saying that I showed up on their Tiktok."
The settings of Chen's content may look familiar to students at the College. Many of his TikToks are filmed in his dorm room, which boasts the familiar trappings and unmistakable angles of Mission Park. A tree on Mission Hill constitutes the centerpiece of one of his recent sketches.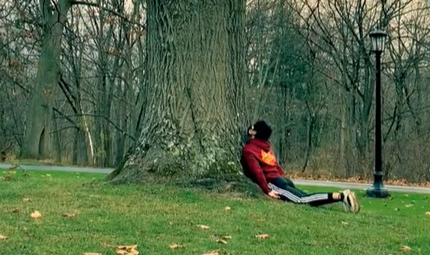 And of course, Chen's audience stretches far beyond campus. Its sheer size has been a source of not just gratification, but also pressure as he navigates his first-year fall.
For one, his status and following have changed the way he interacts with social media. "TikTok is so accessible," he said. "It's just an app that you can go on for entertainment or relief from the day, right? I've turned it into a responsibility. I feel like I can't ever get away from it, and it's so hard to separate work from personal space now."
Chen said he has also found himself shouldering the weight of more than a million followers' expectations. His tweets attract dozens of comments from fans. For example, one fan wrote, "ANTONY CHEN, FATHER OF KANEKI KEN CHEN WHO'S UNDERGOING THROUGH MAIN CHARACTER PROCESS AND SIDE CHARACTER EREN JAEGER CHEN, reply pls 🥺[.]"
"Now that I actually have a decent-sized following, there is a huge pressure to put out content that people will enjoy — and then if you put out like a video that doesn't do well, that does affect your whole mindset for the day," Chen said. "Honestly, it's kind of unhealthy, but at this point I do feel like I'm in too deep to just be able to quit. It's pretty much a part-time job for me now."
As of yet, this part-time job does not pay. While he sees potential avenues for monetization, Chen noted that the path to making money as a TikTok content creator is more complex than merely going viral.
"1.8 million subscribers on YouTube would be like a guaranteed full time job, right? On TikTok, it can barely be considered part-time," Chen said. "I've definitely thought about fully monetizing my page… That would be a goal for the future, you know, like, get a brand deal or ambassadorship with some company that would be related to my niche."
In addition to TikTok, Chen has been working to grow his presence on other social media platforms such as Twitter and YouTube. The former has provided him with a more straightforward way to interact with his followers, and he hopes to use the latter for more effort-intensive videos. So far, he has released one, entitled "DAY IN THE LIFE OF A TIKTOK STAR."
Pursuing monetization would pose additional challenges, requiring Chen to make tradeoffs between fame and fun. Though he continues to make content, he also hopes to strike a healthier work-life balance.
"I don't want this to feel like a responsibility anymore," Chen said. "I just want it to be something I do for fun. Because one thing I feel is, if I'm posting videos that I don't find enjoyment in making, and if I'm putting something out there just for the sake of it, then what's the point?"
Though Chen said he has not yet been recognized in public, his social media presence has come up in conversation with other students at the College. Chen, who is on the track team, mentioned that many of his teammates have asked him about his TikTok.
Chen made it clear that he wants his TikTok to be understood as just another extracurricular — albeit a particularly demanding and high-profile one. "Everyone has their own hobbies and passions that they do on the side, other than school," he said. "And for some people, it might be playing video games or hanging out with friends. I just make videos for fun."
As things currently stand for Chen, crossing the 2-million-follower mark appears to be just a matter of time. In light of this occasion, he may try to go above and beyond his viral celebration of 1 million followers.
"I can't make any promises," he said. "But I might have to think of something to be able to top that — so it'll definitely be special."