Dining Services conducts customer satisfaction survey, replete with pies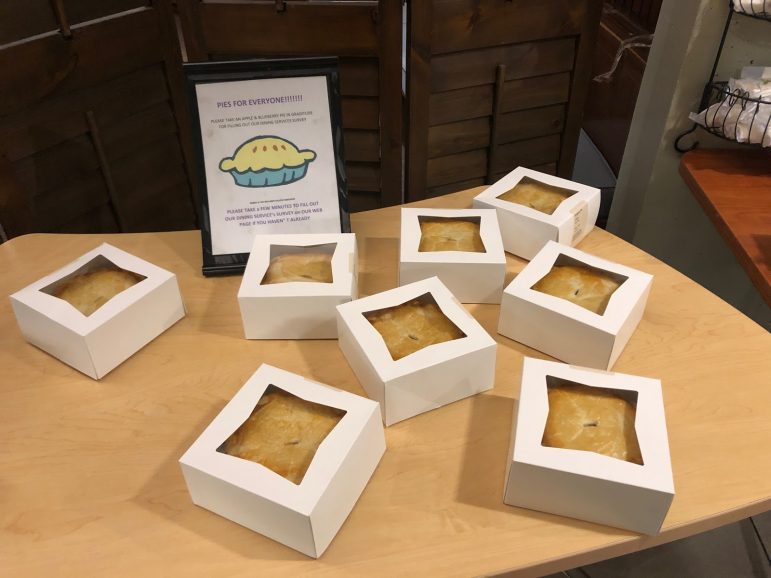 The dessert sections of Whitmans' and Driscoll were full of boxed pies last Thursday. And Friday. And Saturday. 
"PIES FOR EVERYONE!!!!!!!" proclaimed a sign next to the profusion of apple and blueberry pies in Driscoll.
Dining Services prepared the pies as a thank-you to students for filling out its customer satisfaction survey — part of a nationwide effort coordinated by the National Association of College & University Food Services (NACUFS). Though the pies are long gone, the survey will remain open until Nov. 25. 
The survey, first sent to on-campus students on Oct. 26, aims to determine what students think of Dining Services in light of the changes it has made this fall. These changes include the temporary closure of Mission Dining Hall; hot and cold express stations in Whitmans' and Driscoll; and mobile ordering for the '82 Grill, Lee Snack Bar and Fresh-n-Go. Dining Services last conducted a NACUFS survey in 2015, according to Assistant to the Director for Dining Services Sharon Marceau.
Since the survey is still open, results are theoretically still coming in. Industry Insights Inc. (the analytics firm organizing the survey) has not yet analyzed the data; part of the point of the survey is to compare the College's dining options to those at other institutions, which have not yet completed their surveys either. Nevertheless, Director of Dining Services Temesgen Araya said he has been able to draw preliminary insights from the roughly 420 responses so far.
One of the main criticisms Araya said he has seen, especially from vegetarians, is that the dining halls have insufficient variety. 
"They don't necessarily agree with our tactic of bundling vegetarian with vegan dishes," Araya said. "Because it is different — you have dairy capabilities with vegetarian." He added that there is less variety this year because the hot food is now served by Dining staff (Massachusetts law prohibits establishments from being self-serve), so there are fewer staff available to cook the food.
According to Araya, even non-vegetarian students have expressed that the meals, now on a two-week rotation of offerings rather than the previous four-week rotation, can get repetitive. Students have also asked for more options for mobile ordering on the GET app, which would lead to a tradeoff, according to Araya. The more options that establishments like the '82 Grill offers, the fewer meals they can provide in each 15-minute interval, he said. 
Whitmans' Late Night recently appeared as an option on GET — inspiring three memes in the Facebook group "Williams Memes for sun-dappled tweens" from students who expressed a desire for the fast-food establishment's return. According to Araya, however, Whitmans' Late Night will not be open in the spring. Dining Services had added the Late Night option to GET over the summer but had been unable to open Late Night due to a diminished staff.
"Because of the unemployment insurance — that there were supplements of $600 that everyone was getting — we were not able to obtain the staff we needed to run a Late Night program," Araya said. "And that's going to be the same situation for the spring semester."
"The hot and cold screens, mobile ordering and the microfridges were our answer to not having Late Night," he added. "Students could take food with them back to their dorms and have something to nosh on. We didn't want food insecurity to come up as an issue, and I haven't had one student bring anything up to us about being hungry, which is great."
To encourage students to fill out the survey, Dining Services promised students pie — the idea of Lead Baker Michael Menard and Executive Chef Mark Thompson, according to Marceau. Dining Services made good on this promise beginning last Thursday.
"And," Marceau said, "there was not one pie left."