Science student groups juggle community-building with COVID-19 restrictions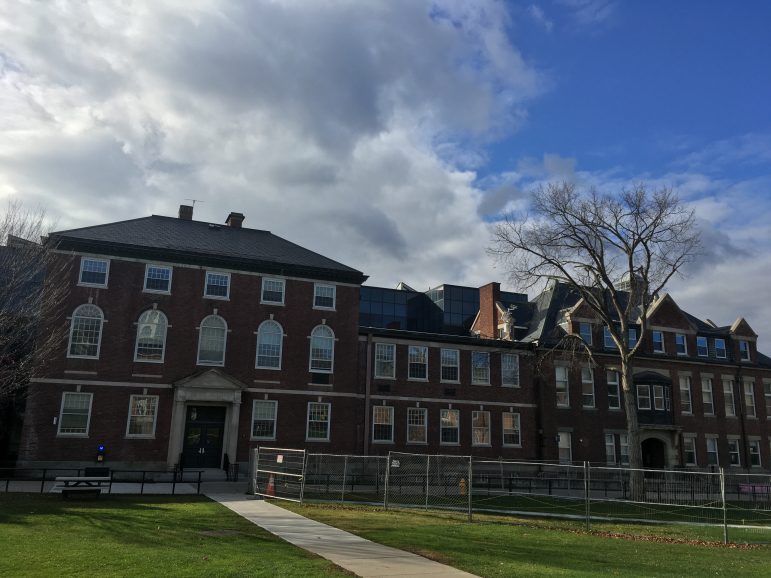 Last fall, the lounge spaces of the Science Center were home to groups of students working together through most hours of the day and night. But this semester, the buildings remain eerily quiet, and study nooks, labeled with maximum occupancy and supplied with hand sanitizer, go unused. Science student groups are having to get creative to find modes of collaboration in the age of COVID.
As students and professors have adapted class structures and learning styles in the face of the pandemic, key collaborative spaces have been altered and, in some cases, eliminated. Meanwhile, student groups whose charge it is to connect science students to resources and to each other have struggled with continuing their missions while remaining compliant with public health guidelines.
The Biology Major Advisory Committee (BMAC) is one such organization grappling with social distancing this semester. "Last year, the main thing we were doing was meeting for biology major snacks," committee member Georgia McClain '22 said. "It was super casual, and that was really fun." The group recently met for the first time this semester to discuss plans for this year, but the significant challenges brought on by COVID have prevented solid plans from forming.
Many Division III classes encourage teamwork to mimic the process of collaboration in science-related fields, giving students a taste of how science is conducted in real life. McClain, a biology major, joined BMAC to be a part of the science student community. "I wanted to meet people who I could talk about my academic interests with or vent about a class with, or text and meet up to work on a genetics problem set with," she said. "I wanted to help create or curate that."
BMAC functions primarily as a community-building space, where students brought together by their academic interests support each other intellectually and interpersonally. But with the new circumstances of the pandemic, bringing students together has been more difficult. According to McClain, not being able to meet physically in Thompson Biology Lab or South Science with all BMAC members has been a serious hurdle for the group.
Patrick Zhuang '21, co-president of the Chemistry Student Advisory Committee (CSAC), has also struggled to overcome limitations placed on student activities by the pandemic. "COVID mostly limits our ability to host in-person events, especially since there used to be a chemistry common room where people would gather to do problem sets or just hang out," Zhuang said.
The limitations of social distancing on student interactions go beyond the individual departments. "In the past we've organized all-science activities, and of course this year with things going remote we are unable to do any of those," Zhuang added.
Board members of the Black STEM+ Student Association (BSTEM), an organization which aims to support all underrepresented students in the sciences, are facing similar issues. "Usually we have a lot more informal meetings," Blaine Williams '21 said. "People get to come and decompress à la Stressbusters. This year we've transitioned to remote programming, that's hard to navigate. There's no central point to be able to meet people."
"We are trying to bridge the on-campus/off-campus divide," Williams continued, "especially because so many minority students and students of color are off campus. We are trying to figure out what students are looking for and what they need the most."
The student groups are getting creative to overcome the academic and social challenges of this fall. BMAC has plans to host Zoom game nights, invite biology faculty and staff to give virtual presentations and potentially create informative social media platforms for biology students. "Maybe [we'll] have some cool swag to widely distribute," McClain said. "That's a little form of community building, if you see someone with a biology pin on their bag."
Members of OURSTEM+, a student organization that promotes sexual, gender and racial minority representation in STEM+ fields, are feeling similar constraints. "COVID has impacted us significantly this semester because many of our events for community bonding can no longer incorporate getting together over snacks or dinner," co-president Curtis Liu '23 said. But Liu remains hopeful that the group can provide structure and support during the pandemic. "We will continue to offer these community-building events along with academically-focused events over Zoom."
As in previous years, CSAC will host a graduate school panel for chemistry students. The panel is usually composed of professors, but with this year's panel going online, committee members were able to invite five alums from all over the country to speak on their graduate school experience and how they transitioned from the College to where they are now.
BSTEM is moving forward with virtual pre-professional programming as well. "We've launched the BSTEM alumni series on Instagram," board member Mazie Alexander '21 said. "It's basically to give students access to alumni on social media, which is the fastest way to reach out and speak to alumni."
"We've noticed that Zoom can be kind of tiring for people, so you can just go on Instagram and see the live [stream] or watch it later," Alexander continued. "It's accessible, and it's available to everyone."
Even while COVID pushes the boundaries and meanings of community and togetherness in new directions, science students are finding resourceful ways to connect with each other and their passions. "We are welcoming to everyone on campus, chemistry students or science students or anyone on campus who wants to learn about science," Zhuang said.
BSTEM is trying to actively recruit new members despite the circumstances. "This space is supposed to be a safe space where you can get to know other people similar to you and with similar passions, and so it's definitely been a challenge but it's been fun to work around it," board member Isabel Arvelo '23 said. "It's been a really meaningful part of my experience at Williams, so I would really encourage people [to join]. We uplift everyone."
[adrotate banner="3″]