'Trivial' promises innovative digital performance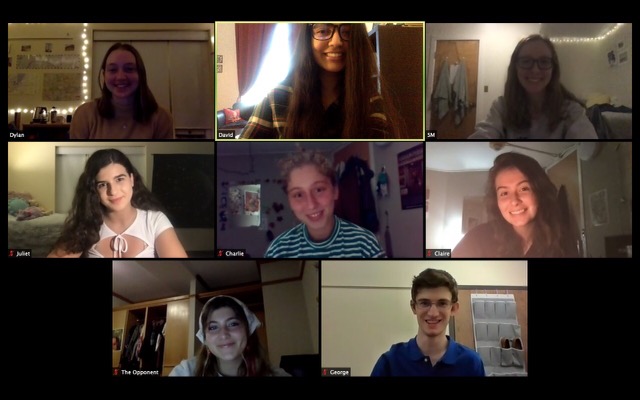 Trivial, a new Cap & Bells production which premieres Friday, Nov. 13, started as a high school homework assignment.
"I wrote it senior year of high school as part of an independent study," explained Nina Kolman '23, the playwright. "My professor at the time, Ed Schmidt … was like, 'my favorite plays right now are young women writing about incredibly specific cultures that they've been a part of'… and I realized I had done quiz bowl for about four years, and started explaining the process of quiz bowl to him, and he sort of stopped me and was like, 'this is great.'"
The 90-minute dramedy follows five quiz bowl teammates—Lea Elton '24 as Charlie, Shizah Kashif '24 as David, Mati Rogers '24 as Claire, Vanessa Silva '23 as Juliet, and Chris Van Liew '23 as George—and one opponent, Audrey Kelly '24, on their quest to make it to nationals. Along the way, the high schoolers must navigate college applications, romance and self-esteem issues. Kolman intended the play to be a fun creative outlet for her senior spring, a way to stay invested in school. Now, almost two years later, Trivial has been adapted to a remote format, with actors rehearsing and performing over Zoom.
Director Dylan Nadelman '23 found that the casts' efforts overcame the challenges of directing remotely. "Going into this process I was worried about the challenges of setting the tone of a virtual rehearsal room," she admitted in an email to the Record. "But this is a really lovely and talented group of people who have been so enthusiastic and engaged with the show, turning obsolete many challenges I had initially flagged."
In rehearsals, Nadelman worked to keep rehearsals close to a traditional, in-person structure. "I tried as much as possible to encourage physical movement in rehearsals, attempting to simulate the fully embodied experience of acting on a stage as best as I could. Directing virtually forced me to think more experimentally to indicate subtle shifts in tone that could have been shown through blocking on a stage."
For Kashif, who is studying remotely in Dubai, the process was both unconventional and exciting. "It has been a minute since I was last onstage," she wrote to The Record "and so having my mini comeback into the theatre over Zoom has meant I'm experimenting with a whole new plane of performance and media from the get-go."
Kashif found the message of Trivial especially resonant. "I think a lot of us are coming from high school experiences in which we were, at one point or the other, not true to ourselves," she said. "We place so much pressure on ourselves, in addition to the pressure others have placed on us; we grapple with expectations. Doing this play my first semester at college was very cathartic for me because it put me in touch with the ingenuity I know I sometimes assumed out of convenience and other people's expectations of me."
Both Nadelman and Kolman hope that audiences take away a sense of love and meaning in the "trivial" parts of their own lives. "It is such a human activity to find genuine meaning in unimportant things, and I think this show beautifully shows the pain that comes with reckoning with the actual uselessness of those things we hold most dear," said Nadelman.
Kolman elaborated on why she chose the title: "The play is called Trivial because one: it's a pun and I love puns and two: because ultimately, everything that goes on in the play will be pretty meaningless in the grand scheme of things, but they feel so important in this exact moment."
Kashif had a special message for viewers of Trivial. "You evolve. You change. The things you love might change, too – or they might not. You just need to give yourself the space to test those waters. You got this."
Trivial runs Friday and Saturday, Nov. 13 and 14 at 8:30pm over Zoom.