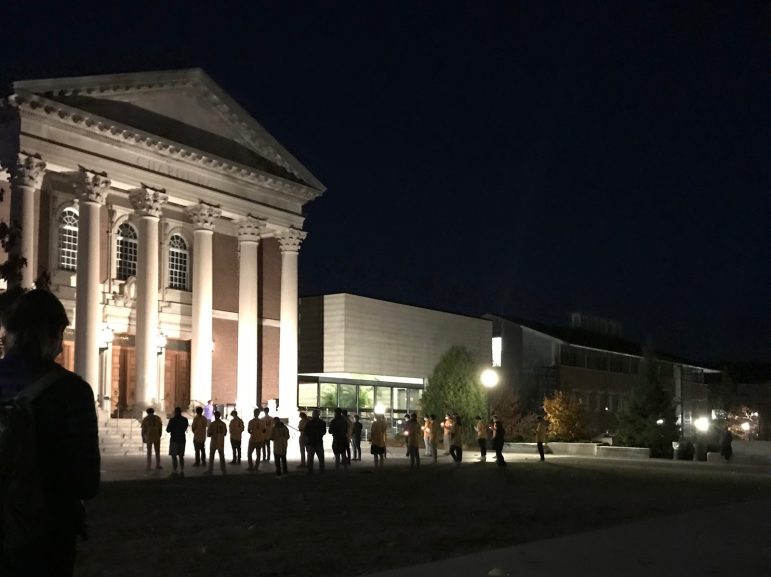 Last Sunday, members of the College community came together to grieve the passing of Jackson Ronningen '24 in a memorial service on the steps of Chapin Hall.
In an all-campus email on Nov. 2, President Maud S. Mandel wrote that Ronningen had died at his home in California over the previous weekend. Ronningen began the academic year in person before transitioning to remote learning in late September. Within the College community, Ronningen expressed interest in chemistry and economics, but "baseball was his great love," Mandel wrote.
"He was recruited to Williams by Coach Bill Barrale, who remembers Jackson calling him repeatedly last spring to learn whether the college would be opening, and his excitement when told that we would," she continued.
At the memorial service, members of the on-campus community were invited to honor Ronningen's memory with a candlelight vigil. Students, faculty and staff who attended the memorial maintained social distance while spread out across Paresky lawn holding candles.
Mandel and Chaplain to the College Valerie Bailey Fischer spoke during the service, as did Barrale, members of the baseball team, his Junior Advisors and Dean of First Year Students Chris Sewell '05. Ronningen's teammates shared their thoughts and memories and spoke of the compassion, spirit and talent for baseball that he displayed during the few weeks they shared on campus.
In her email, Mandel encouraged both on-campus and remote students to reach out to Integrative Wellbeing Services, the Dean's Office team and the Chaplains for support in coping with the loss of a community member. She also provided a list of grief resources.
"We have all too soon lost the opportunity to know Jackson as a fellow student—someone whom his parents describe as deeply caring for others," Mandel wrote. "I hope you will join me in holding his teammates and classmates, his family and loved ones in your hearts during their time of loss."
If readers knew Ronningen and would like to share their memories with the Record, please email ret5 and asl3.