Beyond the Bubble: Town elects members to Mount Greylock Regional School District Committee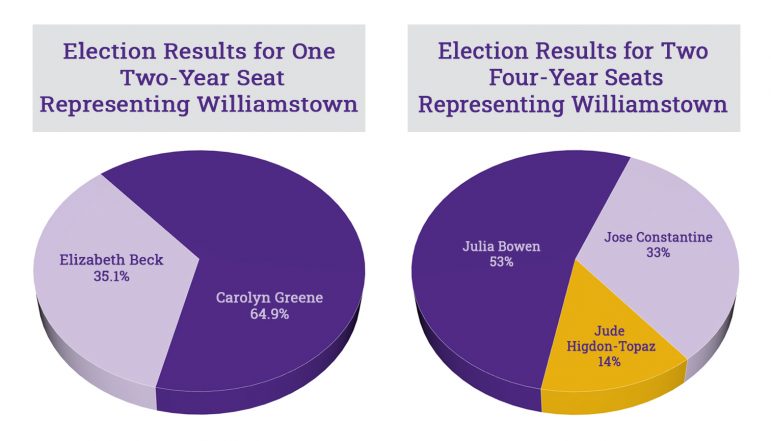 If you have walked or driven around Williamstown this fall, you have likely spotted lawn signs bearing the names of those who campaigned for last week's elections for seats on the Mount Greylock School Committee. With campaigns rooted in promises of guidance and support during unusual times, the election results will bring both new and old faces (some of whom are members of the College community) to the regional public school system's leadership.
The Nov. 3 election saw a voter turnout of 79 percent in Lanesborough and 76 percent in Williamstown. The candidates who won campaigned on a platform meant to promote equity, inclusion and support for students of all backgrounds, promising to navigate students and families through both COVID-19 and unrest in response to racial injustice.
For a single two-year Williamstown seat, Carolyn Greene, director of commencement and academic events at the College, won 2,831 votes to Buxton School English teacher Elizabeth Beck's 1,567.
Julia Bowen and José Constantine, both newcomers to the race, also secured victory last week in a race for two four-year seats representing Williamstown. Bowen, the founder and former executive director of the Berkshire Arts & Technology Charter Public School (BART) in Adams, Mass., received a total of 3,430 votes; Constantine, an assistant professor of geosciences at the College, won 2,168 votes, and Jude Higdon-Topaz received 897 despite withdrawing from the race.
Facing no opposition, Michelle Johnson, a member of the Mount Greylock School Council, won a four-year seat representing Lanesborough.
The Mount Greylock Regional School District Committee contains seven seats, each serving four year terms: three seats representing Lanesborough and four seats representing Williamstown. Normally, only three seats (one from Lanesborough and two from Williamstown) would be on the ballot in each biennial election, but this year a third Williamstown seat was up for grabs following the resignation in February of incumbent Dan Caplinger. Carolyn Greene was appointed by unanimous vote to fill his seat in May after previously serving as the chairperson of the School Committee from July 2009 to November 2018.
"We are asking our students to learn in a time of great unrest and uncertainty, where COVID-19 not only threatens their physical health, but their social and emotional wellbeing," Greene said in a candidate statement released prior to the election. Greene urged voters to take advantage of her decade's worth of experience and "proven commitment" on the school committee, promising to use her expertise to navigate through issues pertaining to equity and inclusion, COVID-19 and the allocation of limited resources to best benefit the school.
Johnson, a special education teacher in the Lenox school district, expounded upon the importance of community involvement in her statement, encouraging Williamstown and Lanesborough residents to attend meetings in order to "have their voices heard."
Constantine began his statement by speaking on his dedication to "giving back," advocating for marginalized communities in the Greylock School District: "There are many families of color and families from marginalized identities who haven't felt entirely welcome in our district," he said. "It's my hope that my service in this committee can be a voice for them."
With almost 20 years of experience in education, Bowen discussed the importance of equity, accountability and transparency in the school district, especially under the stressful current circumstances. "When I look at our world right now, at the craziness that is 2020, I am compelled to act," Bowen explained in her statement. "I am compelled to contribute; I am compelled to make a difference."In Williamstown, School Committee meetings are broadcasted on Willinet TV, Channel 1302, as well as on the Mount Greylock Regional School District Youtube Channel. For more information, those interested can visit the Committee's official page on the Mount Greylock School District website.