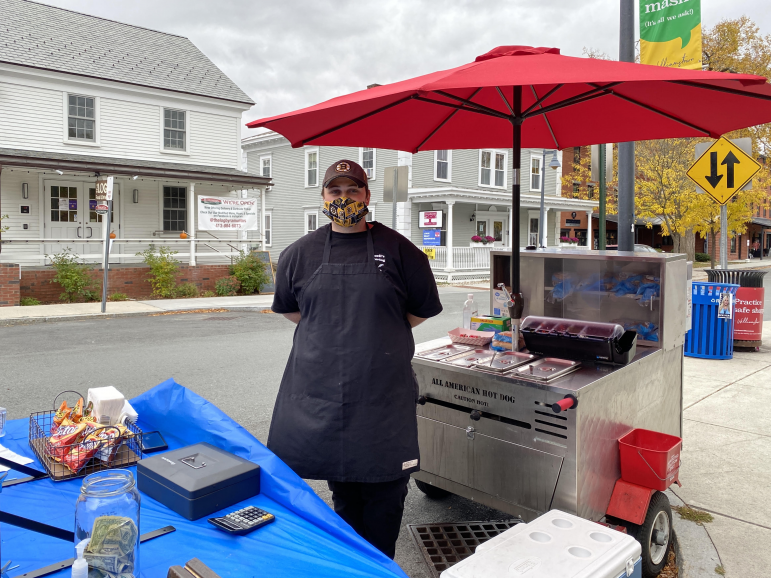 On a warm fall day on Spring Street, one might have been pleasantly surprised to find a bright red umbrella shading a cart offering juicy hot dogs made with a blend of beef and pork. A new addition to Spring Street this fall, Hazell's Hot Dog Stand is run by soon-to-be-married couple CJ Hazell and Brittany Lillie, both dining services workers at the College who embarked on the journey to open a hot dog stand when they received their COVID-19 stimulus money. In anticipation of cold weather, Hazell and Lillie took the stand down two weeks ago.
During warmer months, Hazell and Lillie sell Kayem Natural Casing hot dogs for $3 each. On top of the dog, they offer onions, tomatoes, jalapenos, diced pickles, sriracha, ketchup, mustard and relish, along with bacon, cheese, chili sauce and sauerkraut for $0.50 extra. They plan to open again in the spring. More details can be found on their Facebook page.
When Hazell received the stimulus money from the federal government back in May, he said, he remembered what his grandfather told him about money when he was a child.
"My grandfather told me that you have two options in life — you can sit on your rear and spend it or you can get off your rear and make it," Hazell said. Hazell and Lillie decided to go with the latter option and began their search online for a cart to sell hot dogs.
The hot dog stand fits into a larger plan for Hazell and Lillie. They hope to expand their business into catering when more events can be held in person. So far, they have catered one 80-person event in Williamstown but hope to provide many more catering services in the future. Hazell mentioned that he is looking into catering sporting events for the College and other College-related events.
"Ideally, come football season next year, and it opens up, I'll have weekends off, and that's where I'll make my bread and butter," he said.
Other than catering, Hazell and Lillie hope to eventually own a cafe on Spring Street. "I would love to have Tunnel City," Hazell said. "That would be unreal." 
He added that he "would do so much more with that place," including more sandwiches, soups and salads as well as a better cup of coffee. Lillie said she would like to own a cafe that is "very inviting, very cozy, very comfortable," and a place where one "would want to stay all day."
Hazell and Lillie said that it was not easy getting the permits to get the stand up and running. Massachusetts state law requires that they get a different permit for each town where they want to sell hot dogs. They started this fall in Williamstown, but they plan on expanding next spring by acquiring permits from more towns in the area.
The couple received positive reactions from Williamstown patrons. "This is cool. This is neat. This is something new for Spring Street," Hazell said, summing up people's reaction to the stand. Hazell spoke of a little girl who wanted a hot dog from the stand so badly this summer that she burst into tears when her father didn't allow her. Hazell recalled the girl saying, "Dad, I don't want ice cream, I just want a hot dog!" 
As part of his expansion goal, Hazell is pursuing a bachelor's degree in business management from Champlain College Online, which, combined with his associate's degree in financial accounting, will lead him to graduation this spring.
As well as the bakeshop, Lillie works for a doggy daycare in Williamstown where she brings her and Hazell's pooch, Penalty, to work with her.
As is typical for bakers, Lillie starts her day earlier than most, coming to work as early as 3 a.m. "She would work 3 a.m. to 11:30 a.m. and then come down to Spring Street and help out at the hot dog cart," Hazell said. "Obviously, I couldn't have done it without her. She helped fund half the hot dog cart business."
Despite her early hours, Lillie enjoys working as a baker. "We have fun in the bakeshop," she said. "It's a small group of us. We jam out and we rock out to our music and we get stuff done."
Hazell and Lillie met while working towards their respective degrees in culinary arts and in baking and pastry from the New England Culinary Institute in Montpelier, Vt.
In her free time, Lillie said she enjoys making handmade gifts for others, playing with dog Penalty and spending time with her family.
Hazell, on the other hand, says that he likes doing "absolutely nothing" in his free time, as well as playing Dungeons and Dragons, fishing, riding his quad bike and watching the Boston Bruins.
Speaking to his Bruins fandom, Hazell actually proposed to Lillie on the ice at TD Garden arena in Boston during a Bruins game. "Not many people can say that one," Hazell said about his proposal.
"Her brother's in the army and he's being deployed to Qatar in January and he's not a really emotional person but he asked, 'Are you guys going to wait until I come back to get married?'" Hazell said. "For him to say that really meant a lot to Britt, so we were like, 'Yeah, we can hold off.'" Hazell and Lillie plan to get married at Lillie's parents' property in July 2022, after Lillie's brother returns from Qatar..
Hazell expressed hope that retirement would be in the not-so-distant future.
"I want to retire at 45, man," Hazell said. "And I'm not getting any younger. I just turned 27. My goal is six figures by the time I'm 35 and being able to retire by the time I'm 45."
He hopes starting a business will bring him closer to this goal.
"I want to be rich enough to not have to worry about beef jerky prices… I don't want to live paycheck-to-paycheck my whole life, and I think ultimately having my own business will lead me to that goal," he said. "I like being my own boss. You and the boss don't fight if you're your own boss."
While Lillie is a little more laid back about her retirement plans, she said she "fully supports Hazell and all of his endeavors" and said she believes that if he "wants to retire at 45, he's going to make it happen."