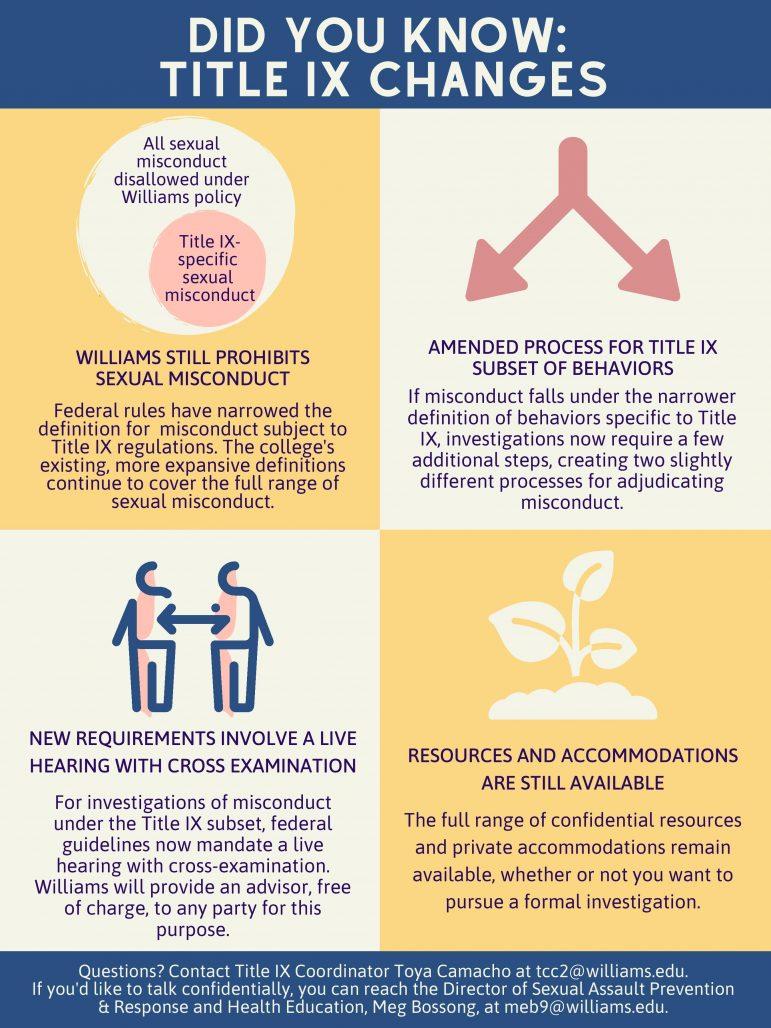 In light of recent federal Title IX changes, the College held a Zoom session on Oct. 21, led by Assistant Vice President for Institutional Diversity, Equity and Inclusion and Title IX Coordinator Toya Camacho, to spread information on how these changes might affect those who wish to report sexual assault. The changes were first announced by the U.S. Department of Education on May 6 and took effect on Aug. 14. According to Camacho, it was the first time in 19 years that major revisions had been made to Title IX regulations.
Among other changes, the new regulations narrow the definition of sexual harassment from actions that are "so severe, pervasive, or objectively offensive" to "so severe, pervasive, and objectively offensive." The definition now only encompasses incidents that take place at schools within the U.S. and occurs as a part of recognized programs of activities within buildings under the school's control. Off-campus incidents are no longer included. 
The school must also provide advisors to both parties and offer appeals. The advisors are allowed to cross examine other parties and witnesses during live hearings, regardless of the trauma that sexual assault survivors may re-experience.
Because of COVID-19 restrictions, the College plans to make adjustments in order to accord with the new regulations. Possible solutions proposed include hosting the concerned parties in separate rooms and using technology to carry out hearings rather than conducting them in person. The College will also provide advisors free of charge to both parties.
"Williams has been concerned about the new regulations since they were first proposed by the Dept of Education," Assistant Director for Violence Prevention Hannah Lipstein wrote in an email to the Record. "The reality is that the rules force us to implement policy practices that are not in line with our values and approach to investigating sexual misconduct as an educational civil rights issue."
Camacho emphasized during the meeting that students who wish to file a complaint aren't limited to the scope of Title IX; the College intends to apply other applicable institutional policies as well. Campus no-contact orders and changes to living situations and classes will be accommodated for survivors. Furthermore, reporting on campus does not preclude students from also reporting incidents to the police.
"I hope that students will still feel confident that there are a range of options available to them, even if they never decide to pursue a formal investigation," Lipstein said. "More than ever, confidential resources like the Office of Sexual Assault Prevention & Response can be vital resources to get people connected to accurate information that can help them make the right decision for themselves."
The College's amnesty policy still applies to these instances; any student that's sexually assaulted in a situation where they violate COVID-19 or other public health guidelines won't be penalized. The Sexual Assault Survivor Services (SASS) also provides a confidential 24/7 hotline for survivors, and its staff members are specially trained to provide counseling and support. The Health Center, Integrative Wellbeing Services and the Chaplains' Office are all additional confidential resources on campus.
Lipstein emphasized the importance of establishing a College environment that prevents sexual assault from happening in the first place. "Above all, the changing federal enforcement landscape reminds me that our work begins far before we ever reach the point of harm," Lipstein said. "I feel a renewed sense of urgency in the importance of prevention work that we do in the Williams community to ensure that all of our interpersonal interactions are grounded in mutual respect, communication, and consent."
For more information on the College's Title IX policies, visit https://titleix.williams.edu.