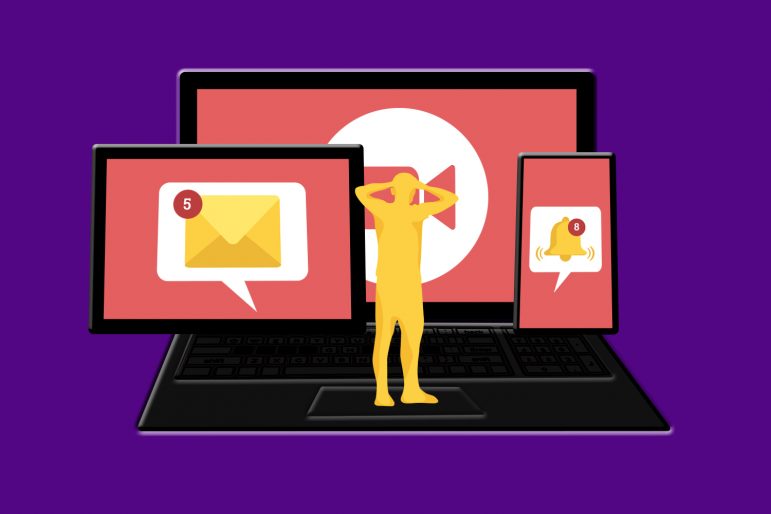 Check in with your breath right now.
Are you breathing deeply, fully?
Or are you breathing shallowly, perhaps even holding your breath?
The latter might point to screen apnea, which is characterized by the absence or suspension of breath while looking at a screen. In fact, according to research from 2008, a good 80 percent of people hold their breath, or breathe shallowly, for hours a day without noticing while staring at a screen.
As we get accustomed to "Zooming" into virtual classes and being in front of a screen for far longer periods of time than usual, one factor contributing to the fatigue that many of us experience as a result is simply that we are holding our breath.
Why screen apnea matters
Chair and Associate Professor of English Bernie Rhie said that screen apnea adds to everyday exhaustion and stress levels, influences well-being and even affects how much and how well we learn. Rhie, who has received formal Zen training and is teaching "Zen and the Art of American Literature" this fall, has over 30 years of experience with meditation.
"If we aren't aware of our breath and how the body feels, it's so easy to slowly, over time, accumulate more and more tension," Rhie said. "If you don't feel how the breath is registering negative emotions or stress, and it just becomes habitual how you breathe in these kind of tight ways, those negative emotions connected to those breathing patterns are also going to become habitual ways your body holds itself."
Rhie added that the physical stressors of screen apnea can negatively affect mental and physical health, citing a piece from Ten Percent Happier. "Carrying tension and stress in this way, both in your mind and your body, can take a toll on the immune system," he said. "That can affect how much enjoyment you can get out of learning and also how engaged you feel with learning and, frankly, how much therefore you learn. If you are just not feeling good, if you are feeling low-affect, down, tight and tense all the time while you are learning, it's just going to affect how deep that learning can go."
Challenges to well-being from studying remotely
With the intellectual and social aspects of college being moved to the screen, many remote students find themselves experiencing screen apnea and Zoom fatigue, which often connects to high levels of stress and exhaustion.
For Bless Bah Awazi '24, enrolled remotely from Yaoundé, Cameroon, experiencing all of his classes, club meetings and social events through a screen has been exhausting. "At first, I thought it was great that I don't have to move, but with so much screen time, my eyes are so exhausted, and all I want to do is sleep," he said. "I had to sit down with an optician for my eyes. I started using eye drops to lessen the pain and painkillers for headaches."
Jannat Arora '23, studying remotely from Delhi, India, said that she makes sure to exercise daily to stay energized. "I force myself to work out every day — it is one of the only things that keep me feeling sane and feeling healthy, and that's the only form of activity I have right now," she said. "When you are on campus, you are so distracted because you are with your friends, you have other things to do … and at home it's not like this. So all my free moments are devoted to me being anxious about schoolwork, and that affects my mental health in all forms."
Though Hayden Gillooly '21, enrolled remotely from North Adams, Mass., said that she has found spending so much time sitting in front of a screen to be difficult, she is still enjoying this semester. To combat some of the challenges of studying remotely, Gillooly said she is taking initiative to ensure her well-being.
"Every day, I make sure to incorporate physical activity into my routine intentionally, because otherwise, it can be easy to get stuck in the habit of having a very sedentary day," she said. "I have never been someone who works out but decided that it would be important this semester, since I'm not having the typical time of walking around campus to classes."
Counteracting screen apnea
According to Rhie, consciously bringing awareness to your breath and breathing in deeply from time to time can help counteract screen apnea.
"Intentionally just checking out how your breathing feels from time to time when you are on screen is really the answer," Rhie said. "A lot of us when we get on computers either to do work, or distract ourselves by looking at social media or just browsing, we kind of check out. Therefore it requires a lot of intentionality to notice what the breath is like in those moments."
A simple way to reset one's breathing is to practice parasympathetic breathing — a form of deep breathing practice that is intended to activate the parasympathetic nervous system, which is responsible for calming down the body.
"The sympathetic nervous system is the part of the nervous system that is engaged when we get in the fight-or-flight response, and that's the part of the nervous systems that can be activated when we don't breathe properly for long periods of time," Rhie said. "A good way to address that and to help make it better is to breathe in a way that activates the parasympathetic nervous system."
Rhie shared that a simple parasympathetic breathing practice is to breathe in deeply and fully through the nose in a long and slow way. "So breathe in deeply, feel the chest expand, feel the breath go down the belly and then breathe out slowly through the slightly open mouth and draw the exhalation out," he said. "And you can even say silently to yourself as you are exhaling, 'relax' and just feel the body settle as you exhale slowly in this way."
Scheduling screen-free time
Recognizing the need to spend time outdoors, some remote students are consciously incorporating breaks into their routines.
Gillooly said that outdoor time has helped her stay active and clear her mind. "When it's nice outside, I bring my computer outside for class and doing homework, which is helpful in breaking up the routine of just being in my room," she said. "In between classes, I make sure to take outside breaks, which often includes cuddling or playing with my collie dog, Blue."
Awazi said that he also tries to take his classes outdoors whenever he can. "I take most of my classes outside in the open air, where there is light," he said. "Not in the darkness of my room. It's more convenient."
Both Gillooly and Arora said they make sure to schedule screen-free time to avoid feeling too overwhelmed. "I have spent lots of time cooking, which has been a great stress-reliever for me," Gillooly said. "I find cooking to be incredibly therapeutic, and l love the creative aspect of it."
For Arora, learning how to drive has provided a helpful break from screen time. "Every day around 5 p.m., I go for a drive," she said. "I will pick up another one of my friends and we'll go for a drive, have coffee."
Rhie stressed that it is important to be mindful of one's breathing. "I think there are a lot of reasons why we should be noticing how the breath and the body are doing while on screens and then doing things to counteract the tightness and restriction of breath," he said. "There are a lot of reasons why that can be really good for mental health and emotional wellbeing and actually the quality of learning. And there's no downside, so why not?"