Staff member receives violent and threatening hate letter at their home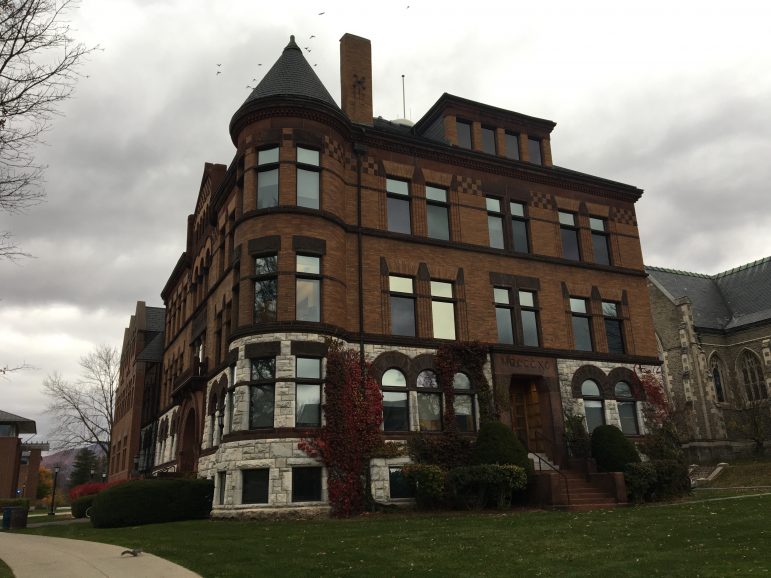 On Thursday afternoon, a staff member of the College received a hate letter at their home. The letter communicated an explicit threat of violence, as well as racist and anti-LGBTQIA language, and targeted the racial identity, gender identity and sexual orientation of the staff member in graphic terms.
The recipient of the hate letter has chosen to anonymously share their story in hopes of contextualizing the events.
On Friday, President Maud S. Mandel and Vice President for Institutional Diversity, Equity and Inclusion Leticia S. E. Haynes '99 sent an all-college email describing the incident while protecting the individual's anonymity. Since then, the Williamstown Police Department (WPD) launched an investigation into the incident and is working to protect the individual's safety. The College also launched its own investigation and is taking additional steps to protect its staff and students, according to Mandel.
The individual originally found the letter on Thursday afternoon in their mailbox, tucked into a newspaper and without an envelope. After taking a moment to gather themselves, the individual informed Haynes; Bilal Ansari, Assistant Vice President for Campus Engagement in the Office of Institutional Diversity, Equity, and Inclusion; and Toya Camacho, Assistant Vice President and Title IX Coordinator in the Office of Institutional Diversity, Equity, and Inclusion.
"I'm lying if I say I'm not anxious and I'm not nervous and … really questioning what it means to be safe here in Williamstown," the individual said. "I've been Black and queer my whole life, so those questions are questions that I grapple with every day, but I'm grappling with them now more than ever."
In the aftermath of the incident, Ansari said that his immediate response was to support the individual. "I wanted to make sure I could look [the individual] in the eye, to hear them, to see them, to just know that they have someone here to walk alongside them even up these too familiar steep mountains," he said.
Haynes emphasized that above all else, the first priority of the College in responding to the incident is to ensure the individual's physical and mental health and safety.
After receiving permission from the individual, Haynes shared the specifics of the incident with Mandel, and also shared the individual's request for anonymity. Haynes and Mandel, however, said they found it important to alert the broader community to the incident.
"It was our hope that people would gather from [the email] that there are individuals in our community who might share certain identities and understand that a hateful, threatening incident happened in this community, and these types of incidents continueto happen," Haynes said. Mandel and Haynes decided to describe the message as a "hateful letter" rather than using another term, such as a "hate crime," because "we were not able to make that official declaration — we are not law enforcement officials, but we wanted people to know there was a threat," Haynes said.
Mandel added that the incident was far from isolated. "It is important to acknowledge that this incident is part of a larger problem," she said. "The number of hate-fueled incidents continues to increase nationally, and Williamstown and Williams have our own share of issues."
WPD investigates despite troubled recent history
In the immediate wake of the incident, the individual grappled with how to involve the WPD. A federal lawsuit filed in August by WPD sergeant Scott McGowan alleged instances of racial harassment and sexual assault committed by Chief Kyle Johnson and unnamed WPD officers. In September, Berkshire County District Attorney Andrea Harrington placed officer Craig Eichhammer on the county's Brady List, an internal list of officers with a history of alleged or actual conduct that would undermine their credibility in court.
"There was a lot of anxiety around reaching out to the WPD, given the loss of community trust in the WPD. A lot," Ansari said. "And so that felt suffocating and it should not have been, but it just did."
In describing the importance of improving College relationships with law enforcement, Mandel wrote in an email to the Record, "Trust isn't there right now, and this isn't something we can fix in the context of a threatening act."
The federal lawsuit filed by McGowan charged that a dispatcher who remains on the force used the N-word in 2014 while a Black student from the College was touring the police station. The lawsuit also said that a different officer hung a portrait of Adolf Hitler in his locker and an officer of color left the force in 2016 because of racial harassment. In response to a state discrimination complaint, the Town admitted to the 2014 incident and did not deny the incident involving the photograph of Hitler.
"We were afraid to go into the WPD because the dispatcher that used the N-word may be there," Ansari said. "Who can you go to in this untrustworthy environment? Regretfully there are very few resources and people that you have as a Black or marginalized individual in times of crisis that you can trust to protect and serve you."
Ultimately, the individual spoke to Lieutenant Michael Ziemba, a WPD officer. The individual first talked with Ziemba over the phone on Thursday night, and then met with the officer on Friday morning. Ziemba laid out the ways that the WPD could get involved, and described potential courses of action that would require higher law enforcement authorities. The individual subsequently agreed to additional patrols by the WPD and campus safety around their home, in addition to other security measures.
Johnson confirmed that an investigation into the letter was underway. "We began an investigation upon being notified Thursday afternoon," Johnson said. "We do not have a suspect at this time and ask that anyone who may have any information to please contact us directly, or through [Campus Safety and Security]."
For the individual, choosing to involve the WPD was a difficult decision. "I have a very complicated relationship with law enforcement as a Black body and as a queer person who has experienced police brutality in the past," the individual said. "And while that prior violence did not occur here in Williamstown, it was just really hard for me to come to terms with making that decision, to take that measure for my own self, to do that, so I really appreciate the support of having my colleagues around me to help me to move to that conscious space."
The College's response
In the wake of the incident, Haynes emphasized that supporting the individual has been and will continue to be front-and-center. "We've been trying to support the community, and first and foremost trying to support the individual, since becoming aware of this," Haynes said. "That has been the primary concern, period. Whatever we can do for the individual is what we're going to do."
Co-president of the Black Student Union Julius Dodson '21 expressed similar sentiments. "The individual has been there for us during some of our hardest times here, and so we will be there in whatever capacity for the individual now," he said.
In addition, the College has hosted four spaces for reflection through Zoom on Monday and Tuesday: two for students affiliated with Minority Coalition (MinCo) groups, and two for faculty and staff of color or who identify as LGBTQIA. The calls were attended by numerous College staff, including Ansari and Haynes, and were available for student, faculty and staff drop-ins.
Mandel said that the Office of Institutional Diversity, Equity and Inclusion (OIDEI) will use these meetings as an opportunity for feedback, and Haynes emphasized that future College programming is also likely.
Other MinCo groups have also played a role in community support, particularly the Queer Student Union (QSU). "We have messaged our members about our intention to support them in the wake of this, and will continue to do so, and are planning to join the rest of MinCo in gathering to react to this hate message this coming week," QSU President Avery Trinidad '23 said. "It's easy enough to do the obvious and condemn this act of violence — and we do so wholeheartedly. But we want to make known to the student body that, for all that need a space for processing, comfort, and affirmation in this time, we will be there for them."
The DIRE Committee's role in the community
The letter made specific reference to Williamstown's Diversity, Inclusion and Racial Equity (DIRE) Committee, writing, "DIRE can't save you" after a litany of racist and anti-LGBTQIA threats.
The DIRE committee was formed in July by the Williamstown Select Board and has since held remote meetings roughly every week. The nine-member committee has the primary goal of fostering diversity, inclusion and racial equality in Williamstown.
"Basically our overall purpose is to think about those three aspects of our name and how it relates to our town," said Mohammed Memfis '21, the chair of the committee. The committee conducts research, facilitates meetings with community members and holds conversations with the mission to "ultimately provide actionable recommendations to the people on the Select Board," he said.
So far, a large part of the work of the committee has been centered on the WPD and issues of public safety in the town, according to Memfis. The DIRE committee has held weekly remote meetings since July that are streamed on WilliNet, a public-access community television platform.
The committee's work has recently come under criticism in the town. On Oct. 5, the Williamstown police union wrote in a letter to Town Manager Jason Hoch '95 that the DIRE committee had created "an environment of hostility" towards law enforcement. The police union said that "the Select Board has sat idly by and watched while a very small, one-sided group has continued to tear away at every practice in our agency," in reference to the committee.
In its first meeting after the letter from the police union was released, the Select Board did not defend the DIRE committee by name. The board instead continued to refute criticism of the WPD in strong terms. A statement read by Chair Jane Patton, who is also on DIRE, said the board "wholeheartedly supports and appreciates the work of all members" of the WPD and called on community members to "respect and honor its members."
"For six weeks, DIRE has urged action to address prevalent acts of discrimination in the town, though there has been little support from town leadership," Ansari, who is a member of the DIRE committee, said.
Ansari added that even the committee's racial demographics have been directly called into question. "There have been attacks on the makeup of the DIRE committee as we are accused of being people of color who are all alike — our social justice language, my religious expression — while every other town committee is all white," Ansari said.
A history of hateful incidents at the College
Hateful incidents akin to the hateful letter have occurred repeatedly at the College over the last decade. Claiming Williams Day was first created in 2008 after the N-word was written on two common room doors in Williams E ("Racial slurs start campus inquiry," Feb. 13, 2008). The next year, an anti-LGBTQIA slur was written in another dorm, and in 2011, a violent message including the N-word was written in another dormitory.
A series of similar incidents have also taken place over the last few years. In 2018, the MinCo office was vandalized, though the motivation for the vandalism remained unclear. In 2019, the name of a neo-Nazi and white supremacist group was graffitied on campus in two separate instances.
Faculty members of color have additionally taken leaves from the College in recent years for reasons related to bias incidents. Kai Green '07, assistant professor of women's, gender and sexuality studies, and Kimberly Love, assistant professor of English, took semester-long leaves in spring 2019. Previously, in a November 2018 article in The Feminist Wire, Green and Love describe a racist encounter with a local business.
Haynes said that people who are targeted because of their identities bear a burden that others don't. "It is imperative that we always have at the fore of our minds the safety and wellbeing of people who are marginalized because of who they are," she said. "We can't tolerate hatred, targeting and harassment of individuals or groups based on their identities. We have to be diligent about eradicating hate."
"It's imperative that we work together to acknowledge and also transcend hate, and not turn a blind eye to it as though it doesn't happen," Haynes continued, "and only then I believe can we truly come together as a community."
A message to the community
The individual ultimately chose to share their story, despite the fear that they are facing as a result of the letter, in the hopes of communicating a message. "I know that I have a right to exist, to live, to breathe, to feel, to move, and when I say to move I mean to move and to groove with the authority of being beautifully me, and to be Black, proud and gay and queer, and to be unexceptionally and unapologetically me, and I won't allow anybody to take that from me," the individual said.
"This work matters to me, the work of justice, and so that's why I'm here, and that's why I see it as being tangibly important to speak now more than ever."