Sandy Williams IV: A reimagining of our shared history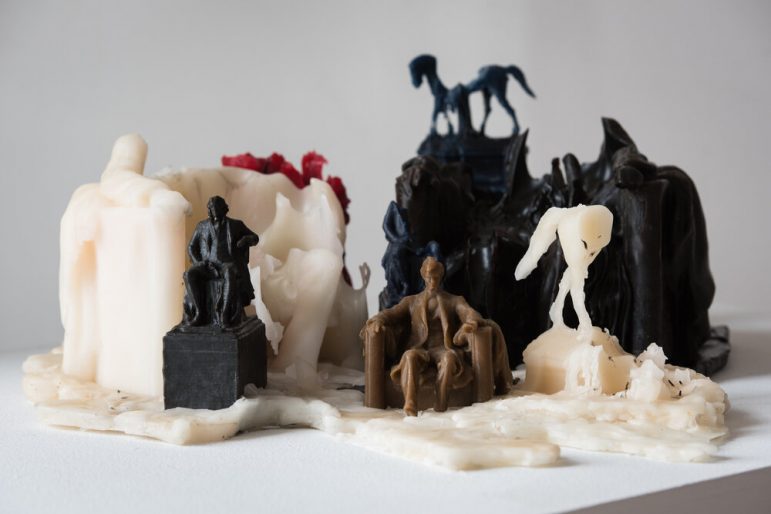 According to artist and filmmaker Sandy Williams IV, a candle of Thomas Jefferson should be melting on every mantlepiece. Monuments like Jefferson's, and the often vexed historical weight they carry, should be interrogated, in Williams' eyes. Williams spoke on Oct. 21 in the first artist talk in Assistant Professor of Art Pallavi Sen's "Dream Time Lecture Series." The series focuses on artists that utilize their work to reimagine the "near present and future." The "Dream Time" series was originally intended to be for Sen's students, but now, due to Sen's desire to reach broader audiences, the series is now open to everyone in the Williams community and beyond. According to his website, Williams, based out of New York City and Richmond, Va., works in "sculpture, cinema, performance, painting, photography, text, and the public." 
Williams, an accomplished graduate of VCUarts with art in galleries across NYC and Richmond, is soon to be a resident of the studios at MASS MoCA. Williams' artwork aims to allow him and the audience to "actively participate in the creation of future mythologies, and to work towards the emancipation of our public spaces." Williams shared his sculpture work as it exists in conversation with his performance art, and discussed the pertinence of agency in his art. In light of the Dream Time lecture series focus on reimagining futures, Williams shared his Wax Monument series that began in 2017. "Monuments claim an official stature as the record," Williams said. "Everything moves around a thing as time accumulates; it becomes normalized, and it itself erases the thing that came before it." 
It was his interest in facilitating transformation to combat this social construct that led Williams to create the Wax Monument series by melting small miniature wax versions of famous, or infamous, monuments, and multiplying them. As he disseminates his sculptures across the public, Williams gives back agency over these "normally untouchable" monuments, and the historical weight they carry.
"The Wax Monument series pushes the limitations of agency in public space," Williams said. He explained that he took his wax sculptures to the monuments and melted them in front, disrupting their permanency and perceived interminability. Since many of these monuments are, or were, confederate statues, Williams' work sheds light on issues of racial injustice. The miniature statues reveal "marks made in real time," and as the wax melts, "all of a sudden it's alive," and the monument loses permanence.
This past summer, Williams further considered "how to open up agency in spaces where we don't have freedom, in this 'land of the free.'" Williams shared a documentary of his performance, The Arm of Liberty, that captured a community cleaning of a replica monument of Statue of Liberty located in Chimborazo Park in Richmond, Va. 
It took months for him to work through the many "layers of bureaucracy" to get permission for this performance. "I thought it would be benign," Williams explained, but the group was met with some aggression as they scrubbed the patina of the statue. There was frustration that "someone like me would be up there touching this thing," Williams said.
"The agency burst open this summer," Williams shared. After George Floyd's death, and graffiti 'defiling' of monuments rapidly gained prevalence, all of the layers of restriction that Williams faced in his The Arm of Liberty performance fell away. "Nobody is asking for permission anymore, as this opened the floodgates for conversations that were so repressed," Williams said. "People forgot the rules and took hold of the agency." 
Williams described how the ideas of his artwork became a nearly commonplace protest format. In discussing the Robert E. Lee monument by his Richmond apartment, Williams shared that "enough people showed up with spray paint and just did it." Williams described that his art, and these monument protests, call into question the "folklore" and "shared collective memory" that is American history. 
But like these monuments, Williams believes that history "can't fit into these little boxes." "It's alive now," Williams said.
Williams shared his latest work, "Wax Monument IV, Free Wax," that stands in Socrates Park, in Queens, N.Y.. This work is an enormous, grayscale black flag that Williams created over 3 weeks by hand pouring 3,000 pounds of wax. The base of the sculpture is a mulch map of Queens, and the wax flag has many wicks throughout that can be lit by viewers. In its metamorphism, the work provokes the malleability of history. While quite serious, the event drew many children and energetic participants. "Someone even roasted marshmallows," Williams said.         The event was deeply engaging, as the Zoom audience stuck around overtime asking Williams questions. Towards the end, Williams shared with the group that he had been diagnosed with Lymphoma when he was 18, and his plan to become an orthodontist escaped him as he endured a long period of chemotherapy. "I realized I was doing it for the wrong reasons," Williams said. It was art that spoke to Williams as something that "really mattered." Williams spoke as an inspiring artist rather than an orthodontist, but nevertheless, the talk left smiles on everyone's face.