Two months into the fall semester, faculty, staff reflect on childcare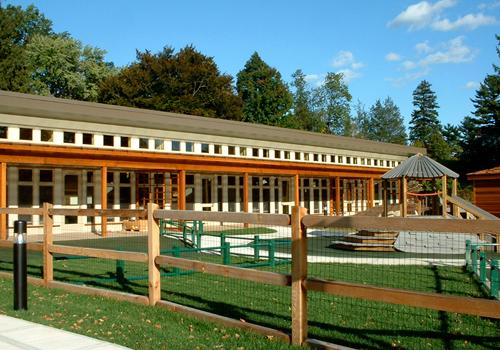 When the College first transitioned to remote learning last March and Massachusetts Gov. Charlie Baker ordered state schools to close in response to the pandemic, the Record spoke with a number of professors about how they were caring for their children while juggling remote learning. Now that the College has settled into an unconventional fall semester, we followed up with some faculty and staff about how their routines have evolved.
This past spring, Assistant Professor of Chemistry Ben Thuronyi moved to a completely asynchronous teaching model when their partner, Katie, had to conduct synchronous class sessions for her high school English students. On top of teaching, they and Katie were caring for their 3-year-old son, Milo.
"I would end up covering half or three quarters of a day during the week while she was teaching," Thuronyi said. Milo is now also a big brother to a 3-month-old, for whom Thuronyi is on parental leave this semester.
Milo is currently attending the Children's Center at the College, which reopened on July 27 after closing in March due to Gov. Baker's order. State mandates still require the Children's Center to reduce class sizes, so Milo can only go three days a week for reduced hours, but the reduced class time has been less of a problem for Thuronyi this semester. "Neither of us are working right now since I'm off on parental leave for the fall, and my partner is also off until November," Thuronyi said. "So it's more just to give [Milo] the socialization."
Since both Thuronyi and their partner are on leave, their schedule this semester looks quite different from many other faculty at the College. But Thuronyi intends to return to teaching remotely this spring.
"[Remote] is a better fit for my class, so that's kind of a happy coincidence," Thuronyi said. "That's easier if I need to have a baby on me." Unlike last spring, however, Thuronyi's fall classes will be synchronous, which may present a challenge.
"A big worry that we have is that, because of class size requirements and staffing … I don't think the Children's Center knows what kind of availability they'll have [in the spring]," Thuronyi said. "At that point, we would need to figure something else out in terms of getting more childcare because Katie is going to be teaching [in person] every day on school days," they added.
The Children's Center has had to make significant adjustments to abide by COVID guidelines. "We have reduced hours to allow for maximum staffing and to meet the enhanced cleaning, sanitizing and disinfecting protocols required by the state," Director of the Children's Center Carrie Gagne said.
Unlike the children, staff are required to wear masks and must also get tested weekly, according to Gagne.
The Center ensures people are socially distanced while minimizing unnecessary interactions. "They're doing shifts on the playground so that the kids only encounter kids from their own class," Thuronyi said. Families are also not allowed in the building; instead children must be dropped off in two separate areas during staggered intervals.
"We encourage distancing while playing by setting up our environments with fewer materials and tables and by spreading them throughout the classroom," Gagne said. Still, "Social interaction and relationships are the heart and foundation of early childhood education and we continue to support children playing together, climbing on a teacher's lap to hear a story, exploring together and getting comforted and cuddled by their teachers," Gagne added.
"It seems like a good compromise between giving the kids a satisfying experience where adults are not constantly prying them apart … and keeping the risk relatively low," Thuronyi said.
According to Gagne, should the public health situation in Massachusetts worsen significantly, the Children's Center will continue following the guidelines of the state and monitoring local trends, while also doing their best to continue serving families. "Having a familiar place where the children feel at home and can play with other children … and feel the affection and care of their teachers during this unsettling time is the best gift we can give them," Gagne said, "and we will continue to do all we can to safely make that happen."
Professor of Geosciences Phoebe Cohen's son Wilder has also returned to daycare. But since Cohen lives in Vermont, where the public health situation has been better, Wilder can attend daycare in person every day for regular hours. "The case rates [in Vermont] have been really low, which I think made a big difference," Cohen said.
As a result, Cohen's daily life is more similar to how it was pre-pandemic, "But there's definitely an increased level of anxiety," she said. "His teachers are wearing masks, but the other kids aren't because they're so little." Since the daycare is a small non-profit, they don't have the capacity to require staff to get tested the way the Children's Center at the College is able to.
Cohen took note of how the College enabled faculty to choose how they teach this year, which has been helpful to many parents. "A lot of parents chose to teach remotely or to shift their teaching hours so that they could balance their childcare responsibilities," she said. "I think in that sense, the College has tried to be extremely flexible."
"But there hasn't been any financial support for example, for childcare," Cohen noted, pointing out how that might affect newer and visiting faculty in particular.
Still, Cohen said, "I think the College is really trying to let faculty have a voice in terms of letting them know what the impacts have been for different people in different fields of study."
Assistant Professor of Statistics Xizhen Cai said she's been grateful to the department for accommodating her scheduling needs. Her three-year-old son Benny also attends the Children's Center. Since class sizes limit Benny to going three days a week, Cai needed the hours she teaches at the College to align with the times he's in daycare.
"Some of my colleagues have been really kind," Cai said. "They don't have kids, so they offered to teach at a later or earlier time," allowing Cai to teach during a popular time slot while Benny is in daycare. "He is very happy there, to be able to interact with other kids," Cai said.
Still, even with an ideal schedule, Cai doesn't always have enough hours to teach, prepare for classes and conduct her research, particularly since she is a newer faculty member. "As junior faculty, we also need to work on our research," Cai said. "But there is a very limited amount of time." She expressed gratitude that the College gave faculty the option to extend their tenure clocks by a year. "But still I wish I could have more childcare hours," she said.
Cai's parents are still staying with her, since limited travel options have prevented them from returning to China. "I'm lucky enough, in a way, that my parents are stuck here," Cai said. They help her take care of Benny on days when she is working. But they will likely go home by February at the latest, after which Cai will need to seek other options. "What I really hope is that in the spring, the situation will be improved."
Tiffany Errichetto, who works at the '82 Grill, said she has been grateful for the College's accommodations thus far. "My manager Lisa has mentioned that if things become too much of a struggle then hours can be adjusted, or there are other options if needed," she said.
Errichetto's 6-year-old son Zayne can only attend kindergarten in person two days a week, so she relies on her grandparents for help with childcare. "The College has been great with supporting staff with childcare issues," Errichetto said.
For Professor of Mathematics Steven Miller, caring for young children is less of a problem than sharing space with the rest of his family as they juggle hybrid schooling models. Miller's kids are now in sixth and eighth grade at the local elementary and middle schools.
"They are just barely … open for in-person instruction right now," Miller said. His daughter Kayla's school is on an a.m./p.m. model where some students only attend in the morning and others only go during the afternoon, while his son Cameron goes to middle school in person for two days a week. "Anybody who doesn't feel comfortable going to school in person is welcome to do remote," Miller added.
The local public schools began the year remotely before opening for in-person instruction on Oct. 5. When Kayla and Cameron are not physically at school, which is about 60 percent of the time, according to Miller, they attend some classes at home via Zoom or do asynchronous learning, much like the semester last spring.
"We have to fill out an electronic form every day, even if the kids are not going to school in person, about any symptoms," Miller said.
Despite being able to teach some of his own classes in person this year, one of the biggest challenges to him has been the lack of personal space. "Everybody needs personal space," he said. Now, with his kids at home most of the time, "You don't have a lot of the outlets that you're used to."
Miller acknowledged that his family is fortunate in many ways. "My wife and I are professors, our kids are older," he said. "We can survive. We can supplement [our kids'] education."
Though the situation looks better than it did in the spring for many faculty and staff, the reprieve feels tenuous for some. "The Children's Center is open, but if a kid shows any symptoms of illness, there are now much more rigorous exclusion criteria," Thuronyi said. "So Milo could be home…at a moment's notice. I don't think we can take it for granted that [the Children's Center] will be there."
"Everybody is getting tired," Thuronyi added. "Everybody has been tired for a long time, and we're only going to get tireder. I'm just hoping that we can find the joy and the pleasure in family and play and work and school."
About the Writer
Annie Lu, Executive Editor for News
Annie Lu '23 is a prospective political science and mathematics major from San Diego, Calif. She is the executive editor for news and previously served...