This Halloween, the masks aren't just for costumes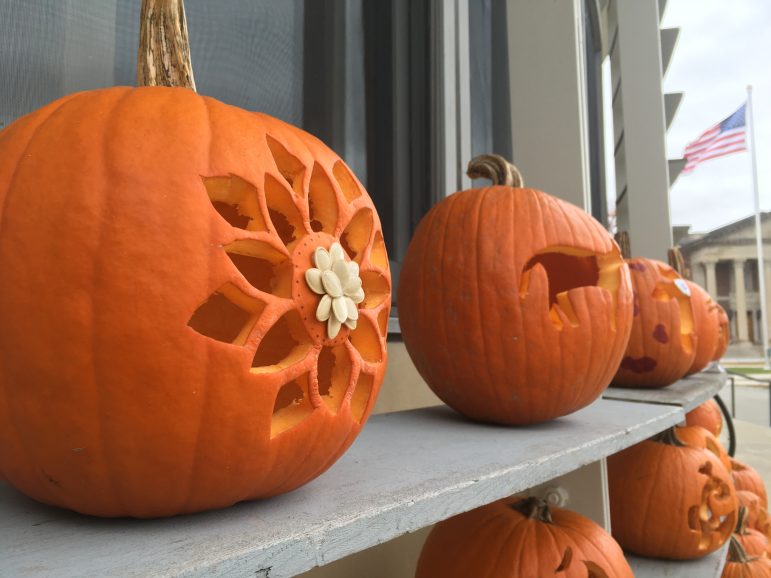 It's been a scary year, but with Halloween just around the corner, some of the frights can finally be deliberate.
Both Williamstown and the College are preparing for a Halloween unlike any other, this year placing an emphasis on small gatherings and socially distanced activities. An Oct. 8 memo from the Williamstown Board of Health announced that trick-or-treating will be allowed for those who want to participate, but with significant health and safety recommendations.
"[W]e appreciate that there are families who may want to continue the tradition of trick or treating," the memo reads. "Maintaining adherence to standard COVID-19 recommendations in strongly encouraged including: (1) maintain at least six feet of social distancing; (2) avoid crowds and indoor activities with non-household members; (3) wear a COVID-compliant face mask; a Halloween costume mask is not COVID-compliant; (4) wash your hands frequently or use hand sanitizer."
For some Williamstown parents like Assistant Professor of Economics Owen Thompson, Halloween represents a relatively safe and fun opportunity that will be hard to replicate. "We live in town and plan on doing trick-or-treating around our neighborhood in accordance with the guidance the town has put out," Thompson said. "Except [for the fact] that they won't be with big groups of friends, that is basically what we do most years."
Thompson said that, given the recommendations in place and that outdoor transmission of COVID-19 is relatively rare, the night will be worth the risk. "Kids genuinely get tremendous joy from trick-or-treating, at a time when lots of the fun parts about childhood are absent," he added.
Other parents, however, have decided that trick-or-treating presents too much of a danger for COVID-19 spread. Professor of Chinese Li Yu said that she and her daughter, Ellie, have been reluctantly preparing for a vastly curtailed Halloween.
"As a parent, I'm really worried about Halloween night," Yu said on her decision to skip trick-or-treating this year. "So I think I would rather be on the safe side."
Ellie, who's in 7th grade, said she has been readying herself for changes to her favorite holiday. "I made the preparation that I would not be trick-or-treating maybe a month or more ago," she said. "As soon as I knew the pandemic was not going away anytime soon, I made that preparation."
"I don't have that many costume ideas anyway," she added.
On campus, trick-or-treating has never been Halloween's main event. But with staples like Halloween on Hoxsey rendered impossible, students are also having to adjust to a new normal. All Campus Entertainment (ACE), which is traditionally responsible for planning many campus festivities, has been working to find safe ways to come together for Halloween.
The first of those activities, according to ACE co-president Gursajan Gill '21, was Saturday's pumpkin-carving contest, which featured over 20 pumpkins carved by pods and pitted against one another in a vote. "We felt like that was a good socially distant way to do an activity without having everyone gather in one spot," Gill said.
Gill's counterpart, Emily Zheng '21, gave a sneak preview of ACE's next plan: the Moonster Giveaway. "It's like our regular cow-stuffing, except with a trick-or-treat twist on it," Zheng said. "People will sign up to get their stuffed cows in their mailboxes instead of going in person, and then a fourth of the people who sign up to get cows will get monsters instead of cows. But they won't know until they open up their mailbox."
According to Zheng, planning activities amid COVID-19 regulations has been a particular challenge for ACE. "Everybody's trying to figure things out and the rules are constantly changing," she said. "Even our pumpkin carving, we had it all planned and we had all these safety precautions in place. But then we have to communicate it to our advisor, and then she has to communicate it to OCL [Office of Campus Life], and I'm always worried that there's gonna be some concern on a higher-up level."
Many students are also planning events within their pods and dorms, such as matching pod costumes or hallway trick-or-treating. Eddie Wolfson '23 said that they are currently leaning towards a themed group costume as a way of celebrating Halloween within the confines of their pod.
"We've talked a little bit about doing villains from the Harry Potter series," Wolfson said. "For the last two or three years, I've done drag, so I am thinking either a drag Bellatrix or maybe a drag version of Peter Pettigrew as a rat."
For some, Halloween is about the costumes; for others, it's about the spooky vibes; for most, certainly, it's about the friends and family they celebrate with. But for Ellie, more than anything else, it's about the candy.
"We're going to be safe and not trick-or-treat, but my mom will buy me candy," Ellie insisted.
Her mom's response? "You already have too much candy anyway."