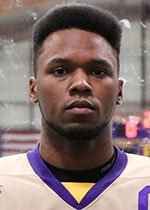 Team: Men's ice hockey
Hometown: Montreal, Quebec
Residence: Meadow
Major: Computer science and French
Snack bar order: Chicken patty and buffalo chips
What's your background in sports?
I've tried pretty much all the sports out there, but [with] hockey, I started when I was super young. Being from Montreal, there were skating rinks on basically every street corner, and when I was four or five, I started going out and skating with my dad. And I started playing from then. I've played football, soccer and baseball, but hockey is just really a part of me.
And what specifically drew you to hockey?
It's a fun, physical team sport. I've always loved meeting new friends that enjoy the sport as much as I do, and there's a real camaraderie to it — it's a sport [where you] beat the other team, but afterward, you shake hands, and it's all back to real life again. There's really something special about it.
Why did you choose to come to the College?
So when I was about 16 or 17, I had the chance to go play junior hockey in Canada, but that didn't really involve a lot of school. I would have graduated with I think three classes [by] my senior year, so I decided to look at other options to go to school a little bit more, and I discovered a lot of prep schools in the New England area. I ended up applying to a couple of prep schools and got into Kent School in Connecticut. I went there for three years, and during those years and the summers, I would do showcases where you go play hockey in front of college coaches. And that's where — I think two years in a row — I met with the coach here at Williams, Bill Kangas. The summer before my senior year, I ended up talking with Coach Kangas afterwards, and he told me he had a spot on the team, and he would love me to be able to come here. I mean, it didn't take much research to know that Williams was something I couldn't say no to.
The team graduated some of its top scorers last year. How have you adjusted this season?
Yeah, we lost four forwards last year as well as a goalie, and it's difficult to think about the guys coming in as replacements. That's not what it is. It's a new team every year… And there's a big learning curve, but at the end of the day, learning our systems and finding good chemistry as a team is tough. [It's hard] not having these guys and every year, you also lose some friends, too — but this year, we have eight new guys who are just awesome. They work as hard as anyone could want, and it's going well so far.
What's it like being the only captain on the team?
To me, it doesn't really come down to who has a letter on their shirt. Our whole senior class obviously has been here the longest, but it also comes with a lot of experience. We all know how this league is. We all know the expectations from our coaches. We all know what we want to create as a team. Everyone's a leader out there. Anyone can raise their voice if there's something they're not okay with on the team or to pump each other up for a big game. It's a little different to only have one captain, but at the same time, it's an opportunity for everyone to just pick up some pieces of the team and bring it together.
You've been through a lot of battles in the NESCAC. Personally, who you do not like playing against?
Well, there are two types of teams I don't like playing against. There are the teams that have always had our number and have always been able to beat us, or at least prevent us from beating them. So I would say Hamilton. In my past three years, we haven't beaten them yet. I really want to play against those guys because I really want to take it back to them, but there's also our rivalry with Amherst, which is huge, too. It's always a special game when we play them.
How have you developed as a player over the past four years?
I'd say there's a big difference between playing high school hockey and college hockey. It's a lot faster, a lot more physical, and I would say it's a lot more experienced overall, [given] the types of plays you see and what systems are used. So the way I've changed personally is my decision-making becomes faster — it's more automatic. My awareness of the game [has improved]. It's difficult to talk specifics, but just overall, knowing where my teammates are on the ice and knowing what to do in specific situations — that's really something I've learned and has made my game better.
You lost in the conference semifinals last year. What are some of the team's goals this year?
The goal is always winning a NESCAC Championship… Winning the conference is a sure shot [to qualifying for the NCAA tournament]. That's always our goal. Having a great season and maybe getting a bid is sometimes a plus, but you really want to put your eyes on the big prize at the end, and the NESCAC is the start of that.
Do you have personal rituals before games?
Max Fuld '20 and I play a tiny game of hide-and-seek right after the warm-ups. Then he and I hide, and the first one that finds the other one wins. It's kind of a funny little thing, but it gets us going.
Do you win more than him?
Uh, it's kind of half and half.We are always bumping shoulders in the end.
Professional athlete crush?
Serena Williams. She dominates, and she's awesome.