Trail House comforts with classic dishes, evokes cozy and warm atmosphere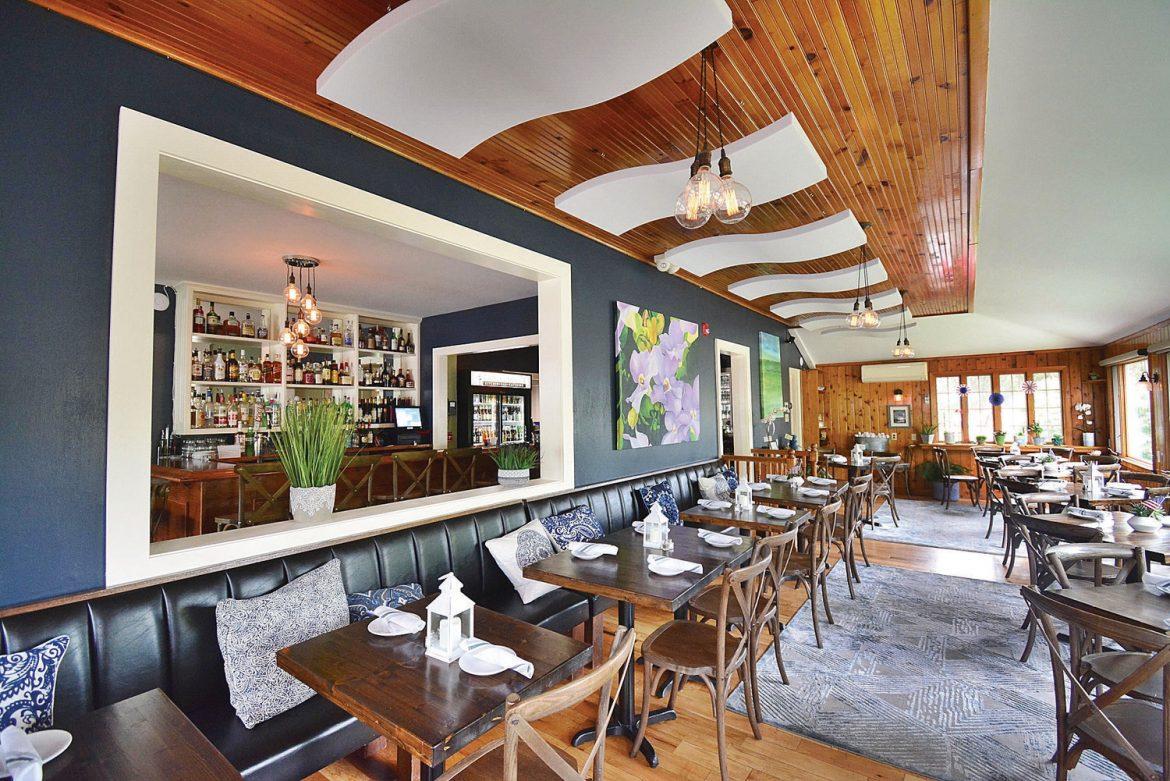 Tucked away in North Adams,  Trail House seems fairly nondescript from the outside with its cottage-esque exterior. But upon entering, I was greeted by fairy lights, Christmas decorations and the sound of laughter. A warm glow emanated from every corner of the restaurant, shielding diners from the bleak weather. It felt like a log cabin, but amplified by an abundance of decorations.
Usually, restaurants will offer a basket of bread with butter on the side to sate customers' hunger until the main dishes arrive. Trail House's version of this was amplified, serving us naan bread with honeysuckle butter on the side. Beautifully arranged and cut into thin slices for convenience, the naan bread blew the classic basket of bread out of the water. It was warm, soft and chewy. The herbs sprinkled on top added a nice touch to an already savory dish. Although I don't normally like butter, the honeysuckle butter complemented the bread wonderfully. It was the perfect balance of salty and sweet.
My friend and I deliberated a while before settling on the homemade chicken parmesan bites to start us off. Though it is an appetizer, the portion size proved more than sufficient. The marinara sauce that accompanied the dish wasn't as flavored as I would've liked, so I added some of the himalayan salt Trail House sets on every table. Our improvised chicken bites were absolutely delicious, and even though I knew I had a big meal ahead of me, I ate more than my fair share. I would say that the chicken bites could have been more adventurous, as they were somewhat comparable to chicken nuggets, but they did their job in getting us excited for the entreé.
For my main dish, I opted for mac and cheese with buffalo chicken. It was a very interesting and clever rendition of a classic American dish. The chef had sprinkled some cilantro and shaved parmesan on the dish, which made for a very flavorful meal. The mac and cheese was spicy due to the chicken, which appealed to my inclination for spicy food. The dichotomy between the refreshing quality of the cilantro and the savory chicken was unlike anything I'd had before. When the waitress stopped by to check in on us, I exclaimed, "This is the best mac and cheese I've ever had!"
Not only was the food amazing, but the waitress and owner were both so personable and welcoming. They stopped by our table regularly, cracking jokes right and left. After eating so many carb-heavy dishes, I was full to the point of discomfort, but I knew I had to try one of their desserts. The options were so delectable, I knew I would regret leaving without indulging in at least one. I chose the warm plate of cookies, and in spite of my fullness, I devoured almost all of the soft and gooey dish. They came with vanilla ice cream and whipped cream, which made the dessert as a whole fantastic.
Overall, I couldn't recommend Trail House more highly. The owner and workers are such genuine, kind and hospitable people, and sitting in the restaurant is akin to sitting at home surrounded by loved ones. The bright and cozy environment almost made me forget that we were in the middle of nowhere, with snow threatening to fall from the skies at any moment.
Furthermore, Trail House's message is truly inspiring. They, as written on their menu, are "committed to supporting sustainable farming and fishing," "acquire and use organic flour and chickens and cage-free/organic eggs" and buy their ingredients from family farms, as opposed to factory farms. They also offer gluten-free items, ensuring that customers with special food needs are not left stranded. Trail House is an environmentally friendly, health-conscious restaurant and a glimmer of hope in a wasteland of unethical consumption.
I left feeling full, of food definitely, but also of happiness. My friend and I have already made plans to go again, and I recommend that anyone needing to take a break from the dining halls at the College check it out!