Drawing to a close: Lin Saeed's must-see 'Arrival of the Animals'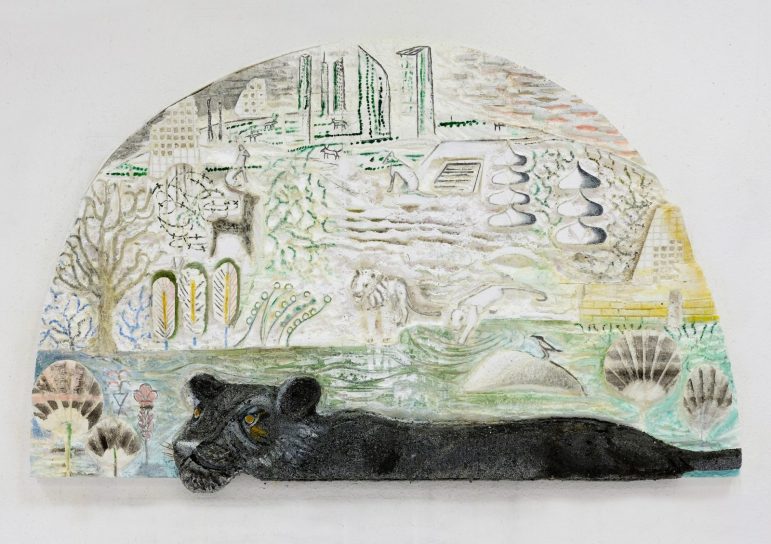 Hidden away in the Clark's Lunder Center on Stone Hill, Lin May Saeed's Arrival of the Animals exhibition at the Clark is playful yet somber, mythical yet futuristic, and is a definite must-see before it closes. It is a zoo of the synthetic sort — filled with styrofoam pangolins and bronze foxes alike.
Arrival of the Animals, which opened on July 21, will remain on view until Oct. 25. Inspired by the short story of the same name by the Nobel-prize winning author Elias Canetti, the exhibit is Saeed's first solo museum show. An encounter with the peculiar and poignant, Saeed's animalistic realm delves into the complexities of animals and animal-human relationships throughout time and space.
Saeed is German-Jewish and Iraqi and has been actively making work for the past 15 years. Represented by Jacky Strenz in Frankfurt since 2007, her work is only now gaining the recognition it deserves, with recent shows at Studio Voltaire in London and a two-person show at What Pipeline in Detroit. Saeed's work spans across a multitude of mediums, including sculpture, sculptural relief, drawing, and video. She is particularly known for her use of nontraditional materials. It is her interest in and commitment to animals, however, which informs Saeed's practice most of all.
Curated by Robert Wiesenberger, associate curator of contemporary projects at the Clark, Saeed's retrospective has surprisingly attracted creatures of all sorts throughout the three months it has been on view. Bears have been some of the more unlikely of visitors, enticed by the hazelnuts on the back of the bronze fox – titled Thaelab – in the outdoor component of the exhibit. Saeed, who lives and works in Berlin, has unfortunately not been so lucky as these bears, with COVID restricting her from traveling to visit the exhibition.
To get there, you do have to put in a bit of effort. You can drive, or, if you're car-less, take a walk from the Clark underneath sun-dappled fall foliage through a clearly marked path. After this lovely walk, you come upon the Lunder Center at Stone Hill. As you walk into the first room on the left, you are greeted by hand-picked works spanning throughout the centuries that depict illustrations including Hercules defeating monsters, tigers laying in zoos and a serpent with Adam and Eve. These "traditional" depictions of animals set the stage for the artist's inspiration and consequent challenge of these norms.
Past this are the two main rooms of the exhibit, where Saeed showcases her fascination with animals and their interaction with humans in a variety of ways. Her use of materials is striking— ranging from free hanging thick fence wire, to painted over carved styrofoam, to a floor-to-ceiling print that dominates one wall and shines brightly with the lights from behind. In all of her painted works, the palette is pastel and playful, sometimes contrasting with the serious subject matter.
The artist's style throughout is inspired by ancient Egyptian as well as art from Iraq, where Saeed's emigrated from to Germany. Animals and other non-human forms always take center while humans are in the background, underneath, or absent completely. Her wire pieces seem to hang freely in space, with animals clearly dominating the human figures cutting their chains or simply lying prone. The material, combined with the depiction, invokes feelings of indignation and power, while the wire denies traditional restrictions of space and ground. One of my favorites of these is The Liberation of Animals, a piece that depicts a camel smirking at the viewer while a human kneels and cuts its chains. The camel dominates the frame in comparison to the human.
Saeed investigates the mythical and often religious origins of human-animal relationships as well as their potential to change in the future. In Hawr al-Hammar/Hammar Marshes, a massive print dominating the far wall of the exhibit, Saeed depicts the Hammar Marshes in Iraq that have been widely said to be the inspiration for the Garden of Eden. In recent times, these marshes have been drained and threatened by Saddam Hussein.
Despite this, Saeed still depicts this area as a modern utopia with humans and animals living in harmony. In this piece, among others in the exhibit, Saeed plays with the concept of time. Her choice of styrofoam, a seemingly ugly, non-biodegradable product, acts in tandem with the timelessness of her subject matter.
In Panther Relief, Saeed carved styrofoam with paint overlaid to show a black panther wading in a river in front of what looks to be the remains of a Persian megacity. In this futuristic world, animals appear to stand triumphantly on top of the remains. In her use of styrofoam and animals as subject matter, the tone is clearly conservationist, but with a sense of indignation and agency. Humans are in the context of animals, with animals as active agents of history and future.
In the final room, you will find her most recent and almost puzzling work, Seven Sleepers. Based on the Christian and Islamic myth of seven men who fell asleep and hid in a cave for 300 years to escape from Roman persecution after prayer, the seven figures are all slightly animalistic and deformed, and their position at eye height in life size forms a little unnerving. The room is dark, and leaves none of the hopeful playfulness found in previous works. Viewers, including myself, leave with more questions than when they had entered.
Lin May Saeed's Arrival of the Animals is an exploration in the truest sense of the word. Viewers will go on a journey into Saeed's dreams of myths and fantasies, creatures and animals, humor and darkness. The Clark has recently stated that it hopes to engage more with contemporary art to balance its traditional collection, and it is the belief of this review that Saeed's work is a very worthy contribution. Take a walk to the Lunder Center, and explore Saeed's world of animals before it goes elsewhere.