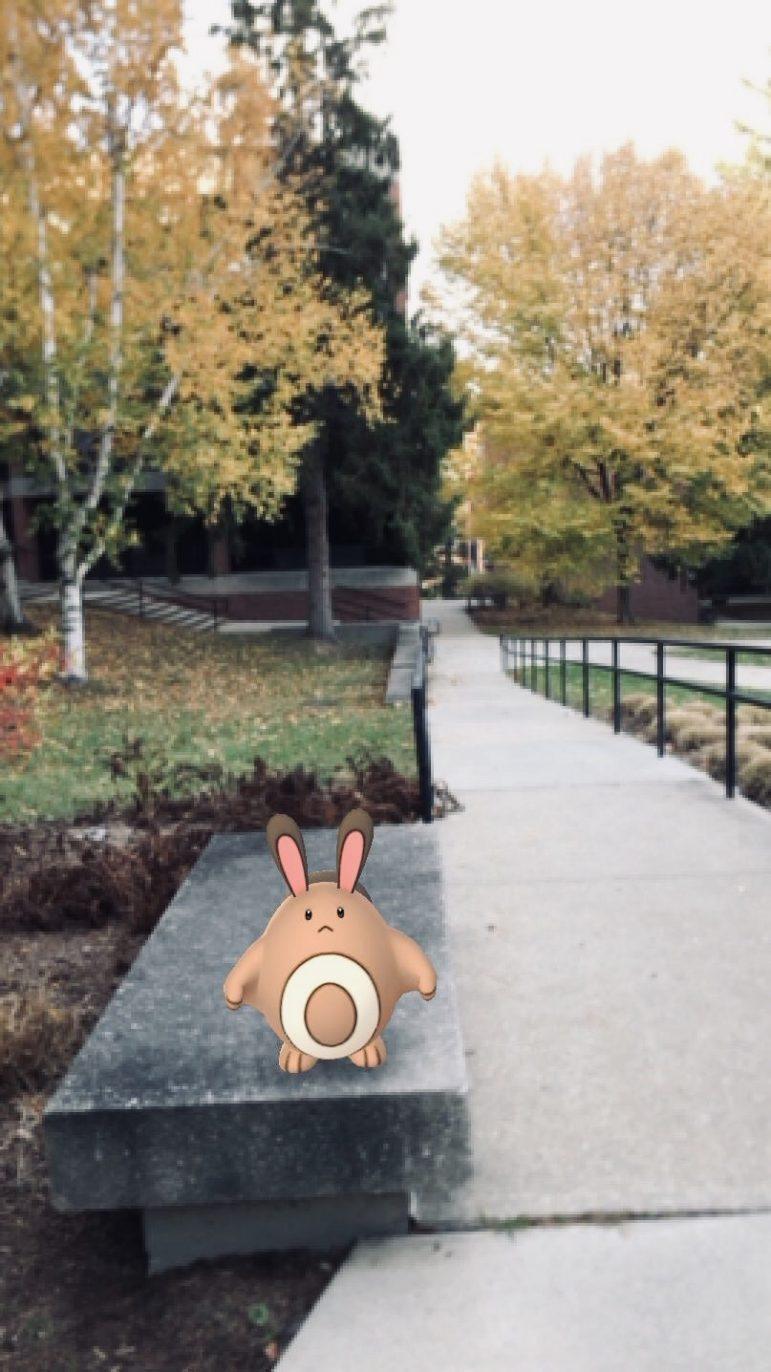 Tap. Tap. Tap. This was the sound that broke the monotony of quarantine for Emily Du '24, who found herself picking up a new (old) game to pass the time: Pokémon Go. 
"I played for a bit when it was really popular in 2016, and then I stopped," Du said. "And then when I got back here I started playing again because I had nothing to do during quarantine. There's a pokestop for Mission, and I just spun it every few minutes because I was so bored. And there'd be some Pokémon wandering, and I'd just catch them."
Pokémon Go, an augmented reality app where users travel in real life in order to catch in-app Pokémon, was released in 2016 and found an incredibly enthusiastic audience, to the point where users were often unable to access the app due to overloaded servers. Four years after its inception, Pokémon Go is experiencing a recent upswing in popularity.
"It's definitely hit another peak in quarantine," Gwyn Chilcoat '24 said. "And I think that makes a ton of sense because people don't have a whole lot to do and people are going for lots of walks — sort of a classic quarantine experience — and it's something you do while you're going for a walk, especially alone."
Recognizing the struggles with connection and community-building that many first-years would face in the coming semester, she found a creative solution over summer. "Sort of as a joke, I created this [group] around the game, and I named it 'Gamers of the Purple Valley' — again, as a joke," Chilcoat said, "And since then, we've actually started hanging out and playing together."
One of the key features and selling points of the app is its emphasis on movement as a means of playing. "For me, I got into [Pokémon Go] because I play video games — Minecraft or just other Steam games — but I thought that a game that would simultaneously let me exercise, you know, walking around while playing, would be two birds, one stone," Angela Gui '24, the highest-leveled member of the group at Level 37, said.
Moreover, the game expands beyond the individual experience and forges connections among players, introducing an interactive element to an otherwise isolated game experience. "It was also more about the community for me … I have friends in my high school who are playing but are not into it as religiously as I am, so it was definitely fun to meet new people [in this group] and also to get support during raids," Gui said.
The camaraderie built around the game among first-years is all the more important during a time when indoor gatherings are discouraged. According to Ethan Jeon '24, another member of the group, the revitalization of Pokémon Go would have been unlikely without the onset of the pandemic.
"I know for sure that I wouldn't have picked up the game again," Jeon said. "During a normal semester, I would've just gone out and met people. We wouldn't have to do it through the medium of Pokémon or some other app."
Ultimately, fostering genuine connection, regardless of whether or not it's during a pandemic, underlies the goals of the group. For Gui, what began as a way to kill time transformed into the starting point for new adventures. "I didn't know that it could spring into this small community that we are able to connect with each other during times that are obviously very difficult for people to connect," she said.