Water polo dives into a season unlike any other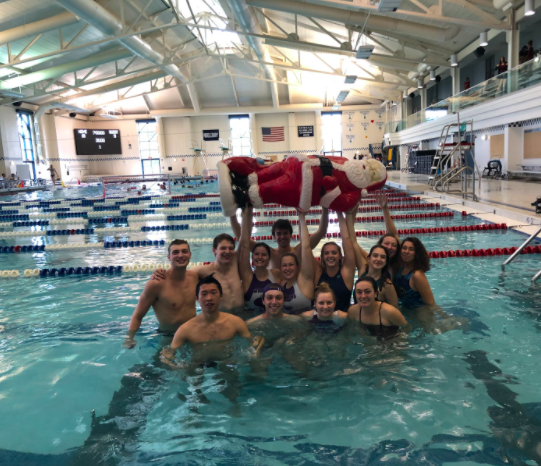 Anyone willing to make the trek down to the Hoosic this fall may see a group of Williams students tossing a ball around in the river, hidden away behind the trees dotting the riverbanks. Those students would be none other than the club water polo team, kept out of the Samuelson-Muir Pool due to COVID-19 safety measures. Led by team leadership Galen Cassidy '22, Dan Tran '21, Sophia Sonnenfeldt '22, Lizzie Ferguson '22, and Gabby Mercier '22, club water polo has been making the most of unusual circumstances.
Deprived of its normal practice environment, the team must brave the harsh waters of the Hoosic and the unforeseen obstacles that come along with it. These include sharp rocks, rapid currents and small fish, all of which are not normally encountered in the safety of a chlorinated pool. Fortunately, Cassidy assures that there are "no sharks."
The bigger issue, however, seems to be the frigid temperatures that turn the river into a muddy version of an ice bath. "Our lifeguard was telling us to watch for the signs of hypothermia," said Molly Arts '24, a newcomer to the team. "But overall it's a lot of fun."
Membership is currently at 32 students, which Cassidy describes as "by far and away the most water polo has ever had." With 21 of those being new members, the older students have an exciting batch of prospects to mold into seasoned water polo players.
The successful recruiting year also means the club has plenty of participants for its variety of long-standing traditions. While post-practice hot tub parties are sadly no longer a possibility, the club still enjoys munching on their "team snack" of cheese balls (eaten out of a trophy won at Wesleyan a few years back) and jamming out to their "team anthem" of "Circles" by Post Malone. This year, the team leadership is looking forward to hopefully starting a new tradition of tanning on Cole Field.
The practices themselves are heavily modified due to the atypical conditions, with scrimmages taking a backseat to drills on the fundamentals, such as passing, shooting and treading water. "It feels very nice to be able to exercise out in the water, especially when so many of our other activities are virtual," said Ethan Jeon '24, another new member of the club.
When the river is too cold for even the toughest of water polo players, the team does dry land practices, ranging from passing drills to team yoga sessions. The team is broken up into smaller pods, where teammates can get to know each other while obeying social distancing protocols.
"Water polo has remained, particularly because of the people, one of the few things that feels untouched by COVID," Sonnenfeldt said. "We're able to be with the same people and have the same type of warmth that has defined our years here."
Due to the contact-heavy nature of the sport, the intercollegiate water polo season has been postponed for the spring. In regular years, the team competes in the Colonial Division of the Collegiate Water Polo League, attending weekend tournaments at other schools to potentially qualify for Div. III Nationals.
Though the team finished above Amherst last year, Sonnenfeldt said their main rival is actually the United States Coast Guard Academy, which is, as its name suggests, quite good at aquatic sports. "We don't win, but we fight valiantly," Cassidy said.
Water polo is a contact sport, and games against other schools can often get intense. Cassidy dislocated a disk in his jaw after being elbowed in the face, while Sonnenfeldt said she "had a chunk taken out of [her] foot by someone's toenail." In spite of the risk of injury, many team members relish the competitiveness that such matches bring out in them.
But, above all competition, the goal of the club as a whole is just to have fun. The team is a diverse group of individuals who care about a lot more than winning: most of them do not even have prior water polo experience. "We are a very welcoming and accepting team," Cassidy said. "Enjoyment is always priority number one."
About the Writer
Kent Barbir, Sports Editor
Kent Barbir '24 is a prospective statistics major from Tokyo, Japan. He is a section editor for sports, and he previously served as a staff writer for...