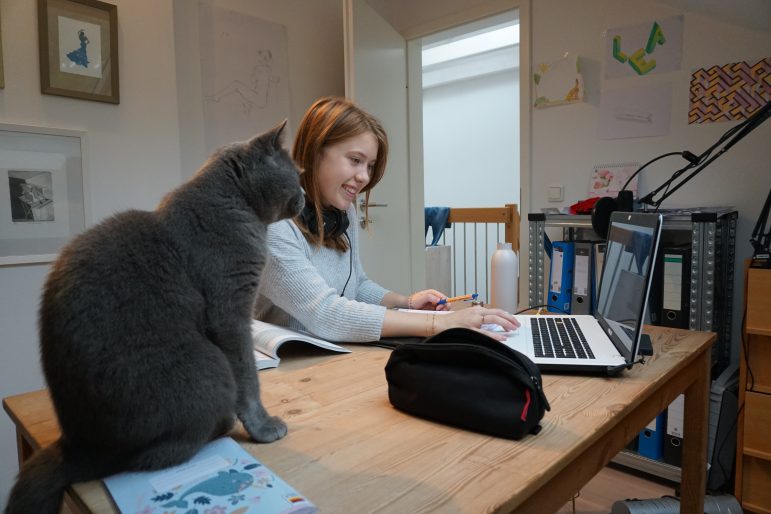 There are two wall clocks in my bedroom.
As Yewon Jung '24 joined me over Zoom to share her experiences for this article, one of my clocks read 3 a.m., while Jung's clock read 6:30 a.m. Yet we were both wide awake.
The reason was that my second, new clock set to Eastern Daylight Time (EDT) read 5:30 p.m.
Studying remotely from Gyeonggi-do, South Korea, and Delhi, India, respectively, both Jung and I have become accustomed to working around a different clock. Jung, 13 hours ahead of EDT, told me that she sleeps during the day now. "I fall asleep at 11 a.m. and wake up at around 5 p.m.," she said.
Navigating time zones has been one of the many challenges that remote international students have to face as they adapt to physically being in one part of the world and intellectually being part of another, even as they socially belong to both.
Varied reasons for enrolling remotely
According to the Office of Institutional Research, 27.31 percent of the College student body is remote this fall, which includes 41.14 percent of the international student body — about 80 students from all over the world.
Some internationals, such as Ye Shu '24 from Shanghai, China, had to go remote this fall because they couldn't obtain U.S. visas. "All the U.S. embassies in China are shut down and still haven't started processing any visa requests," Shu said.
According to Jung, being in the place most familiar to her made most sense as she began her first year of college while the world dealt with the throes of a pandemic. "I've never been to the U.S. before, and this was going to be my first time living abroad," she said. "It's not stable anywhere around the world right now, and I thought it was best to be in a place I was familiar with."
For some, like Sana Jawa '23 from Singapore and Lea Obermüller '24 from Munich, Germany, being on campus wasn't worth the potential risks, especially when their home countries were doing a much better job containing the spread of COVID-19 than the United States.
"To spend all that money when I can't have — and I'm lucky this was my biggest kind of issue — the complete college experience," Jawa said. "And there's the fact that if the school was to shut down, I would have to figure out quickly how to get a flight back. It'd be a situation that would cause a lot of unnecessary stress. And the chances of being safe were higher here as Singapore is basically back to normal with the exception of masks and tracking."
Obermüller echoed Jawa's sentiments. "I wasn't sure whether the campus would have to close again because of rising infection rates — it all seemed to be very insecure," she said. "The situation in Germany was relatively safe compared to the U.S. at that time."
Navigating time zones
Whatever the reason for choosing the remote format, many internationals have to deal with a unique set of challenges that come with studying at a U.S. college from different time zones.
"My sleep schedule has definitely shifted — it has to," Jawa, 12 hours ahead of EDT, said. "I have classes at 2:45 a.m., office hours at 4 a.m. — it's just how it is and it's not that bad because I'm typically someone who doesn't sleep that early. It's gonna be OK as long as you are taking the initiative to make sure [the] time difference isn't screwing with your mental and physical health."
Wilson Lam '22, studying from his home city of Hong Kong, 12 hours ahead of EDT, said he found that time zones greatly limited the choice of classes that would fit his major tracks. "Being international and remote became really difficult when the school suddenly ordered everyone to get their stored items away," he said. "For all of September, I and some distantly remote friends have been furiously emailing members of the administration for support on dealing with our stored items. It simply isn't feasible to mail my three school-issue crates of winter clothes home just to lug them back whenever I return to campus."
All the students interviewed for this article agreed that their professors have been flexible with deadlines and office hours to accommodate different time zones. "Having professors reach out to me and having them accommodate is good because that means I'm not the only one making a change — it's an adjustment on both sides," Jawa said.
Finding community from afar
Engaging with the College community while dealing with time zones and maintaining a work–home balance has proven tricky for some remote international students.
Shizah Kashif '24, studying remotely from Dubai, U.A.E., eight hours ahead of EDT, shared that she has found that getting involved in extracurriculars means compromising either her sleep or the importance of a particular organization. "I have to prioritize what meetings I'm going to attend and how frequently because a lot of them overlap," she said. "It's really difficult to keep track of all the Zoom links and sometimes they are at super ungodly hours, like 5 a.m. or 3 a.m. That's something that's been a bit of an uphill battle, because I do want to engage with the community, so I'm mainly just staying in contact with people behind them via text or email even if I'm not able to make it to Zoom calls."
Obermüller, six hours ahead of EDT, admitted she feels a huge distance from the College community at the moment. "Engagement with the community is a bit difficult because most of the activities happen during my night, and I really appreciate my sleep, so I haven't been able to engage with any clubs yet, but if I have spare time in the future I would love to," she said.
Lam said that he has pretty much stopped engaging with the College community at large save for some friend circles. "Extracurriculars are pretty much out of the question, though this is definitely great for my academics," he said.
Shu mentioned that he has made most of his connections through classes while Jung shared that the remote entry and the International Students Association (ISA) proved most helpful for meeting people. "I don't know how I would have met people if it weren't for the remote entry," she said. "Cause it's kind of weird to just reach out to people on Instagram. And I think the international community is pretty big and really welcoming here. We have the International Orientation (IO) groups, which is really helpful."
Desel Pek Dorji '23, an IO Leader in the ISA, shared that her role has changed in comparison to what she had initially envisioned it to be because all of the students she is mentoring happen to be remote.
"Since I'm on campus, they are experiencing something that I only got a taste of in April and May, and not being able to fully understand what they are going through is quite difficult because it leaves me unsure as to how best I can support them," she said.
Amid all the challenges brought on by the remote international experience, students have found silver linings. Shu has been able to connect and hang out with other remote Williams students in Shanghai, while Jung said that being able to watch recorded lectures on her own time has granted her better control over her schedule.
Lam said that one silver lining is "getting to receive a Williams education without the existential dread that comes with being a minority student in an isolated PWI." He added that he is concerned about the spring semester. "I just worry about how things will be in spring because I do want to come back and see some dear friends graduate," he said.
"I think everybody thinks this, but I yearn for the normal," Jawa said. "Remote learning is not easy and I'm still adapting, I'm gonna be honest with you, but eventually, I'll get there and I'll be fine and I'll be back on campus in the spring, hopefully."