Mandel recounts academic and personal journey to the College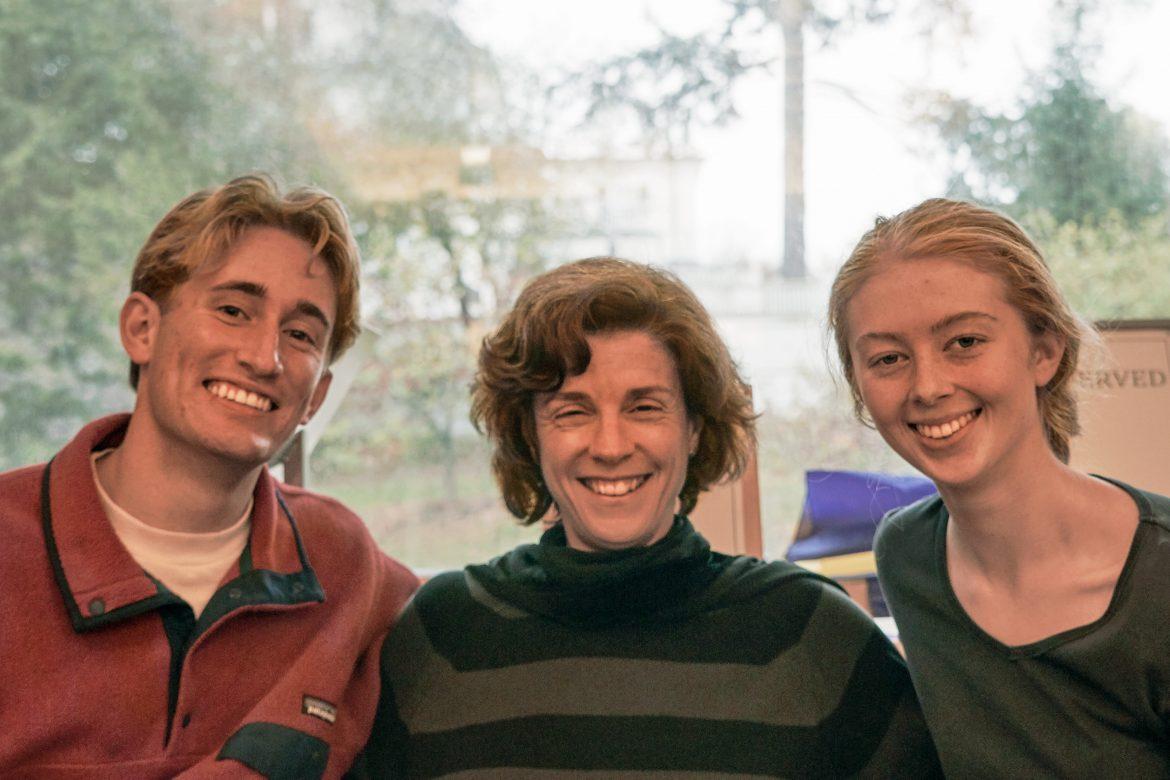 At Purple Rain's concert last Saturday, a sea of students, faculty and parents serenaded President of the College Maud Mandel for her "almost half-birthday."
As the mini half-birthday celebration demonstrated, many students have embraced Mandel, whose genuineness, approachability and "cool mom vibes" have won over the hearts of College members.
Part of what makes the community view Mandel in this way has been her actions throughout her first semester here in Williamstown. Her concerted efforts to reach out to all parts of campus are illustrative of her passion for involving herself in communities that are committed to promoting education. And in Mandel's lifelong journey through various academic spaces and experiences, the College, as she put it, "is the culmination of a lifetime of deep interest in undergraduate learning."
Even with the College being the latest stage in her academic life, choosing to work at a small liberal arts school is, in many ways, a return to her origins.
"For me, coming back to my roots through Williams is very meaningful," she said.
The roots that Mandel refers to stems primarily from her undergraduate years at Oberlin, whose close-knit liberal arts environment lent itself to the development of her intellectual curiosity. That curiosity would lead her to study abroad in Aix-en-Provence, France, her junior year. It was a formative experience that saw the convergence of her eventual academic interests and her own personal history.
She became connected with people who were Armenian immigrants who migrated to France from Lebanon. As they grew to know each other, she found personal resonance in the stories they shared. These moments of cross-cultural exchange sparked Mandel's interest in history, especially in light of her own family, as the granddaughter of Jewish migrants who left central Europe in the late 1930s.
"My whole family life and history was filled with stories of dispersion, refugees, genocide and the birth of states," she said. "By discovering another group of people's culture and history, I then started to ask more academic questions about my own background."
Later, she pursued a doctorate in history at the University of Michigan. While she credits her time at Oberlin for "making me into an intellectual person," and she thinks of her time at Michigan as the period "where I was disciplined in the field of history. I learned how to be a historian." As she found herself honing her own historical field of interest, her experiences abroad stayed with her, and her dissertation was a comparative study of Armenians in France after World War I and Jews in France after World War II.
Because education so fully influenced her own life, she spent 15 years teaching at Brown in the Judaic studies and history departments before becoming Dean of the College there. Brown is significant to her because it was there that she developed her own pedagogy.
"I became an educator at Brown," she said. "That's where I learned how to translate what I knew into a space where I could help students forward the things that they were interested in."
But Mandel is more than an academic. When asked how she would separate the hypothetical chapters of her autobiography, she said she would include several chapters on family, defined as both those directly related to her and "families of friends."
Her immediate family is comprised of her husband Steve, a son, Lev, at Brown and a daughter, Ava, in her first year at Mount Greylock Regional School. As a family, they enjoy taking walks and going to the movies together. Amidst their busy schedules, they try to uphold a tradition of family dinners to touch base throughout the week. Mandel and her husband enjoy the weekend athletic life here on campus, but "that's not Ava's pleasure," Mandel said, laughing.
Mandel said that in regards to adjusting to life in Williamstown, there still are difficulties that come with transplanting her family's lives to a new environment, yet made note of the warm reception. The close-knit nature of the community coupled with the amiability of the people comprising it has allowed for a "soft landing."
"People have been very nice to us," she said. "If you had asked me, 'How long do you think it'll take before you'll feel at home,' I think I would have said quite a while. But it happened very quickly … and I think it's because of the size of this place. You start to run into people you know, … people I know by name, that I can say hello to, and there's something about that that makes it very quickly become a place you would call home."
Home is a fascinating question for Mandel. Princeton, N.J., where she grew up and is her mother's current residence, holds a special place in her heart. And Providence, R.I., still has a whole host of friends for the Mandels.
But Williamstown is quickly becoming a home for the family, along with a place for Mandel to bring to life her personal, academic and administrative aspirations. Specifically, because she views academic institutions as a space for personal and intellectual enrichment, based on her own experiences, she is eager to work and grow with the community.
"[The College] is full of people who are incredibly smart people but also deeply thoughtful and often very committed," Mandel said. "I mean students, too. The whole collectivity is made of people and everybody has something to offer. What I came to realize more and more was that the most effective way to lead an institution like this is to tap into the energy of that community."
Mandel is not approaching this effort from a strictly administrative position; she views all academic institutions as collections of individual stories, including her own. She seeks to connect with the community on a more personal level, given the ways in which her own identities inform her interactions.
"I think it depends on the context in which I am speaking, but I think I would describe myself as a mother, wife, friend and daughter, as an educator, as a historian and now, as someone deeply committed to higher education," she said. "Also, of course, as a woman … and as someone deeply committed to the power of education to change lives."
After speaking with Mandel, we were left charmed and inspired, not only because of her eloquence, grace and passion for learning, but also because of her sincerity.