Guidebook explores campus with levity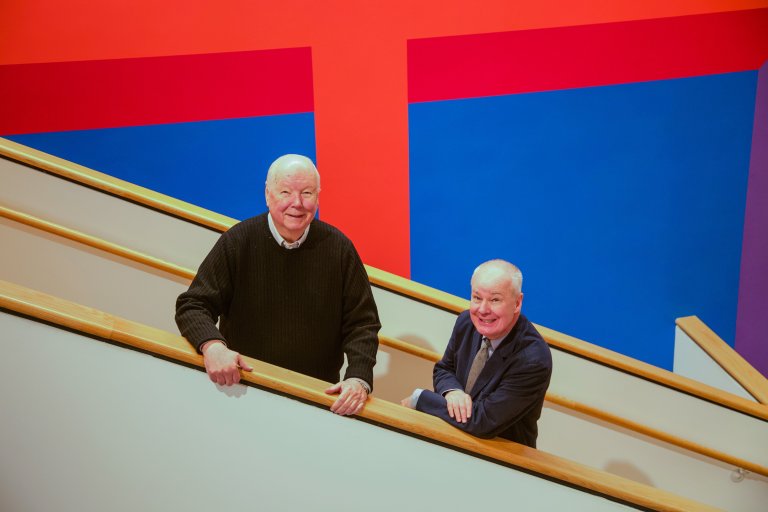 Which "architectural jamboree" is actually the only building on campus that bears true national significance? Which Amherst-educated architect invites comparisons to Groucho Marx for his lack of steady principles? Which former chapel led Frank Lloyd Wright himself to exclaim, "Who f*cked up that quite nice building with that damned door?"
The answers to these questions, and many more, can be found in Williams College: The Campus Guide, a new architectural guidebook written by Professor Emeritus of Art E.J. Johnson '59 and Professor of Art Michael Lewis. Both linchpins of the Art department, the duo are uniquely suited to such a project, as former president Adam Falk attests in his foreword to the book. Writing with a warmth that seems to seep right through the page, Falk declares that "E. J. [Johnson] and Michael [Lewis] are among the very few people we could trust to guide us through this ever-shifting landscape."
And what a superb pair of guides they make. Beginning with a thorough introduction to the history of the College and its architecture, the book then assumes the walking tour-based format characteristic of its more than 25 antecedents in the Princeton Architectural Press series on American colleges and universities.
Johnson and Lewis took on the project out of sheer creative interest. "The provost at the time, Will Dudley ['89], presented the idea to Adam Falk," Lewis said. "We decided to do it, more out of a sense of pleasant duty than anything else. It certainly wasn't going to make us famous, but we felt it was a way to give back."
The book is split into six localized "walks;" each designated stopping point is given a scrupulous historical examination. Many such blurbs, especially those concerning older structures, supplement their analysis with archival photographs and original blueprints, highlighting the rich history of the College's most beloved buildings.
Though the book's individual descriptions are thorough, most are reasonably concise; its authors are well aware of the fact that, as they note early on, "Scholarly books on architecture do not travel well." In fact, one of their main goals in developing the guidebook was to allow readers to bring their copy along on their travels without being obstructed by the physical burden: "An architectural guidebook should be lightweight, but only in the physical sense. It walks a perilous line between scholarship and portability."
Johnson and Lewis wrote with another overarching goal in mind: accessibility. Their lively, often colloquial tone gives life to material which might otherwise become tedious, and their affection for the school is obvious. At times, such an approach drifts into irreverence, but as Lewis noted, "It's the kind of teasing you can only give to a love object. The campus is far from perfect, but we love it all the more for its foibles and failings."
It is this easiness of attitude which sets the book apart from its peers. Rarely is an author's devotion to a text so palpable as it appears here. "My feeling is that a book like this, as soon as it goes through the 'deflavorizer' of public relations, is dead on arrival," Lewis said. "Ours stands out among other guides because ours is written freely with no interference from the administration."
Perhaps such bureaucratic oversight would have prevented the inclusion of Frank Lloyd Wright's rather impassioned outburst. Either way, other amusing details also shine through as a result of the authors' relaxed manner. Readers are encouraged to look closely at a lithograph from 1830 for a cow depicted on the lawn through which Spring Street would one day run; they also mention that the columns at the entrance of Chapin are carved from stone so pure that they were featured in an issue of the professional journal of the stone industry (which is aptly named Stone).
Whether through these amusing anecdotes or wider historical and architectural commentary, Johnson and Lewis prove to be storytellers of the highest order. The guidebook presents an assiduously constructed account of College history on multiple levels, from the particularities of a certain frieze to grand overviews of a college president's tenure.
Lewis used a striking analogy to describe the process of uncovering those minute details. "It's as if you'd spent your whole life in the woods, but you realize that you didn't know bird calls," he said. Regardless of how readers are drawn to the guidebook, it is certain to deepen their appreciation for the campus's metaphorical bird – the countless things which make the College the eclectic place it is today.