Faculty to vote on spring 2021 calendar; students express preference for continuous model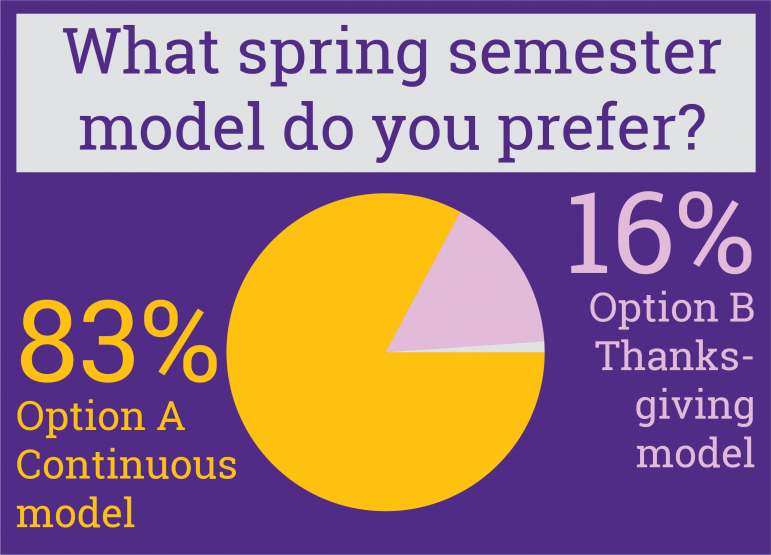 The faculty will vote in a meeting today to adopt one of two models for the spring 2021 academic calendar, both of which the Calendar and Scheduling Committee (CSC) have been developing over the past month. Described in a CSC memo, Option A, the "continuous model," allows students to remain on campus for the duration of the spring semester but replaces spring break with a series of "health days," while option B, the "Thanksgiving model," has most students vacate campus during spring break and finish the semester remotely.
In a student survey conducted by the Record, 83 percent of respondents said they would prefer the College to adopt the continuous model (option A), while only 16 percent preferred the Thanksgiving model (option B). The survey was sent to 500 randomly selected students, 203 of whom responded for a response rate of 41 percent.
In a separate question, 32 percent said they generally approved of both options, while 56 percent approved of only option A. Six percent approved of only option B, while another 6 percent disapproved of both.
Both potential calendars have the same delayed start date, Feb. 17, as opposed to the originally scheduled Feb. 3. The rationale for the delay involves minimizing contact during flu season, maximizing on-campus time during milder weather (when outdoor spaces can be utilized) and allowing enough time for faculty and staff to prepare for students' return.
Any plan that involves students returning to campus is still contingent on ensuring the health of the larger community. "Health and safety protocols concerning quarantine, social distancing, and mask wearing will all remain in effect" regardless of what the academic calendar looks like, the memo states.
The CSC also noted in the memo "the fundamental tension between the benefits and drawbacks of longer breaks," ultimately concluding that two consecutive weekdays off was the maximum allowable. The result was the addition of health days "in which students are encouraged to pause and take some time to tend to their physical and psychological wellbeing," according to the memo.
According to True Pham '23, a student member of the CSC, the two options the committee developed both aim "to find a happy balance between student desires of being on campus, and also health provisions — making sure it's a good environment for COVID [prevention]. A lot of operations considerations went into it, and some of the faculty and their considerations."
The committee reportedly never seriously considered maintaining a standard spring semester with a two-week break in March, as the administration declared such a possibility off the table from the start. "The thing that came up a lot at the beginning… was, if you have a longer break, then people are more likely to leave," said Soban Mehmood '21, another student member of the committee.
Lulu Whitmore '23, another student on the committee, expressed dismay that students were not notified of the important considerations underway. "Originally, allegedly, it was claimed that students were supposed to get an email from someone that was outlining all of these plans," she said. "But somehow, someone didn't send that email." To Whitmore's knowledge, the survey conducted by the Record was the only formal way students were informed of the two calendar options.
Sixty percent of survey respondents agreed that the continuous model and its health days give enough time for students to rest, while 22 percent disagreed and 18 percent were unsure.
In contrast, only 47 percent thought that the Thanksgiving model, which includes over 10 continuous weeks of classes before spring break in early May, gives enough time for students to rest. Thirty-two percent disagreed with this statement, while 21 percent were unsure.
Some seniors expressed concern over what graduation would look like should the spring semester go remote in May, but "the CSC was not charged with addressing policies or scheduling issues related to senior days, graduation, class reunions, or use of campus facilities over the summer," the memo writes.
International students would face special challenges under the Thanksgiving model. Angela Hsuan Chen '23, who lives in Taiwan with a 12-hour time difference from Massachusetts, said that remaining on campus under the continuous model would be far easier for her.
"For me, being on campus is just a priority, as an international student but also just as a student in general," Chen said. "[The Thanksgiving model] would be really disruptive and really overall difficult on not just the academics and the general flow of events, but it would be really tough on social relationships."
The shift to remote learning may adversely impact a variety of other student populations as well, especially those with unstable WiFi or with untenable home situations.
According to Whitmore, the faculty are likely to favor the continuous model when the options are presented for a vote today. "The faculty on the committee are saying that the predicted preference… is the continuous model," she said, "and that the Thanksgiving model's main purpose is just to appease a lot of the Div. III faculty and thesis advisors, who wouldn't be completely on board."
"I find it difficult to believe that the Thanksgiving model will go through, in the shape that it is now," Mehmood concurred. "But it's mostly up to the faculty."