Wrestling places sixth at the 53rd annual RIT Wrestling Invitational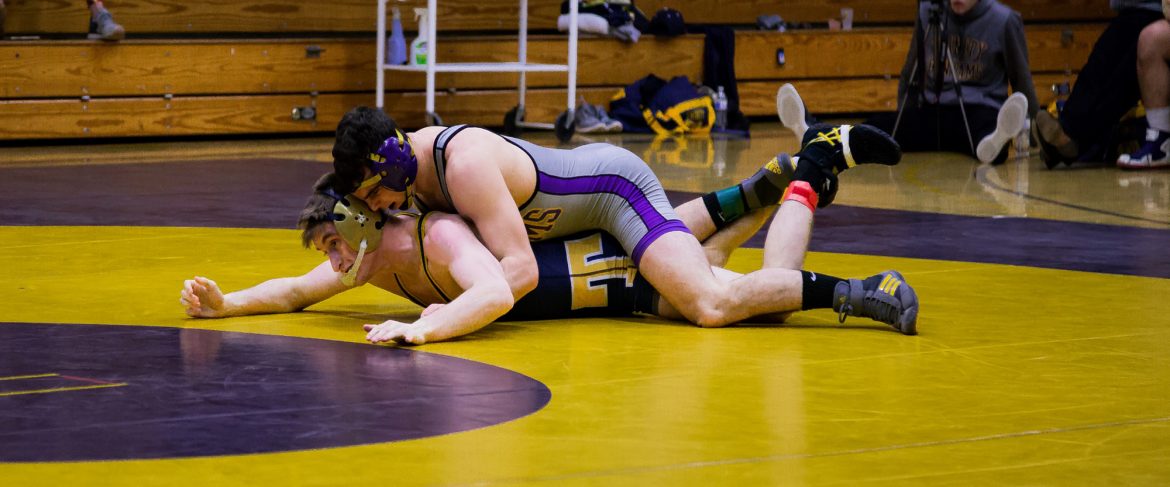 On Saturday, wrestling traveled to Rochester, New York to take part in the 53rd annual RIT Wrestling Invitational. This year's tournament featured 16 different teams from across the region. Amidst difficult competition, the Ephs excelled with a sixth-place finish.
Eph head coach Scott Honecker was very impressed by the team's performance. "I'm super proud of this squad," Honecker said. "These guys train so hard and have the competitive spirit to match their preparation.  Obviously the youth movement led the day. We knew if Joey [Rosetti '21] and Nasir [Grissom '22] brought their toughest wrestling they could win the tournament, and they did not disappoint. David [Yeh '22] and Ian [Darling '22] rounded out the youth movement with David storming to third and Ian making a deep run."
At the 125 pound weight division, David Yeh '22 stepped in for the Ephs. After a successful start to his college wrestling career two weeks ago, Yeh returned strong again. In his first round match Yeh received a bye, but he was felled in the second round by the eventual runner-up from Wesleyan. In a show of his grit, Yeh won his next five matches to finish third in his weight class with a 6-1 record on the day.
Yeh received a bye in the first round of the consolation bracket. From there, he pinned two out of his first three opponents. In the fifth round of the consolation bracket, he recorded a 15-4 major decision victory to send him to the third-place match. For third place, he faced off against Kyle Murray from John Carroll University. He recorded a 7-1 major decision victory to complete his tournament.
At 133 pounds, Williams brought Ben Morton '19 and Dietrich Hartman '20 to compete. Hartman received a bye in the first round but was pinned in the second round by a home team representative to go to the consolation bracket. After a hard-fought battle in the consolation bracket, he fell to a Scranton University representative. Morton faced a stiff series of opponents during his run. After a couple of well-fought decision losses, he finished the tournament in the third round.
At the 141 weight class, Rosetti put on a show for the Ephs. Two quick pins in the first two rounds of competition over RIT and SUNY Oswego opponents moved him into the quarterfinals. Rossetti continued a dominant performance with another win over a Wesleyan opponent. In the semifinal match, Rossetti recorded his third and final pin of the day in 2:37. In the finals, he matched up against Jarrod Brezovec from John Carroll University. After an evenly matched back and forth, Rossetti defeated Brezovec 7-5 to take the championship position.
Alex Pankhurst '19 stepped in for Williams at 149 pounds. He started the day off with a bye in the first round and a dominant 6:46 pin in the second round. Unfortunately, Pankhurst was edged out in the quarterfinals but rallied well in the consolation bracket. After an 8-6 decision victory over Tyler Barkley from Norwich University, Pankhurst's day ended with a close decision loss to a John Carroll wrestler.
At the 157-weight class, Brendon Seyfried '19 and Brendon Kiernan '21 represented Williams. Seyfried repeated the success he found at the Doug Parker Invitational. In the first two rounds, Seyfried recorded a pin and a 12-3 major decision victory. His performance moved him to the quarterfinals where he was bested in a 5-2 nail biter. Seyfried returned strong in the consolation bracket to notch two straight wins. His first was a 10-7 victory over a Norwich opponent.  He followed that up with a 7-5 decision win over a Wesleyan competitor but was bested in his final two matches to earn sixth place. Kiernan faced difficult competition and was unable to move past his first two matches.
Nick Anselmi '20 and Dylan Millson '20 competed at the 165 weight division. Millson put up a good fight, but was unable to find success in his two matches. Anselmi was also unable to advance in the championship bracket but stepped up in his consolation matches.  After receiving a bye in the first round, he recorded a 32-second pin over a Scranton opponent. He was unable to advance further but scored three vital points.
At 174 pounds, Luke Anselmi '20 and Grissom both had strong performances. Anselmi received a bye in the first round before winning an 8-3 decision victory over a Scranton opponent. He advanced to the quarterfinals but was unable to progress any further. He returned in the consolation bracket with another decision victory. Unfortunately, his campaign was ended in the next round by a competitor from John Carroll.
Grissom joined his teammate Rossetti with a tone-setting performance. Grissom notched 9-4 and 10-3 decision victories, respectively, to advance to the quarterfinals. He continued his dominant run with a 7-4 decision victory to advance to the finals. In the finals, Grissom took on Tyler Wilson from Worcester Polytechnic Institute. A 14-4 major decision win ensured Grissom's victory for the day.
Anchoring the team at 184 pounds were Ian Darling '22 and Bennet Caplin '19.  Darling started off the day strong with a dominant 20-3 technical fall victory. Unfortunately, he was bested in the second round but rallied in his consolation matches. Two major decision victories over New England College and Case Western Reserve opponents advanced Darling to the fourth round of the consolation bracket. He was beaten out in a close 6-2 match but earned 5.5 points for the team in the process.  Bennet competed valiantly but was unable to advance past his first two matches.
Coach Honecker is optimistic about the season but knows there is a lot of work to be done. "I love the fight our guys bring," Honecker said. "We are going to make the technical adjustments, but when the guys love a fight, you really have a chance to be good."
The Ephs' next competition will be on Friday at Trinity at 7:30 p.m.