A Wednesday night of wistful longing–

Blue-black in Autumnal bliss.

Here you hear a voice of calling

"come play chess!", and that is this:

Chess club tonight from 9 — 10:30 @ Eco cafe, everyone welcome, no experience necessary! Newcomers/beginners/people who want to learn how to play especially encouraged to come!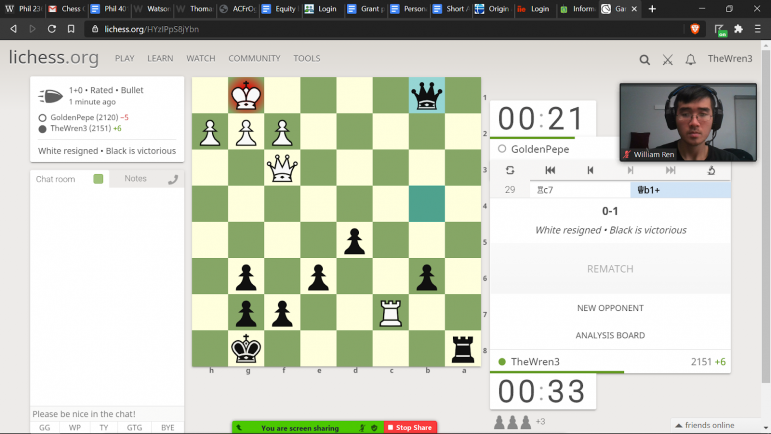 Students searching for the most pandemic-proof activity, look no further — Chess Club has you covered. The need for social distancing has forced many clubs to adopt new measures, as they are unable to conduct in-person meetings or participate in contact-heavy games and practices. Chess Club, however, has been able to successfully avoid these problems.
"I was really surprised how many people came to our first meeting … it's more than most years," said William Ren '21, President of Chess Club. "[I] felt like there were a lot of capabilities within Zoom that could be better for Chess Club rather than in person."
The club has been taking advantage of the multitude of online chess platforms such as Lichess and Chess.com which let members play against a live opponent online. These websites also offer novel game modes where players can play alternative variants of chess with different rules. A favorite of the chess club is bughouse, where players face off in teams of two and pass on captured pieces to their teammate to use.
According to Ren, he club meetings have an element of randomness, with activities ranging from spontaneous games to chess tips from the club president himself. The switch to online has been somewhat of a blessing in disguise, allowing for online chess variants that couldn't be replicated in person as well as giving alums the chance to drop in and test their skills. Ren also hopes to potentially invite Williamstown community members to join in the future.
In addition to these casual meetings, Chess Club also helps organize events such as tournaments and volunteering activities (including teaching chess at a local elementary school). While the pandemic has made things harder, the club has attended many United States Chess Federation (USCF) national tournaments in the past where members compete against chess players of all ages, backgrounds and skill levels. Ren says he's planning to reach out to his counterpart at Amherst at some point to hopefully schedule a virtual competition, though the idea is very much still in the works.
One of the constants of Chess Club are Ren's weekly emails, which he sends out every week to his 340-member Listserv. Ranging from poems to random quips, the emails serve as a creative manifestation of everything that makes the club special. "I just love playing chess," Ren said. "I love sharing about it. I love teaching people about it, because it's brought me so much joy in my life."