Selected athletic resources reopen to all on-campus students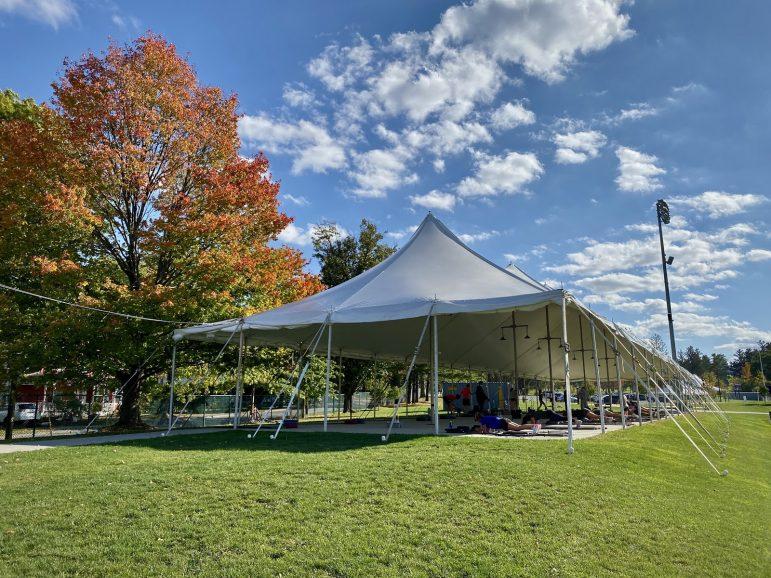 It is always a race to grab the most desirable time slots at the new weight tent. Friday afternoon slots are already filled by the previous Saturday, and less than a quarter of the total slots are still open at the end of the weekend.
On Sept. 25, the Athletic Department announced that a limited number and selection of weights will be moved to an outdoor tent near Farley Lamb Field. The weights are available for students who are enrolled in person and who are not varsity athletes.
Since its grand opening, the weight tent — which opens for no more than one hour every weekday — has seen almost every offered slot filled. Director of Strength and Conditioning Rob Livingstone, who oversaw the program, commented that the first week of service has gone well.
"The tent experience has been nothing short of amazing and heart-filling," he wrote in an email to the Record. "Our primary goal is to create a safe space, both physically and mentally, which I believe has been achieved."
The weight tent is one of the many alternatives through which the College has sought to provide athletic resources to students.
While athletes have access to equipment and facilities through their small group training sessions, PE classes have become the best way for non-athletes to access physical fitness resources. According to Miles, the classes are designed to involve equipment that was formerly offered in gyms and that have now been moved outside. Spin bikes, for instance, are outdoors and available for students in the spinning class.
"We're having students access [equipment] through PE classes because then there's the ability for us to monitor and make sure that people are staying safe," Miles said.
"Not that we don't think students could keep themselves safe, but when you're playing a game or working out, sometimes you get really into your activity," she added. "So just having someone there whose responsibility is to maintain the safety of the students is really important."
Some equipment has been directly lent to students for the duration of the semester. "We 'library' out — for lack of a better term — yoga mats for students to have," Miles said. "Just because, as you can imagine, any sort of disinfecting protocol is quite high."
Now, programs like the weight tent offer supplementary options, where students can find more flexibility in schedules and further personalize their workouts.
"We have been layering expansion over the past couple weeks to ensure things are added at a manageable level," Livingstone wrote. "We are still maintaining a minimum of 12 [feet] between training stations that are unshared, which allows our users to unmask once they reach their station and enjoy the fresh Berkshire air. With all of our groups, they are required to clean and thoroughly disinfect their training station before leaving the tent, which includes spraying and wiping all sides of the equipment at their station."
As athletic programs tentatively resume partial operation, the Sports Medicine Department also continues providing limited care for athletes in need of physical therapy. According to Director of Sports Medicine Rodd Lanoue, the department has kept its appointment-based scheduling system but unfortunately limited the variety of services it offers.
"There are other self-service type modalities that are no longer available for students for use during our open hours. Examples include foam rollers, stretching cages, Normatec leg recovery systems, hot packs and whirlpools," Lanoue wrote in an email to the Record. "Some of these modalities, along with electrical stimulation (e-stim), ultrasound and manual therapy are still utilized by athletic trainers, but only in cases of necessity and as part of a prescribed treatment plan."
Despite limited treatment facilities, core health services — such as injury evaluation, treatment, rehabilitation and referral — remain intact. "Any post-surgical or long-term rehab needs are currently being met by outside providers by arrangements made through the Office of Accessible Education," Lanoue said. "Students who have traditionally had access to Athletic Training services will continue to have those available, albeit, in the aforementioned limited scope."
On Sept. 29, the College announced that students will be allowed to travel off-campus to limited locations starting Monday, Oct. 5. Despite the relaxation in travel restrictions, whether on-campus sport facilities will reopen is still unknown, according to Miles. She emphasized that the decision to reopen sports facilities is a complicated one and needs to be considered by the broader community.
"It's not just our decision," she said. "I shouldn't say there won't be — I don't make that decision. I think there's a way to [reopen facilities] safely. I definitely think there's interest if we could do so safely. But there have to be a couple of other things in place."
Among the factors that influence this decision is respect for public health from all students. "There are a couple of things working for us," said Miles, "One — I think students are behaving in a very responsible way; two — we have incredible testing. We get a lot of information pretty regularly, so we can keep track of how healthy our population is."
On the other hand, a major limiting factor is the logistics of sanitizing all shared spaces and equipment. According to Miles, the College had to redeploy some of the custodial staff that worked in the Athletics Department to other places in order to ensure the sanitization of high touch areas in other parts of the campus, limiting the ability to support the reopening of more facilities.
But even as winter approaches Williamstown and brings potentially inclement weather, athletic resources will continue to be offered outdoors. Miles, who is currently building the schedule for next quarter, said that the department plans offer a "robust outdoor program." The rowing machines, for instance, were moved outside and will likely become accessible for students through PE classes, according to Miles.
"We have been super lucky for four weeks now — and I'm knocking on my coffee table as I say this," Miles said, "but we know it's New England, and at some point it's going to get chilly and rainy and maybe even snowy. So you know, as Scott Lewis said earlier today, there's no such thing as bad weather, just bad clothing. We just want to make sure that students know to bundle up."