Prof's Corner: New WEPO Director Steven Swoap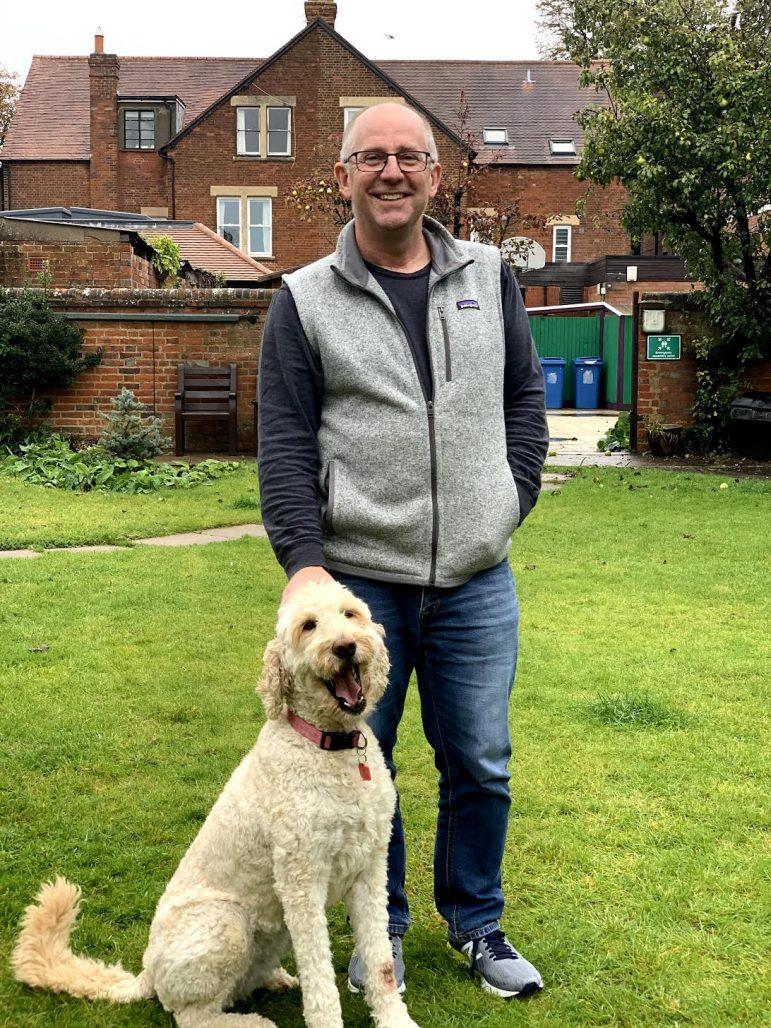 Daisy, Professor of Biology Steven Swoap's beautiful Goldendoodle, is 34 inches tall. That is one of the fun facts I have learned about Swoap, the new director of the Williams-Exeter Programme at Oxford (WEPO), during our U.K.-mandated 14-day quarantine.
Swoap learned in September 2019 that he would be succeeding the former WEPO director, Professor of Economics Lucie Schmidt. He said at the time that quarantining 20 students was not a responsibility he ever fathomed undertaking, but one year later he is leading the 2020-2021 WEPO cohort in the midst of the global COVID-19 pandemic.
WEPO is one of the few study abroad programs at the College that did not get cancelled this semester. The program is unique in that it's one of the few programs that the College sponsors and where a Williams faculty member is on staff.
There exists a long history between Williams and Exeter. This year, the program celebrates its 35th year. Due to COVID-19, major changes have been implemented, such as a 14-day initial quarantine and restrictions on visiting Exeter College students. Along with new COVID-19 guidelines, the role of the WEPO director has also been revamped this year.
Swoap's responsibilities, as for WEPO directors in other years, are three-fold. Academically, they are responsible for hiring tutors for Williams students. They also serve as a general resource to students and live on-site at the Ephraim Williams House compound, which comprises three student residential buildings and the home of the director. On the compound, Swoap manages a staff of five to six people who work at the compound: the scouts (housekeepers), the handyman, the program administrator and the night porters. In addition to these duties, Swoap is now responsible for ensuring the safety of students as they navigate studying abroad during a pandemic.
Swoap shared the most challenging parts of planning for WEPO this year: "Getting everything COVID-ready," he said. "Making sure that we had the testing in place, making sure we had the cleaning in place. Making sure we have the protocols in place if someone gets sick."
Despite the challenges posed by the pandemic, Swoap said he was enthusiastic about serving as director. "I saw this as an opportunity to learn much more about students I don't normally see, as I'm in the sciences, and this is typically a program that doesn't have as many [students studying] sciences in it," Swoap said.
The 2020-2021 WEPO cohort of 22 includes three Div. III majors, representing the chemistry, computer science, physics and statistics departments.
"I do want to change that," Swoap said. "I'd like to encourage more of the science departments at Williams to work with the tutors here to get [students] credit for courses they take here. There is first-class science happening at Oxford University, but it is difficult to get into a lab here. What I want to try to do is make connections with different sets of science people here to see if we can start opening those doors, making research experiences possible for [WEPO] students."
At the College, Professor Swoap teaches physiology and leads a biology research lab. He is planning on continuing his personal research at Oxford University. One lab at Oxford focuses on sleep research, which relates to Swoap's personal research on metabolism and temperature regulation.
"So there's a relationship between what I'm interested in, which is called torpor," he said. "It's like hibernation, the relationship between hibernation and sleep."
Swoap also mentioned that a second lab at Oxford focuses on measuring metabolism of animals in the wild, which he said is something he has done before and is looking forward to helping out with in future projects.
"In fact, there's an island off the coast of Wales that I'm hoping that our group might be able to take a trip to and see some of the animals," he said. "It's not like a big touristy spot. It's just one of those research islands that still might be fun!"
Besides Welsh islands, Swoap has been exploring British attractions for students to visit in a COVID-friendly fashion. Presently, the U.K. mandates that residents observe the "rule of six" by limiting gatherings to six people in both indoor and outdoor settings. Swoap and the WEPO students plan to visit Highclere Castle, famously featured in the British television series Downton Abbey.
Until Swoap and most WEPO students completed their two-week quarantine early this week, we were confined to the compound, four buildings on Banbury and Lathbury Roads in Oxford, connected by lush gardens. For me, at least, this experience was greatly improved by Daisy, curly and perpetually asking to be pet, who had her own adventure travelling to Oxford due to her exceptional height.
Since Daisy is 34 inches tall, she was one inch too tall to fit into an extra-large kennel, Swoap explained, so she had to get in a kennel with an extender. "The plane we took from Boston to Heathrow, they had just downgraded the size because less people were flying out of Boston and that extra-large extender wouldn't allow her to go in there," Swoap said.
Fortunately, Daisy was able to get a ride to John F. Kennedy International Airport, catch her own flight and meet the rest of her family in London, Swoap said: "Now she's got lots of people to pet her!"
Virginia Ontiveros '22 is currently studying in the WEPO program.