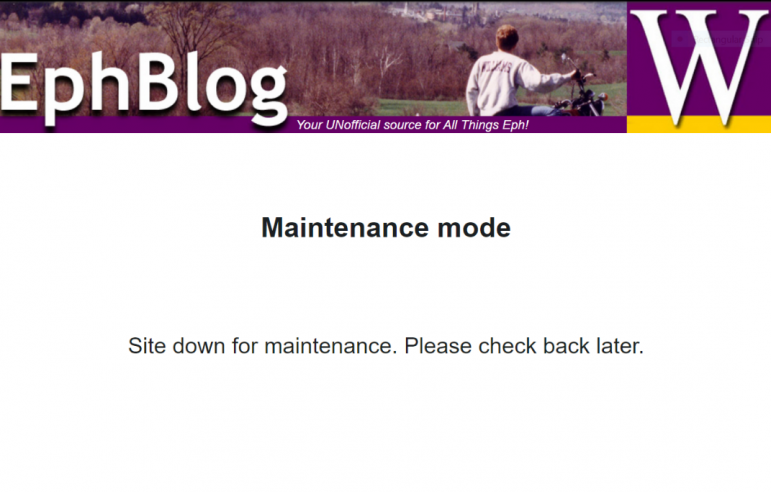 Content warning: discussion of racism, transphobia
Harvard announced last week that Preceptor David Kane '88 will continue his teaching duties at the university following allegations by his students that he authored racist posts on the Williams-themed website EphBlog under the pseudonym "David Dudley Field '25."
For members of the Williams community familiar with EphBlog, the controversy was a long time coming. Kane's website has developed a notorious reputation over the years for regularly hosting acerbic or offensive content, much of which targets members of the College community by name.
The announcement from Harvard comes after a brief interval last week in which Kane agreed to stop lecturing, following calls for his removal by students and teaching staff in his Government 50: "Data" course. Both the Harvard Undergraduate Council and The Harvard Crimson editorial board supported the termination of his position.
Kane founded EphBlog in 2003, and his affiliation with the site is common knowledge in the Williams community. Although Kane rarely posts on the site under his own name, at least one post from "David Dudley Field '25" was signed "Dave Kane '88," and Kane was sued in 2010 for posts authored under the Field account.
New posts from Field have appeared on the blog, sometimes as frequently as several times per week, for more than 15 years, alongside posts from dozens of other recurring users, most of whom use pseudonyms but identify themselves as alumni, current students or faculty.
Posts by Field range from commentary on current events on campus to several-part disquisitions on College history or policy. The header on the blog's homepage labels the site "Your UNofficial source for All Things Eph." (The word "Eph" is not trademarked by the College.) A comment written by Field from June 2019 refers to EphBlog as "my house, my party."
Ephblog became inaccessible early last week, redirecting to a banner that states that the blog is in "maintenance mode." Kane did not respond to a request for comment from the Record regarding recent events.
Many of the blog posts authored by Field over the last few years contain racist content. In a post from February 2019, Field drew an equivalency between Identity Evropa, the neo-Nazi and white supremacist organization now known as American Identity Movement, and Black Lives Matter, questioning why Williams administrators condemned the former but not the latter. Later, in a comment on a post from May 2019, Field defended white supremacist and Identity Evropa member James Allsup.
Posts from Field regularly disparage current students, alums and members of the faculty, staff and administration.
The 2010 lawsuit followed one such series of posts. It was filed by a former Williams professor, Ernest B. Moore (also known as Bernard Moore), whose contract with the College had recently been terminated after it emerged that he had defrauded the government and private lenders of more than half a million dollars. Moore sued Kane and EphBlog for libel over posts made by the Field account that attacked Moore's credentials and teaching ability. The lawsuit stated that EphBlog was an "unreasonable or serious interference" with Moore's right to privacy.
One of the topics that has garnered frequent attention from Field on EphBlog is the College's Office of Admission. A post from Dec. 2018 contains the claim that "90%+ of the Black students at Williams would not have been admitted were it not for their Black'ness [sic]." In Sept. 2017, Kane published an op-ed in the Record in which he argued that the College should admit fewer applicants from low-income families and under-represented minority groups. The piece was met with backlash from students and other members of the community.
Several Harvard faculty members spoke out against Kane's blog posts, which were reviewed by the Department of Government alongside students' complaints last week. Government department chair Jeffry Frieden, who had previously reprimanded the course's teaching staff for urging students to boycott Kane's lectures, apologized on Friday for the "pain and hurt" the controversy had caused for members of the University community. Frieden alerted Government 50 students last week that Professor Kosuke Imai would take over as the official head of the course, noting that Kane's lectures would be optional.
Kane provoked controversy at Harvard two weeks ago by inviting The Bell Curve author Charles Murray, who has been widely decried as a racist, to speak as part of a Government 50 lecture series. Kane has taught at Harvard since 2018. Before that, he taught Winter Study courses on finance at Williams in 2009, 2010 and 2015.
Jim Reische, Williams' chief communications officer, made clear that EphBlog has no affiliation with the College and said Kane is treated no differently from any other alum in his interactions with the administration. When Kane has asked for privileged or confidential data relating to students, often in aggregate form — which Reische said happens periodically — he has been turned down.
Reische said his office has fielded requests and inquiries from Kane countless times since EphBlog was founded. He said he personally does not view the blog favorably. "I have devoted a lot of time over my years at Williams to trying to either prevent or mitigate the harm that I think that blog has done to people at this institution," Reische said.
Kane has allowed other contributors to EphBlog to make numerous bigoted and hateful posts in recent years. The site has played host to dozens of posts by John Drew, who taught at the College from 1986 to 1989 and whose posts on the site are especially vitriolic toward members of the College community, whom he often names in full.
Drew's posts about current students have included pictures of them without their consent. He made several racist and transphobic comments on EphBlog in February 2019; like "Field," he defended Identity Evropa and compared the group to Black Lives Matter in multiple posts that month. Pushback from other users against Drew's posts led him to leave EphBlog in July 2019, despite attempts from Field to defend Drew's contributions.
Former editor-in-chief of the Record Nicholas Goldrosen '20 said it was not unusual for his name to show up on EphBlog because of articles he wrote for the Record. "My time on the Record taught me that there is a whole cottage industry for right-wing grievances about higher education," Goldrosen said. "EphBlog fell into exactly this model: people who complain that academia is hypersensitive, yet themselves take umbrage with everything that occurs at a College they were last affiliated with years before. These sources often rely on reports from campus newspapers; hence, many Record articles (including ones I wrote) cropped up on EphBlog, and that brought me to the site with some frequency."
Goldrosen agreed with Reische that the site does more harm than good for the College community. "I found EphBlog to be offensive, mean-spirited, and acerbic," he said. "The discussions on the site made Williams no better of a college — indeed, I would wager the blog made many feel less welcome on campus. Good riddance."
Arrington Luck and Kevin Yang, Executive Editors, contributed reporting for this article.
This article was updated at 11:07 a.m. on Oct. 7 to include more details on the circumstances surrounding Moore's departure from the College.