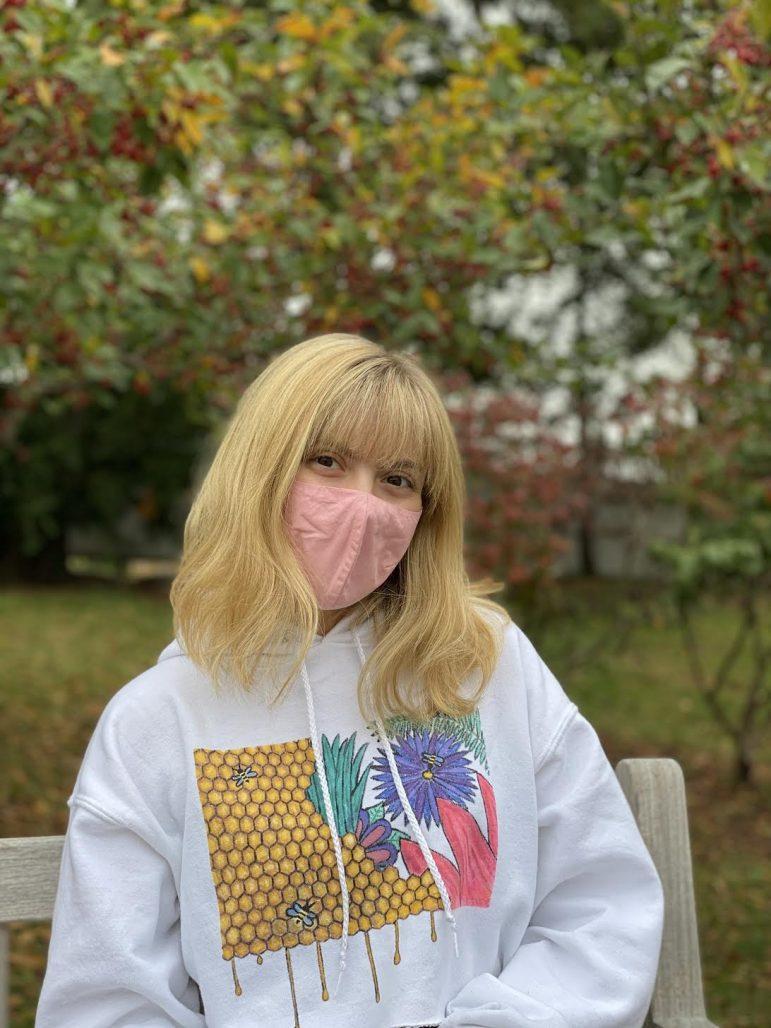 Each week, we randomly select a unix from a list of all current students at the College for our One in Two Thousand feature. As long as the owner of a selected unix is willing to be interviewed and is not a member of the Record board, that person becomes the subject of our interview. This week the computer (using a script in R) chose Madeline Rawson '21, who discussed gender and race in academia, the study abroad experience, her Etsy shop and seven houseplants. This interview has been edited for length and clarity.
How are you?
I'm good, very cold. Um, a cappella has been a lot. So yeah, we got our new members last night and I'm so excited. So now we're 12 people on campus, which is really, really nice, because that's a full group. … So we'll be doing a lot of virtual and remote stuff.
How have you been organizing Ephoria auditions and activities in a COVID context?
Because auditions and callbacks just ended, we're just starting to think about, what's the semester going to look like? We've been working really hard at the audition and callback process, making everything as personal as possible, and like connecting to all of the people who are auditioning. We ran Zoom auditions, … and did in-person callbacks, which was a really great experience. But it has definitely been a lot, because leading the group and going through these two weeks is a lot for any year. And I'm so lucky that like I have my senior class members, five people, including me. … I don't think any of us could have done it without, you know, any of the other members of the class.
What's making it more stressful this year?
Organizing any kind of group is difficult. Organizing a performance group is incredibly difficult. So you can't really perform for people. And then organizing a singing group is bad because singing is like, scientifically, one of the worst. But we have met a couple times just to like, sing, and whenever we're together, we end up singing a little bit and it's been so nice. And singing with masks is actually much easier than I thought it would be.
Where have you all been singing?
Oh no, they're gonna kill me if I say.
Okay, then maybe we should leave it a secret.
Yeah, it's a really great spot. It's got really good acoustics.
Okay, wait, this won't go on the record. I pinky promise. But just so that I know — where is it?
It's [REDACTED]. The acoustics are beautiful.
Wow.
Yeah, secret spot.
Okay, now: Where is your ideal place to sing by yourself?
Indoors or outdoors?
Both.
Okay. For indoors, probably Perry Goat room. The acoustics are incredible in there. So it's really, really fun to go in there and sing because it just everything sounds so much better. Yeah. And outdoors. Oh, I kind of love Chapin steps. That's where we sang-in our new members last night. And that's really, really cute and fun.
Yeah, it seems like a very good group of people.
It really is — they're the most supportive group of people out there. And it's so nice to have a community of women on campus, it's just been so important, especially when I've had semesters with like, any kind of guy drama or like classes with a lot of testosterone energy, it's so nice to not only have that community, but to have like, designated time [that] describes how to spend time with them, you know, like the five hours a week of rehearsal, where like, everything else goes to the side, and you're just being creative, and being supported.
Do other parts of campus feel male-dominated?
Well, I came in as a physics major. So my freshman year, I was in a lot of physics and math classes. So before it was definitely super important to have a female community then. Environmental studies, my major, is female-dominated. I haven't really had that issue in classes as much. You know, except for the odd class here and there that just happens to have or something like that.
What sparked the shift from physics to envi?
Well, I came in as a physics major and then I realized that the reason I wanted to be a physics major was to have a science background for envi and I was like, there's just better ways of getting a science background and applicable subjects than just being a physics major.
Unrelated, but I'm doing reporting on how certain academic departments have issues with inclusivity depending on gender and racial lines. Do you have any thoughts about that?
Envi is an incredibly white space. It's awful. You know, it's great that it is one of the only female dominated departments here. And like, as a woman, I really appreciated that. But it's really a very white space. And I don't want to criticize the program, because I don't personally know what they've been doing. … And I think they are working towards making some kind of climate justice, or environmental justice department. But when I first got here, they had just hired one environmental justice faculty member. She still isn't tenured, but I'm assuming she will be. Yeah, they've definitely made some progress, but not enough progress and definitely not enough progress when you look at who specifically is majoring.
Okay, random. But you mentioned how it was really nice to have girlfriends in Ephoria as there was boy drama happening. Any lessons that you've reaped from romance at Williams?
I think less at Williams. But more so in the past year, I've really realized how important it is to figure out what you want and not compromise it. And not just adapt to what other people want. Yeah.
Was it something you also learned through your study abroad in Copenhagen too?
Yeah, for sure. Copenhagen was incredible. I went there to study sustainability. I lived in the green living house. It was the first time I lived with all girls. So they have different living and learning communities like public health, social justice, music, and sustainability. Yes, so I was in a sustainability house. And it was amazing. It was 19 of us. Not all of us were Envi majors, some people just wanted to integrate, like, sustainability more into their everyday lives. And it was great. So it was three different apartments. My apartment was all girls, everyone is vegan or vegetarian. So I could eat everything in the house, which is just not an experience I've had for three years. And it was just so much fun –– being able to explore the city and travel and cook together. And then we'd spend four hours just sitting at the dining room table just like talking about envi stuff, just for fun. And I've never been surrounded with people with those same academic interests that just want to talk about it all the time. Yeah, so that was so much fun. I love having friends in different disciplines because like, it's, I just learned so much more and like you're like, I'm part of so much more on campus, but it was so nice for a semester just for two months, I guess, to just be, like, fully in the environmental stuff.
Oh yeah — it was only for two months. That's so sad.
I feel so lucky to have gotten two months there. But I do really wish that it hadn't ended early. We got sent home the same day as Williams, and Trump closed the borders at 2 a.m. The panic that caused in Europe was really awful. I booked a flight an hour later. And then an hour after that I left for the airport. So I didn't get a chance to say goodbye or anything. I mean, my last day there, I had no idea was gonna be my last day there. And then I was gone before the sun had risen. It was mostly panic and packing.
Do you think you'd go back to Copenhagen?
Oh, for sure. When, I don't know. A lot of it depends on COVID. Yeah, obviously, and also financial circumstances. And I'm hoping to work at like, a small activist grassroots organization in the north, like Boston, New York [or] D.C. next year. So I don't see myself making enough money to be able to go to Copenhagen in the next year.
Very different topic, but tell me about your Etsy shop!
So, over the summer, I was home. And that, you know, five months at home, when I mean, when I moved out for college, I never had an expectation of living at home again — we ended up moving to a different house my freshman year. So that house was never even set up to, you know, have me living there full time. So being at home for five months was definitely not easy. And one of the things that I got really into was art, and trying different media. And it became a really important creative and, like, not relaxing, but restorative space. But art supplies are really expensive. And it's kind of like, if I'm gonna keep doing this, I need to sell some stuff so that I can keep doing it. Yeah. So I ended up starting an Etsy and basically making sweatshirts [points to her sweatshirt that she designed] and stuff like that. And, you know, basically just painting them. And I ended up selling like, 10. But it was just a lot of fun. And it was something very tangible to work towards and to work on. And that was really, really great.
So you paint on cloth?
Yes. On cloth.
What kinds of things do you like to paint or draw?
I'm a basic bitch for flowers. Really love me some flowers. I like drawing astronomy stuff, or astrology stuff is fun. I'm trying to start to get more into people. I've done a couple paintings that I kind of like, but people are hard. I'm taking Drawing I this semester. So that's exciting. Because I've never actually had any formal training. It's just like something I did like 24/7 over quarantine. But I never really got into it before then. Yeah. So I'm still very much figuring out like, what I like to draw and stuff like that.
And tell me about your plants.
So Williams said pack light. And I brought seven houseplants. [Laughs.] Yes. Because I tend to have a lot of trouble getting through the winter here because everything is so dead and so cold and I live so far away. Yeah. So what would be really helpful would be some greenery. So I brought a bunch of houseplants. They all have names. My cactus is named Ethel. I have a succulent named Henry. And I have an ivy plant named Gerald. And my aloe plant is named Albert — Al for short. My spider plant is named Patricia. And she is currently growing new spider plants.
Oh, so that's super exciting.
So, soon, I'll get to hand out little spider babies to all my friends. And I have Margo. She's another succulent. And I have one other that doesn't have a name yet. OK it just hasn't come to me. I originally named him Bob. But he doesn't feel like a Bob.